The Driveway Saga Season 2; Episode: 4 - "Behind The Photo"
12-3-2019
A little close together for last driveway saga, but as I mentioned in that post:
I would not be to surprised if I also end up with another driveway saga update post, It could snow again, and that second snowfall is almost always a need to be plowed after the snow stops falling snow.
Well it started to snow on the first of December, (Sunday), it snowed pretty much all day, and into Monday morning. When it was all pretty much over we had about a foot of snow, snowfall for Sunday/Monday ranged from 8-12 inches dependent on where you were. In Anchorage over 60 vehicle accidents, and a lot more calls for help than that according the the Anchorage Daily News. We stayed home on Sunday and Monday. I could not find a report for the number of accidents on the Kenai Peninsula but I am sure there were a good amount of them.
What made this snow event so accident prone was that the beginning snow had a high moisture content, the ground is already frozen, and with compression of the snow it became very slippery. That and people just forget to slow down when the snows first start to come. It is always best to take those first three snow falls at home, going no where.
On with the picture show, and the "Behind The Photo" entry.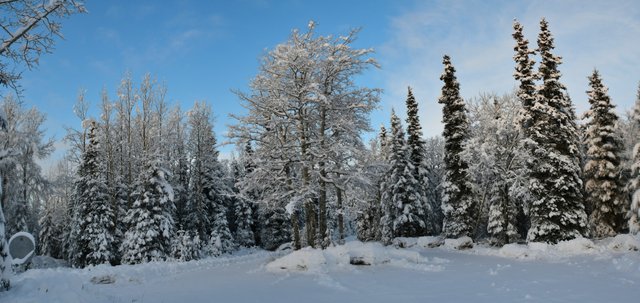 This is a nine image stitched together photo using AutoStitch from http://matthewalunbrown.com/autostitch/autostitch.html the demo is free to use and works pretty well.
This was a planned shot, I was hoping we would get a hint of blue sky and we did get that for a little while. About an hour after the clouds had settled back in over top of everything. I did use my tripod, and the lens was my 35 mm lens. So why the pictures? last year I did five winter driveway picture post to get myself more familiar with my camera, and I wanted to learn to do some panoramic style photo's. I tried a couple of different free programs before finding autostitch and I have been happy with it. I wanted to continue the Winter Driveway documentation so The Driveway Saga series was born.
After using the Autostitch program, I used the Nikon Camera View NX program to straighten, and to correct some perspective. I also used it to tweak the Shadow, and the Brightness controls. After that I sent it to Capture NX D, to do a little more perspective control work and to do the initial crop. From there I sent it over to Paintshop Pro 2019 to resize, final crop, rename, and to save. I pretty much use the same process for all my photos, off load from camera with Nikon Software, view images, and copy the ones I want to play with, edit them, ship them to Capture NX, then to Paintshop Pro, then save on my external drive, turn the laptop off un-plug the external drive from the laptop, and plug it into the desktop computer. One last look at the image in Paint.net to see if there are any other tweaks that need to be done. then upload as I work on the post.
Before the plow guy view from upstairs: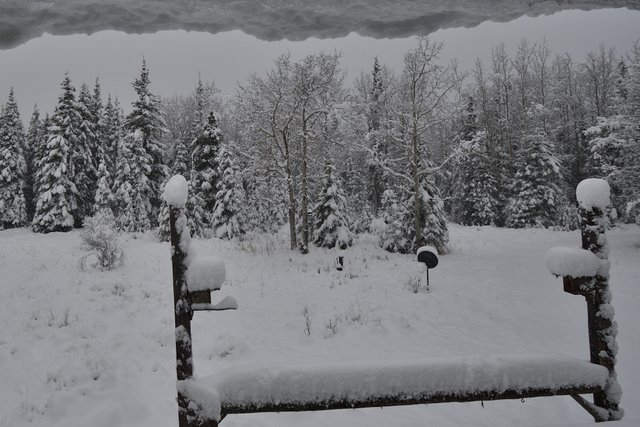 The snow had almost ended, and my wife and I thought the plow guy would come that evening. I wanted a shot of before the plow so I got this one from upstairs. Monday was an awful day for power, ours kept blipping off and on a lot. I think my poor computer took about 10 sudden and unexpected shut downs, fortunately no damage to the electronics. I really was not expecting him to be here before it got dark and that is the reason for this picture, and so I could see the snow blobs on the poles..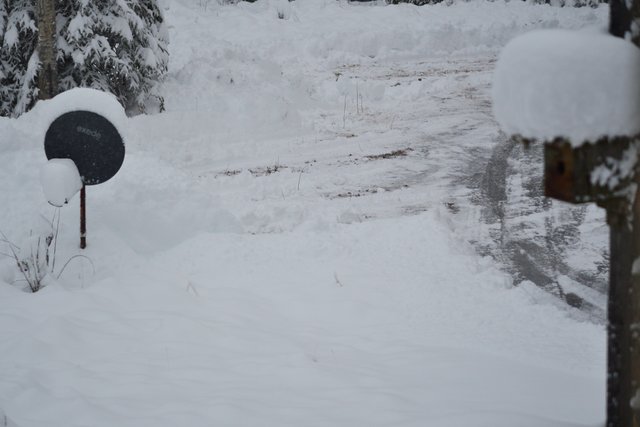 A zoomed in shot from up top just after he had started to plow. I should have got outside to take a picture of the snow before plowing, but when you keep getting power off hits, I was pretty concerned about opening the door and letting the heat escape, and then maybe not having power.
One more from up top just before he was finishing up.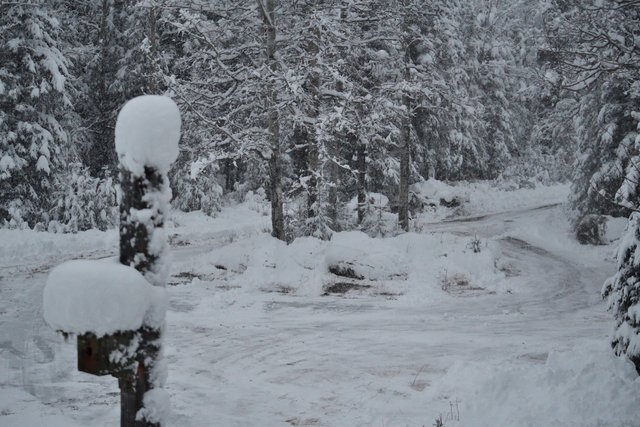 I think I will finish up where I started, on today's photo. Here is a view of the driveway looking out from behind the parking area, and then the next is of the drive out.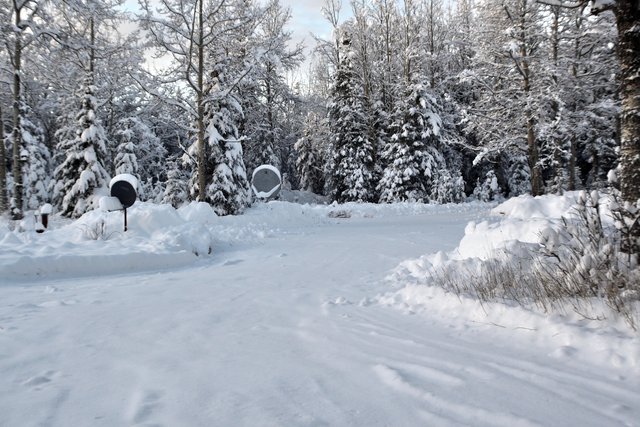 I thought about turning around for one last shot of my out and back foot prints, but I was just to cold for one more click. That pile of snow on the right and the one by the satellite dish they are going to grow over the course of the winter.
And now for the last photo for the post, the driveway going out, it is not a very wide driveway, and in the winter it becomes even skinnier. Soon those small berms will be big berms. This was the last photo I took, I was getting pretty cold fingers.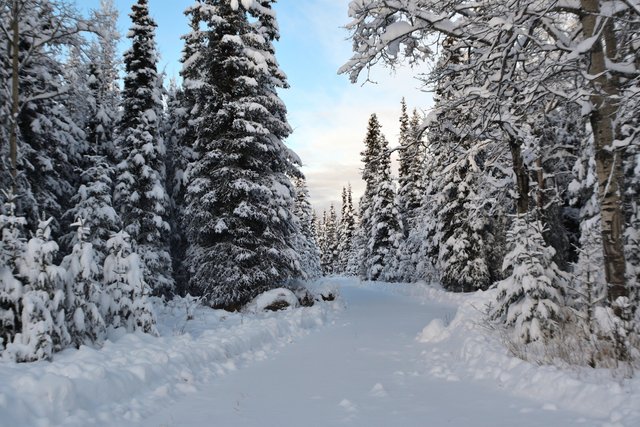 I have the Nikon D7500 Camera, pretty happy with it so far, still learning a lot and am happy to receive input on how to improve. Or if you think I might be able to help, I am also willing to share the limited knowledge I do have.
---
Form more information on "Behind the Photo" follow this link:
https://www.creativecoin.xyz/behindthephoto/@nelyp/behind-the-photo

Driveway Saga Post:

All images were taken by me.