The Driveway Saga Season 2; Episode: 6 - "Behind The Photo: Edition #3"
12-27-2019
Endings and Beginnings
Christmas day was pretty nice, it was warm and we had a little bit of small flaky snow falling by mid evening. When we woke up on the 26th, it was to 7 to 8 inches of fresh snow. It looked nice outside. It was enough that the snow plow person would likely come by, so I had planned on dusting the car off, and getting ready for him that afternoon. About an hour after breakfast he was already here. He must have started pretty early because he normally does not get to us until late afternoon. So I did not get any pre-plow snow shots like I wanted to, such is life.
Here is the main part of the driveway with the circle route around the trees: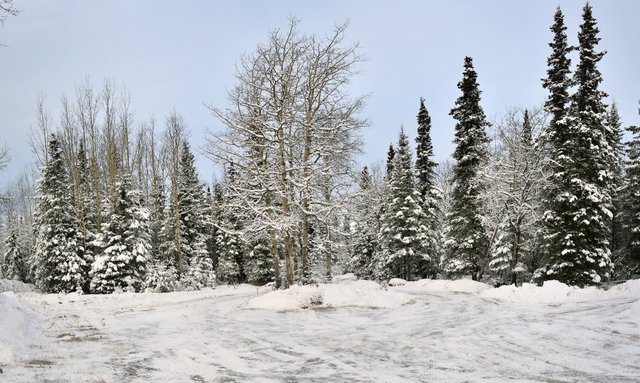 Behind this photo
This image is a series of four shots taken with my landscape lens. I use a free program called
Autostitch
from the Canadian University in B.C. This was a planned shot. With it being pretty dang cold outside at 4F, (-15C), I also pre-focused my camera prior to stepping out side in the cold air. I used the Hyperfocal method that
@markkujantunen
introduced me to, in order to help my nighttime photography, here is the link he provided me:
https://www.photopills.com/calculators/hyperfocal-table
I have found it to be very useful and helpful. Very helpful when it is really cold out side and your eyes are tearing up from the cold, and one less thing to worry about.
Of course with the cold weather hand held shots were out of the question, so to get the hyperfocal distance I use my tripod and a manual hand held clicker for the shutter. So bundle up, grab the camera mounted on the tripod with clicker and step outside for my episode six shots. The other very important tool for this excursion was making sure I had my spikes on my shoes, the ice is pretty dangerous and walking with nothing in your hands is iffy, but a camera on a tripod, and the desire to get done before getting frost bite, they are a must. Total time outside was only about 7 minutes.
Form more information on "Behind the Photo" follow this link:
https://steemit.com/behindthephoto/@nelyp/behind-the-photo-contest-edition-3
On with the Driveway Saga
As per usual the first picture I take is pretty much right outside the door from where I normally park. This view looks out to the driveway and satellite dishes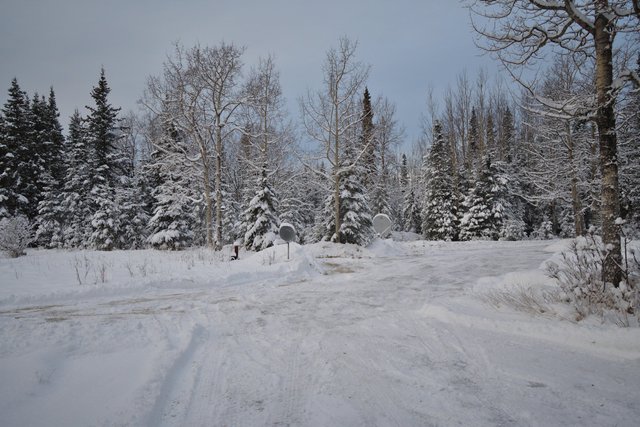 One day I will have to measure the height of the small dish there, but as for snow on the ground and not the plow piles, only about eight inches at most, just enough to make things look nice and clean.
Here is the last shot the driveway heading out: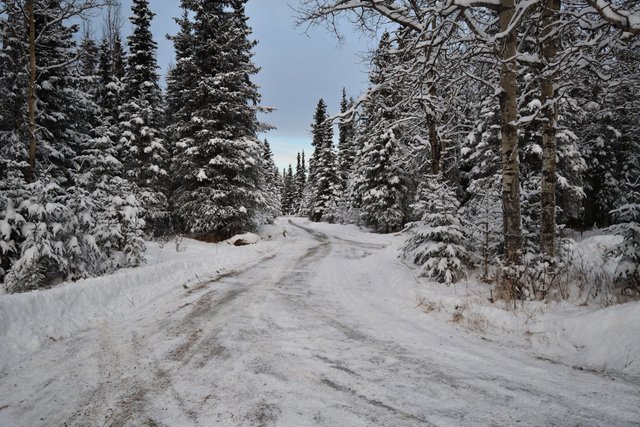 Last year we were plowed out three times at the beginning of the season, and three times at the end of the season. This is only the second time this season so far that we had to be plowed, so if we do not get anymore snow falls, we may end the beginning of the season with only being plowed out twice.
It has been a pretty pleasant winter so far as winters go. Not a lot of snow, and only a few super cold days, today being one of the coldest.

Driveway Saga Post:

Hopefully this will not be a double post, I tried posting via my community site and all it did was spin.