The Driveway Saga Season 2; Episode: 2
11-14-2019
First Snowfall
It had to happen eventually. Last year it was the eleventh of November when we had our first Snow Fall. We almost made it to the middle of the month, but fell one day short this year. Today was our first snow. It is odd getting almost into the middle of November before the first snow fall, in most prior years it almost always snowed on Halloween for the first snow fall.
Oh well Seasons change and I think it is all just a part of the 72 year precession cycle, (it takes about 72 years for one degree of shift). Plenty of information online about it. What is not on line until I posted this post is the picture of my driveway's first winter coat.

Big View
The first snow fall. Soon the edges will be outlined with berms from plowed snow. Today's snow fall is nothing and no need to plow. It is however a day to stay at home and be thankful we got all our running around done the last two days and semi ready for this first snow. We had a short power outage yesterday, and the generator got a short work out, we picked up spare batteries for the flash lights, and we have a few days supply of food to eat. So now that winter has really happened, I think we are ready.
The image above was made out of 7 stitched together shots, with the Autostitch program. I am still happy with it. I did not take a lot of time processing the individual images since I wanted to make a first snowfall post. In the image below you can see that the trees do really have tops. If I had taken a bit more time to balance out the image settings there may not have been as much difference in the top half and the bottom half, Sky is a lot brighter than just the tree and driveway view so a slight brightness variation between them. This image below is a total of 13 shots.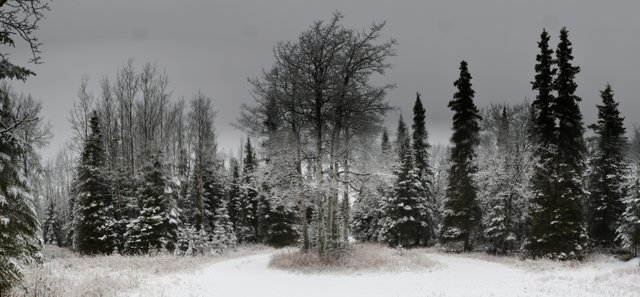 Big View
This next one is just a down the driveway shot. It will have those large berms lining the edges by the middle of January. I am going to try to include the driveway out shot on each post also so you can enjoy watching those berms grow. I forgot to take one for my Episode 1 post.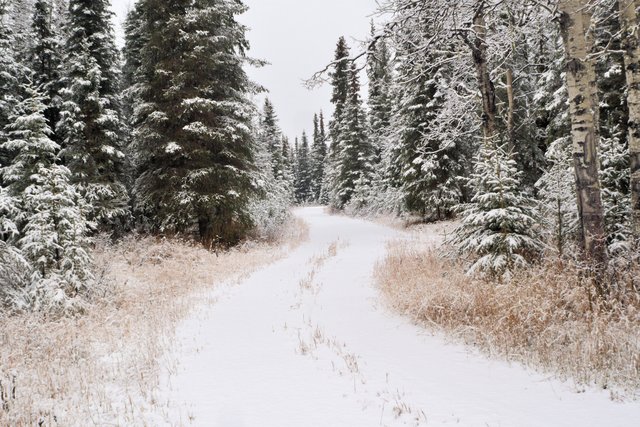 Big View
I did how ever include The Stump, it will soon be buried and hidden until spring springs us out again form the doldrums of the winter. And here is The Stump: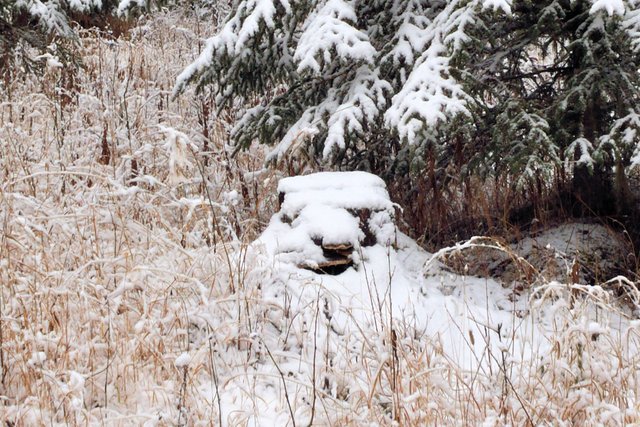 Big View

That pretty much concludes Episode 2. If the pattern holds, in a couple of days we will have a slight warm up, the snow will rapidly melt, and then over night on that warm up day, the temperatures will plummet, and all that melted snow will freeze and make a skating rink of the driveway. The surface layers of the ground are pretty much already frozen, so the melt water will take a little bit of time to seep into the soil thus leaving it freezing on the surface.


All images were taken by me on the morning of 11/14/2019
Feel free to share any #firstsnow pictures in the comments.