SEC-S6W4: '' My Life,My Day - The Diary Game''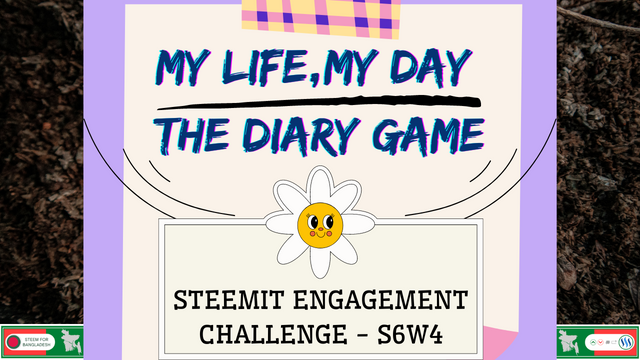 Cover Created On Canva
---
Hello,
This is the Fourth-week contest for the Steemit Engagement Challenge Season 6 on behalf of the Steem for Bangladesh community. We hope you enjoy this week's contest as much as you enjoyed the third week.
Contest Tips
We are very excited to announce that this week's contest topic is everyone's favorite diary game. Let us know how you spent your day through your favorite diary game. Highlight any special food, any special moment, or meeting any special person in your diary game. Share your activities with all of us with a maximum of 6-7 pictures and 300-350 words. You are free to be creative in telling the story of your activities through the best presentation, using photos and videos, etc.
---
GENERAL RULES📌
You must be subscribed and post in the Steem For Bangladesh community.

Resteem and upvote this post and invite 3 friends to participate.

The title of the post should be: SEC-S6W4:''My Life,My Day - The Diary Game | Your Text".

Your post must contain a minimum of 350 words.

We are allowed all languages.

Use Tag: #steem4bangladesh-s6w4 #steemexclusive #yourcountry and #club_status in the first 4 tags.

Be creative, and write in your own words because we do not allow plagiarism. If anyone is caught doing Plagiarism he/she will be disqualified from the contest.

Participants do not use any auto-vote services

Be sure to share copyright-free images and consider using the image source.

The link to your entry post should be commented on below this post.

Only one entry per user.

Must share your entry on any social media platform.
---
The contest starts at 00:00 , on Monday 12th of December 2022 and ends at 23:59, on Sunday 18th of December 2022.
---
---
Details of the community's current policy for checking and commenting on posts
| Category | Remark | Score |
| --- | --- | --- |
| Verified User | ✅ or ❌ | 1/1 |
| #steemexlusive | ✅ or ❌ | 1/1 |
| Plagiarism Free | ✅ or ❌ | 1/1 |
| Bot Free | ✅ or ❌ | 1/1 |
| Club status | ✅ or ❌ | 2/2 |
| Quality Content | | 2/2 |
| Markdown Style | | 2/2 |
| Total | | -- |
| Category | Remark |
| --- | --- |
| Support #burnsteem25 | ✅ or ❌ |
| Voting CSI | 00.00 ( 0.00 % self, 00 upvotes, 00 accounts, last 7d ) |
| Period (Club Status) | Date to Date, Year |
| Transfer to Vesting | x.x STEEM |
| Cash Out | x.x STEEM |
---
---
| | |
| --- | --- |
| RANK 1 | 10 TRX |
| RANK 2 | 8 TRX |
| RANK 3 | 7 TRX |
---
---
---
---
Best Regard,

@msharif | ADMIN - FOUNDER
@ripon0630 | ADMIN - FOUNDER
@mostofajaman | MOD
@solaymann | MOD
DELEGATION
We are invite everyone to receiving delegations who wants to support the community.It's will be helpful to grow up.If you are interested in becoming a delegator of Steem4Bangladesh you can give any delegation you like :
Easy Links to delegate @steem4bangladesh quickly