🗞 Daily Crypto News, January, 17th💰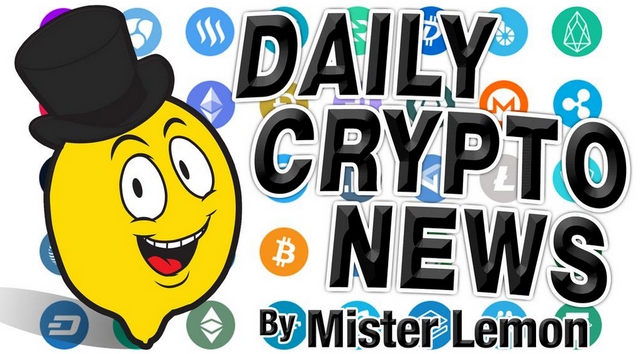 Bitcoin Price Already Up 25% in 2020 After Hitting $9,000 ;
Currency 'Cold War' Takes Center Stage at Pre-Davos Crypto Confab ;
Binance CEO Says Compliance Is Key for New Strategic Partnership in Japan ;
Ex-CFTC Chairman to Promote Blockchain-Based USD in New Think Tank ;
Anxious S Korean Crypto Exchanges Prepare for Crunch Talks with Banks ;
🗞 Daily Crypto News, January, 16th 💰
STEEM Trading Update
Welcome to the Daily Crypto News: A complete Press Review, Coin Calendar and Trading Analysis. Enjoy!
Bitcoin (BTC) hit $9,000 on Jan. 17 as technical metrics continued to break both local and all-time records.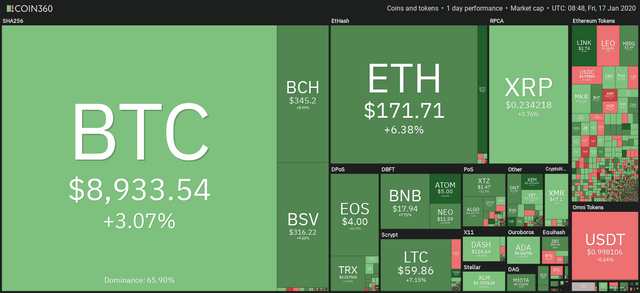 BTC clips $9,000 as traders lie in wait
Data from Coin360 and Cointelegraph Markets showed BTC/USD finally rising to the significant $9,000 boundary on Friday, following a bullish run-up overnight.
At press time, a slight retracement had sent the pair slightly lower to $8,900, with 24-hour returns still at 3% and weekly performance stronger at almost 16%. Bitcoin holders are currently sitting on monthly gains totaling almost 35%.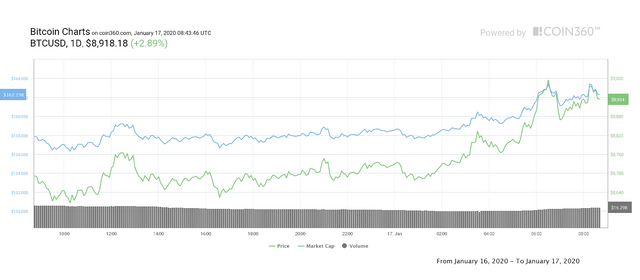 ST. MORITZ — The United States may be entering a second Cold War, according to some investors, who seem mildly curious but otherwise unconcerned about the prospect.
"It's a kind of Cold War, but not just for crypto," said Multicoin Capital's Beijing-based partner Mable Jiang. "Currency is the leverage."
Jiang said China's goal is to leverage the rise of cryptocurrency, including both domestic bitcoin mining and a state-issued digital currency, to supplant the dollar and become the world's leading economic power. Such rivalries feel lightyears away in the frosted Swiss alps, which are teeming with high-net-worth individuals soaking up the last few days of politician-free ski slopes before the World Economic Forum in Davos.
Binance, one of the top cryptocurrency exchanges globally, has started discussions regarding a strategic partnership with two Japanese firms.
According to a press release on Jan. 17, Binance has begun negotiations with Z Corporation, a subsidiary of Z Holdings formerly known as Yahoo Japan and TaoTao, a Japanese licensed cryptocurrency exchange.
The exact details of the partnership have not been revealed as of this moment, but Binance said Z Corporation and TaoTao would "continue discussions and deliberations with Binance and begin preparation to launch trading services for users in Japan".
Binance CEO Changpeng Zhao (CZ) commented to Cointelegraph on the partnerships:
"We are looking forward to our joint efforts with Z Corporation/TaoTao in bringing our services to Japan. Foremost, we want to ensure that we work in full compliance with Japanese laws and regulations where local and global standards function as a key role in establishing sustainable development industry-wide and greater public adoption."
J. Christopher Giancarlo, former chairman of the Commodity Futures Trading Commission (CFTC), plans to promote the blockchain-based United States dollar with a new think tank.
Giancarlo, who earned the "Crypto Dad" moniker for advocating a "do no harm" approach to blockchain regulation, is now setting up a think tank called the Digital Dollar Foundation to promote the idea of digitizing the U.S. dollar.
Giancarlo's digital dollar is based on technology behind Bitcoin
According to a Jan. 16 report by The Wall Street Journal, the ex-CFTC chairman is establishing the non-profit foundation to study prospects for converting the dollar into a "fully electronic currency based on blockchain," the underlying technology of Bitcoin (BTC).
Nervous South Korean cryptocurrency exchanges are preparing to renew their banking deals with domestic banks – with media reports claiming exchanges are feeling "pessimistic."
Per Newsway, the country's "big four" exchanges, the market-leading Bithumb, Upbit, Coinone and Korbit, are "putting all their energy into preparations" ahead of contract talks with the banks. The exchanges existing banking deals all expire at the end of the month.
Under existing regulations introduced in early 2018, the country's exchanges are compelled to enter into six-month renewable arrangements with domestic banks. Banks and exchanges must meet strict criteria pertaining to customer withdrawals and deposits – which must be made using government-sanctioned real name-verified, social security number-protected accounts.
🗞 Daily Crypto News, January, 17th💰
Electra will listed on Swace Exchange on January 17th.
The new desktop wallet will be released on January 17, 2020.
3DCoin / ProjectDistricts AMA on Telegram from 21:00 to 23:00 (UTC+4).
"Binance Futures will launch LINK/USDT perpetual contract and open trading at 2020/01/17 08:00 AM (UTC)."
"On the 17th of January at 18:00 GMT we will be closing our Beta waiting list."
STEEM Trading Update by my friend @cryptopassion
Here is the chart of my last analysis :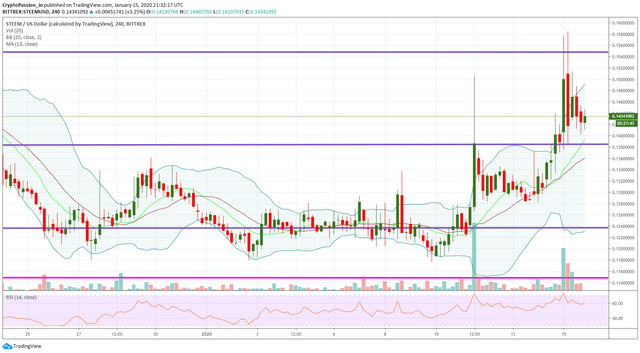 Here is the current chart :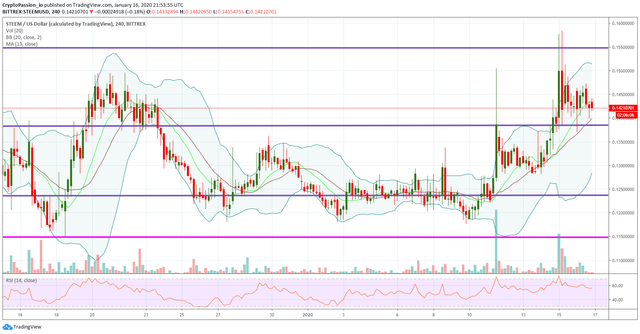 The STEEM is still consolidating after the fail to break the resistance line at 0.155$. I think STEEM is just waiting the master BTC to know which direction it must takes now. So till the next move, the support line at 0.138$ should support us except if we have a big correction on the BTC.
Last Updates

You don't want to miss a Crypto news?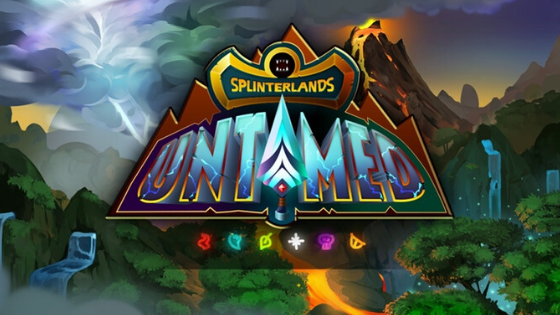 ---
Posted via Steemleo | A Decentralized Community for Investors