🗞 Daily Crypto News, January, 15th💰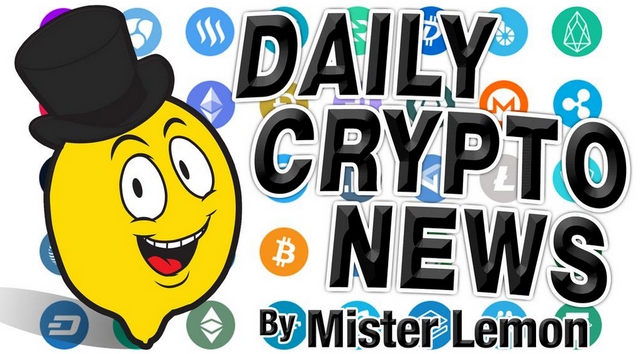 Bitcoin and ETH Are Commodities, While XRP's Status Is Unclear, CFTC Says ;
Peter Schiff's Bitcoin $1,000 Prediction Falls Flat as Gold Drops 4% ;
SEC Warns Crypto Investors of Initial Exchange Offerings in New Note ;
Pre-Bitcoin Halving Race Pushes Mining Difficulty to Record High ;
In New Court Filing, Craig Wright Claims to Receive Keys to $9.6B Bitcoin Fortune ;
🗞 Daily Crypto News, January, 14th 💰
STEEM Trading Update
Welcome to the Daily Crypto News: A complete Press Review, Coin Calendar and Trading Analysis. Enjoy!
Bitcoin (BTC) and Ether (ETH) are commodities, while the status of XRP is still unclear, the chairman of the Commodity Futures Trading Commission (CFTC) said.
CFTC Chairman Heath Tarbert has reiterated the regulator's stance on both Bitcoin and Ether in an interview with online news outlet Cheddar on Jan. 13. Tarbert said:
"So right now, Bitcoin and Ether are the two that we think fall under our jurisdiction."
In the United States, the CFTC is responsible for regulating commodities, while securities fall under the Securities Exchange Commission. At the same time, the chairman has apparently for the first time expressed his thoughts about XRP — the third-largest cryptocurrency by market capitalization. Which is to say, the CFTc remains unsure.
Bitcoin (BTC) rising above $8,500 appears to have left gold proponent Peter Schiff with egg on his face after he predicted its imminent downfall to $1,000.
Data from Cointelegraph Markets and precious metals monitor Kitco showed that while Bitcoin has gained 7.5% over the past week, gold has conversely slipped 4%.
Gold expected to hit $1,500 lows
After reaching highs of $1,610 on Jan. 8, XAU/USD has fallen dramatically, trading at $1,546 as of press time on Tuesday.
The trend is all the more conspicuous to cryptocurrency supporters, coming at a time when geopolitical upheaval centered on Iran seemed to buoy Bitcoin price performance.
The U.S. Securities and Exchange Commission has published its first warning against initial exchange offerings (IEOs) Tuesday.
According to the notice, the regulator considers IEOs to be similar to initial coin offerings (ICOs), many of which the agency has been investigating as unregistered securities offerings for the past several years. While IEO providers may claim their sales are different from ICOs, they may still violate federal securities laws, the SEC said. As such, the agency warned investors to "be cautious" if they are considering investing in an IEO.
"IEOs are being touted as an innovation on ICOs because they are offered directly by online trading platforms on behalf of companies – usually for a fee – to provide immediate trading opportunities for the digital assets," the notice said.
As Bitcoin (BTC) mining difficulty and hashrate are reaching new all-time highs, the Cryptoverse is discussing the meaning behind it, and it seems unlikely that the miners are capitulating ahead of the Bitcoin mining reward halving in May.
As reported by Cryptonews.com in October 2019, miners will try to increase their mining activity, so as to obtain a greater share of the hashrate ahead of the halving. And it seems that Bitcoin miners are expanding according to this scenario.
Bitcoin mining difficulty, which is a measure of how hard it is to compete for mining rewards, is expected to hit yet another record in a matter of hours. The network difficulty currently stands at 14.99T, which is already the highest it's ever been. Major Bitcoin mining pool BTC.com estimates that during the next difficulty adjustment, expected to happen later today, it will increase by 8.64%, reaching another all-time high with 15T, and making validating new blocks even harder.
According to a court filing to the U.S. District Court of Southern Florida dated Jan. 14, a third party has "provided the necessary information and key slice to unlock the encrypted file," seemingly referencing the "mysterious," unnamed intermediary with the private keys necessary to unlock the $9.6 billion bitcoin trove.
In another filing Tuesday night, attorneys for Ira Kleiman, the brother of Wright's now-deceased business partner Dave Kleiman wrote that Wright only provided a list of 16,404 addresses but no information about the courier.
This so-called bonded courier was originally due to arrive Jan. 1, though Wright did not confirm or deny whether this transpired at the time. Wright instead requested an extension for the intermediary to unlock the encrypted "Tulip Trust" at the heart of the case.
🗞 Daily Crypto News, January, 15th💰
Next block halving will occur at block #604951, which should occur by Jan 15.
"Swap from INS ERC20 tokens to XNS Insolar native coin will be announced mid-January 2020"
Bitcoin Cash (BCH), Crypto.com Coin (CRO), General Event (CRYPTO), eBoost (EBST), Tether (USDT), Tezos (XTZ), VeriBlock (VBK)
North American Bitcoin Conference from Jan 15 - 17 in Miami, Florida.
"The hard-fork is scheduled on block 524,160, around Jan 15, 2020."
"Join us next Wednesday for AMA with Constant Co.- the fastest growing P2P lending platform in Southeast Asia to learn about Constant..."
STEEM Trading Update by my friend @cryptopassion
Here is the chart of my last analysis :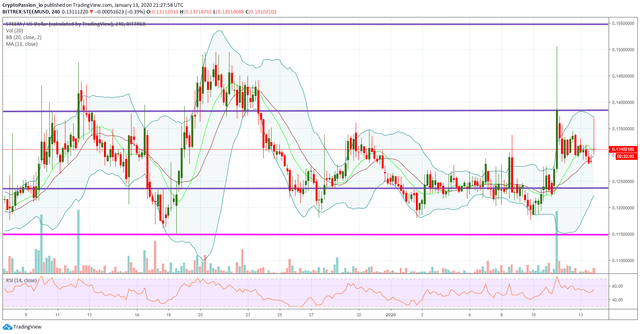 Here is the current chart :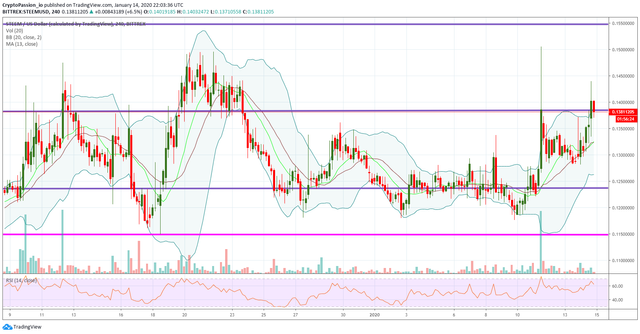 Due to the nice bounce on the BTC, we have been able to break the 0.138$ but it was very hard and that break stays very weak. We are just little upper than that resistance line and I'm afraid that any consolidation on the BTC brings us lower than this resistance line again which should be a support now. Let's wait and see if that break will be validate.
Last Updates

You don't want to miss a Crypto news?