🗞 Daily Crypto News, January, 7th💰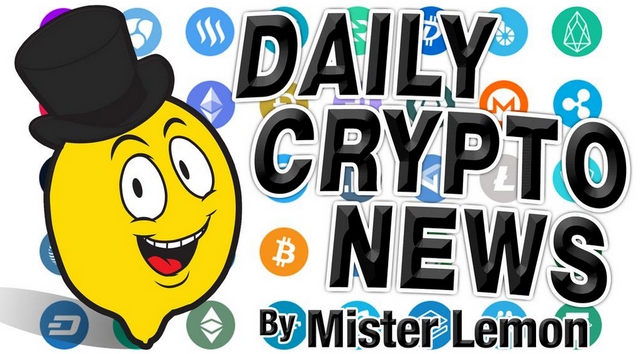 Store of Value Remains Crypto's Best Use Case ;
Major South Korean Crypto Exchange Bithumb Launches R&D Center ;
Taking the TON Out of Telegram ;
Law Enforcement Requests to Kraken Hit All-Time-High, Up 49% in 2019 ;
Bitcoin Price Rallies 5.5% to $8K – Is $8.2K the Next Stop? ;
🗞 Daily Crypto News, January, 7th 💰
STEEM Trading Update
Welcome to the Daily Crypto News: A complete Press Review, Coin Calendar and Trading Analysis. Enjoy!
This post is part of CoinDesk's 2019 Year in Review, a collection of 100 op-eds, interviews and takes on the state of blockchain and the world. Ryan Zurrer is founder of Dialectic, a Swiss-based crypto-asset firm focused on on-chain opportunities. Previously, he led investments at Polychain Capital and served as chief commercial officer at the Web3 Foundation.
Store of value was the most viable and desirable use case across crypto in 2019 and offers a basis to increase users in the second decade of crypto.
Collateral-backed crypto-assets and alternative stores of value (SoVs) found their niche in 2019. Seeing crypto-natives begin to stake and save as part of the decentralized finance (DeFi) revolution was one of the most exciting trends in the space. We're also seeing the re-emergence of community-directed capital pools known as DAOs, which are arguably a SoV in their own right.
The bitcoin community seemed to find common ground on its primary niche as a store of value rather than a payment mechanism. The SoV use case has become so compelling that the ethereum community sought to refocus around "programmable money" use cases: "ETH is money" dominated the discourse.
South Korean cryptocurrency exchange Bithumb has established its own research and development (R&D) center.
According to an announcement on Jan. 6, the initiative makes Bithumb the first company with a blockchain and cryptocurrency research center in South Korea. Bithumb expressed high hopes for the research center's impact on the company:
"Bithumb will become a leading company in the blockchain and cryptocurrency ecosystem by strengthening its own R&D capabilities."
Last week, the U.S. government took out a key Iranian military leader. As the world – and the markets – reacts to the news, some are asking, What happens with bitcoin? With global instability on the rise, will more people turn to bitcoin as a safe-haven asset? Will speculators drive the price up on that narrative even if it doesn't bear out in reality? If Iranians use crypto, will that draw the attention and ire of regulators?
In a different area of the industry, Telegram has released updated information about their forthcoming crypto token TON. Most notable was the bombshell that the token would not be integrated into Telegram Messenger – which was, of course, the predominant logic behind the more than $1.7B that was invested in the TON presale.
Law enforcement requests to cryptocurrency exchange Kraken hit their highest ever volume in 2019, rising 49% to 710 as compared with 475 the previous year.
The data was revealed in a tweet from the exchange on Jan. 6, which included a snapshot taken from the new 2019 Transparency Report from Kraken's compliance team.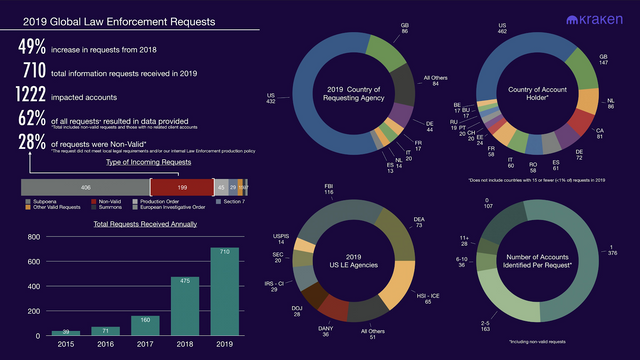 American, British and Danish agencies the most proactive
As the snapshot reveals, Kraken received a total of 710 information requests from global law enforcement agencies in 2019, marking a sharp increase as compared with both 475 in 2018 and 160 in 2017.
The lion's share of these requests — 61% — were from United States agencies, slightly down from 66% in 2018. In its tweet, Kraken noted that even while the U.S. remains ahead of other countries, "other geos are gaining fast."
On Monday during the U.S. evening trading session, Bitcoin (BTC) price continued its rally from $7,358 and at the time of writing the price pushed as high as $8,000. For the past week, traders have been closely watching to see if Bitcoin could flip $7,450 from a resistance to support and many suggested that sustained move above $7,600 would open the door for a shot at the $8,000 to $8,200 range.
The 4-hour close above $7,600 pulled the price above the 50-day moving average (MA) and provided bulls with enough confidence to push the Bitcoin to set a daily higher high not seen since Nov. 21 when the asset traded for $8,122.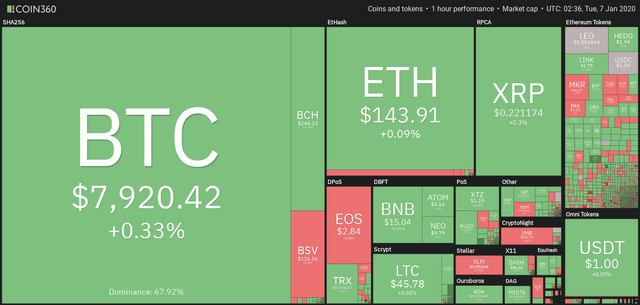 Traders will be keeping a close eye on this zone as the price has experienced multiple rejections at the trendline. The volume profile visible range (VPVR) also shows a high volume node right at the descending trendline ($8,168), meaning traders could anticipate so push back at this level and book profits.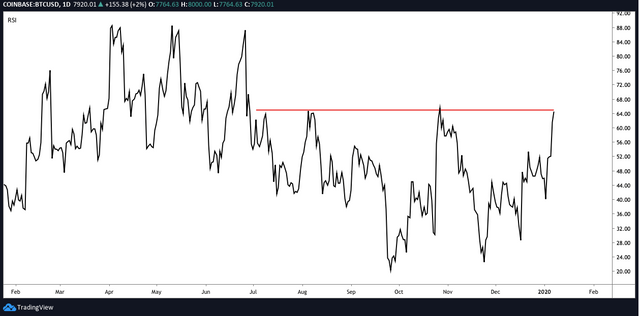 🗞 Daily Crypto News, January, 7th💰
"Dash Explorer to be updated to Insight on January 7th at 2pm GMT."
"The Foundation will be submitting a network proposal for increased stability on January 7th (the Revision 8 proposal)."
Civic (CVC), CPUchain (CPU), General Event (CRYPTO), Decred (DCR), Maker (MKR), XRP (XRP)
2020 Digital Money Forum Tuesday, January 7 Venetian, Level 4, Lando 4302.
"Bitcoin Fast second development update will be released on 7th January 2020."
"Waltonchain Q1 2020 AMA will be held in Waltonchain Chat at 18:00 on Jan. 7 (UTC+8). "
STEEM Trading Update by my friend @cryptopassion
Here is the chart of my last analysis :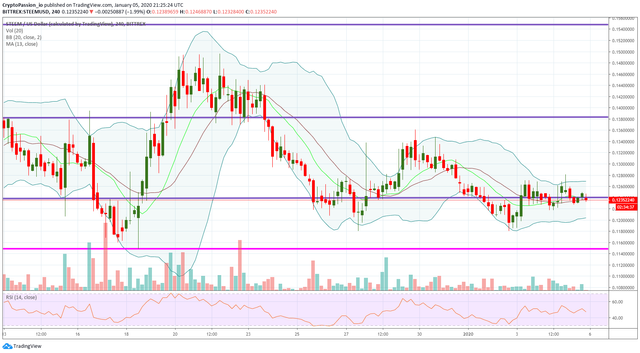 Here is the current chart :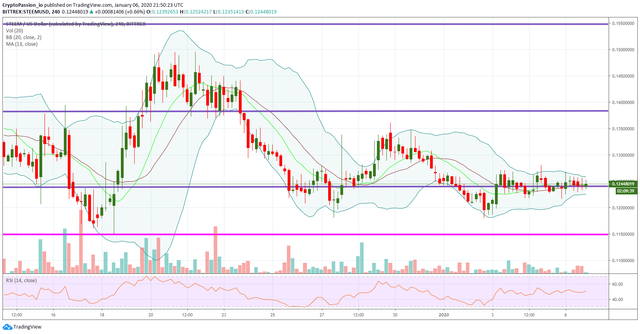 The STEEM is still staying quietly on the support line at 0.124$ and we are waiting for a break out in one of the direction. The more we stay on that line, the more the Break Out will be powerfull. I was thinking that the BTC would help STEEM to decide the direction it want takes but apparently it is not the case so let's see what the market want for us.
Last Updates

You don't want to miss a Crypto news?