🗞 Daily Crypto News, January, 6th💰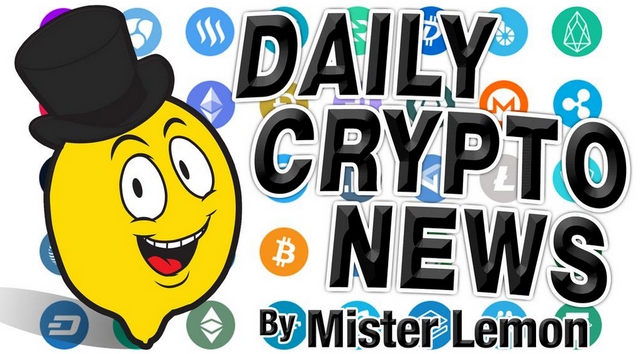 Bitcoin Nears $7.5K: Why a Bull Market Is Closer Than You May Think ;
YouTube, Tron and the Dream of Decentralization ;
Compared to Gaming and Gambling Dapps, DeFi Is Still Behind ;
Closer Look at SEC 'Accredited Investor' Revamp Suggests Little Will Change ;
Ethereum Block Time Reduced by 25% After Muir Glacier Hard Fork ;
🗞 Daily Crypto News, January, 5th 💰
STEEM Trading Update
Welcome to the Daily Crypto News: A complete Press Review, Coin Calendar and Trading Analysis. Enjoy!
Bitcoin price (BTC) is currently resting just shy of $7,500 after an impressive rally from around $6,850 on Friday, Jan. 3. Does this mean the bulls have taken control? Or is this a final relief rally before Bitcoin drops to fresh lows?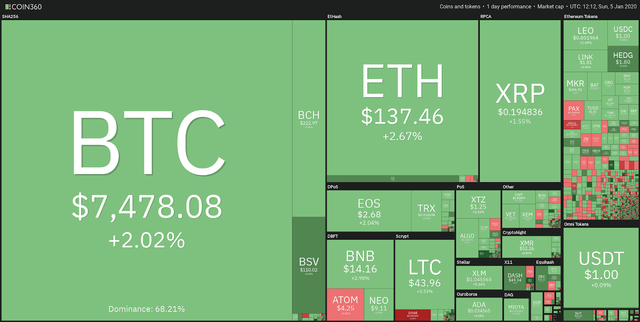 Did exchanges manipulate price action?
In last week's analysis, I highlighted that the CME gap is becoming a regular trading event each week, and less than 12 hours after the analysis was printed, the gap filled to the exact price of $7,265, before the current trend resumed.
The yearly tradition was started by long-term Bitcoin advocate Trace Mayer, who has been urging users to reclaim their monetary sovereignty by removing all of their Bitcoin from exchanges and controlling their own private keys.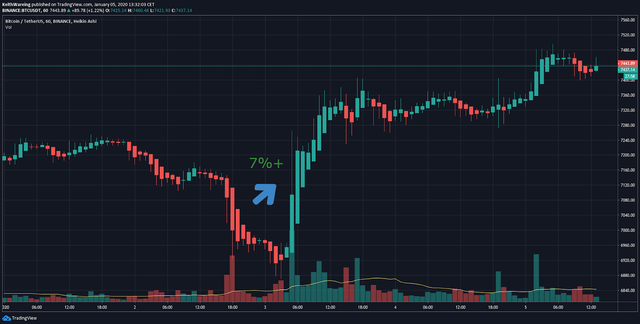 The past few weeks have seen multiple instances of large, centralized tech giants censoring crypto-related content and activity. Noticed in the context of the Coinbase Wallet, Apple is pushing back against anything having to do with decentralized applications (dapps).
YouTube caused even more of a stir when it took down hundreds of crypto-related videos from prominent influencers without any warning. It later reversed the action, claiming an error, but it was enough to get many to ask: Are decentralized alternatives possible?
Despite the ongoing hype surrounding the growth and popularity of decentralized finance (DeFi) applications last year, gaming and gambling remain the most popular use cases for blockchain apps.
According to blockchain analytics site Dapp.com, there are approximately four times as many users for both gaming and gambling decentralized applications (dapps) than DeFi across seven different smart contract platforms as of Dec. 31.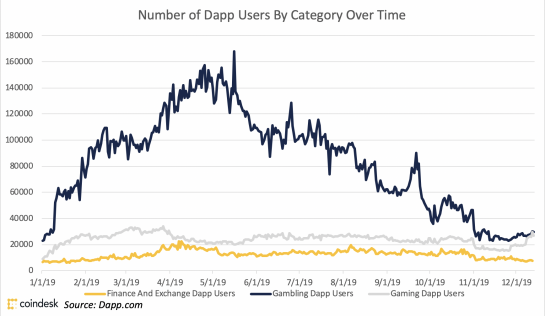 The growth of DeFi applications was primarily concentrated this year on the ethereum blockchain.
According to Dapp.com, over 75 percent of DeFi applications are active on ethereum, while the second most popular smart contract platform for DeFi is EOS, with 11 percent of active DeFi apps.

For the first time in nearly 40 years, the U.S. Securities and Exchange Commission is lowering the barriers to investing in private securities. How much lower is unclear, however.
Three of the five SEC commissioners voted to publish a proposal for updating the definition of "accredited investors," a category of individuals and institutions that are allowed to take part in private financial markets, on Dec. 18. The general public has 60 days from the proposal's publication in the Federal Register (the official record for the U.S. government) to comment on whether the securities regulator should approve the expanded definition.
The proposal was lauded by many in the cryptocurrency community, who hoped the new definition would allow individuals to participate in unregistered token offerings based on how well they understand the products, not arbitrary standards of wealth.
The average block time on the Ethereum blockchain decreased by almost a quarter after the mining difficulty was decreased.
Data reported on Ethereum block explorer Etherscan shows that from Jan. 1 to Jan. 4, the daily average block time on the blockchain decreased from 17.16 seconds to 12.96. This translates to a 24.48% shorter block time.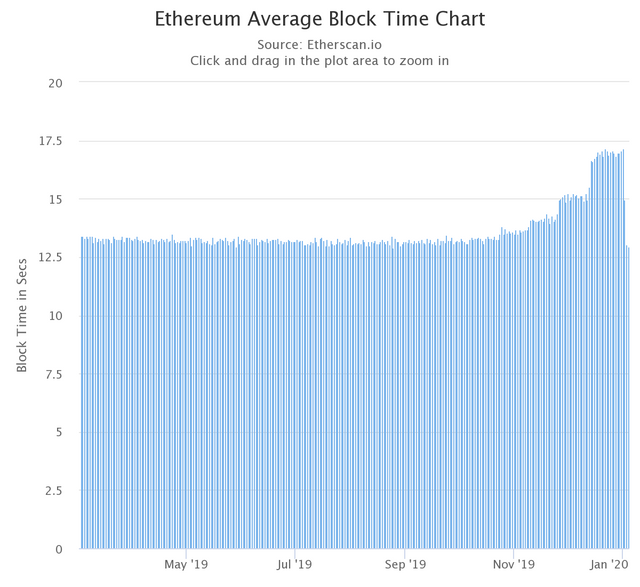 Obviously, the block time decrease resulted in a higher number of blocks mined daily and a higher Ether (ETH) inflation. According to Etherscan's Ethereum block count and rewards chart, during Jan. 1, miners create 4,980 new blocks and 10,237 ETH. Meanwhile on Jan. 4 the network's miners created 6,570 new blocks and 13,437 new ETH. This is nearly a 32% increase in the number of blocks and over 31% increase in block rewards.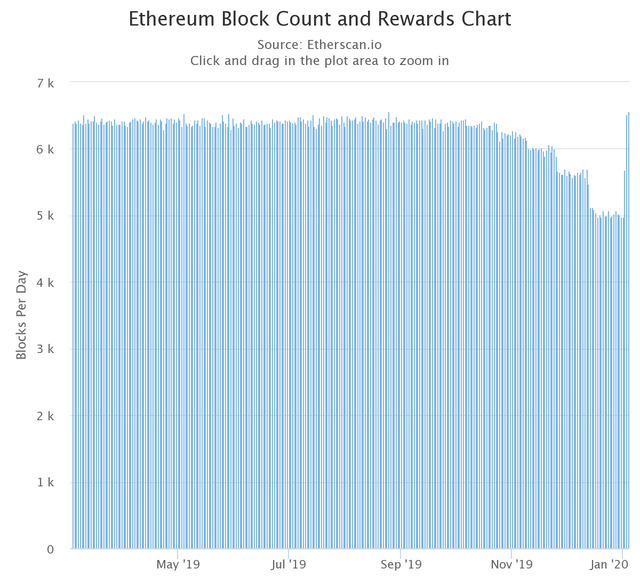 🗞 Daily Crypto News, January, 6th💰
New Year, New Features. Please install the new wallet before January 5, 2020
"Join us on Jan 6th at 3PM UTC in the #Binance English Telegram group for an AMA..."
"... TokenomyX Beta Test is coming soon for you! Period: 6 Jan 2020 - 19 Feb 2020, 14.00... "
WaykiChain meetup in Seoul at 18:00.
WaykiChain meetup in Seoul at 18:00.
"We are so excited to hold @NULS & @ViBook AMA! AMA Time: 5:00PM PST, Jan.6th"
STEEM Trading Update by my friend @cryptopassion
Here is the chart of my last analysis :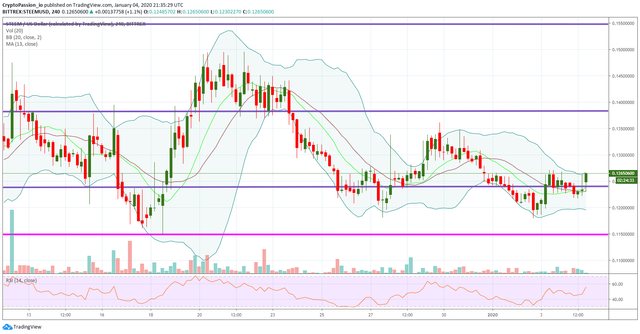 Here is the current chart :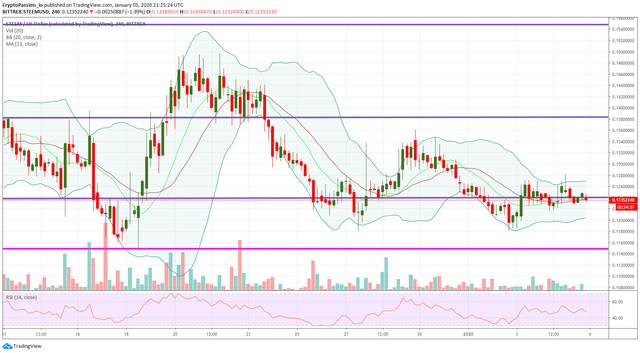 Yesterday, we broke the resistance line at 0.124$ and we are now coming back on it to test if it is a real support or not. We see that the volume and volatility is decreasing so the next move is imminent now. Let's hope it will be a up helped with this support line and that it won't be a new excuse to break that same line. Let's keep an eye on the BTC which has a similar pattern which will impact us when it will start to move also.
Last Updates

You don't want to miss a Crypto news?
Join SteemFollower and get Upvotes back !