🗞 Daily Crypto News, January, 9th💰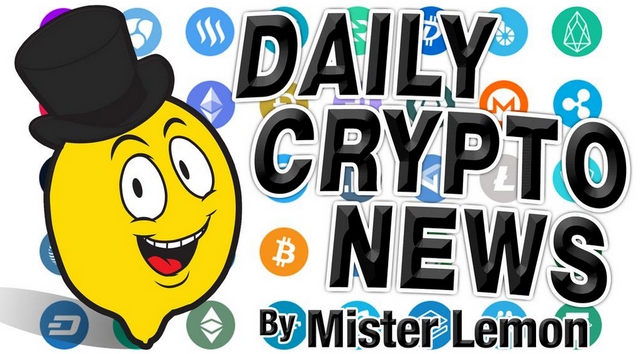 Bitcoin Price Retreats to $8K as Trump Defuses Potential War With Iran ;
China's Nationwide Blockchain Network BSN Will Launch in April 2020 ;
Crypto Trading Privacy Gets a Boost as $15M of Tether Moves to Liquid Sidechain ;
These Companies Hope to Shine at Blockchain-focused CES ;
New York Governor Proposes Giving Financial Watchdog More Teeth ;
🗞 Daily Crypto News, January, 9th 💰
STEEM Trading Update
Welcome to the Daily Crypto News: A complete Press Review, Coin Calendar and Trading Analysis. Enjoy!
Over the last few hours, the price of Bitcoin (BTC) began to falter at $8,300 and dropped all the way to the support at $8,000 as United States President Donald Trump stated that he would not seek further military action against Iran following Tuesday night's bombing of two air bases in Iraq.
The 4.82% pullback suggests that speculators looking for Bitcoin price to rally higher on the increasing chances of war with Iran decided to either pull their bids or take profit as Bitcoin struggled to hold $8,300.
It should also be noted that since Jan. 6 Bitcoin price has rallied more than 15% for a $1,100 gain so swing and day traders could also be taking profits.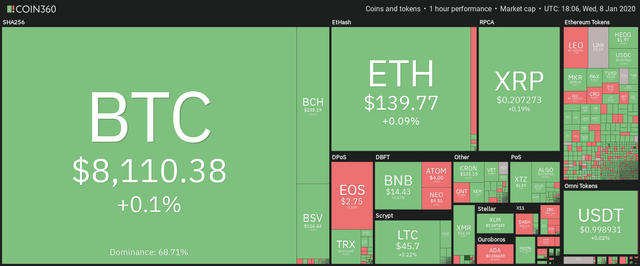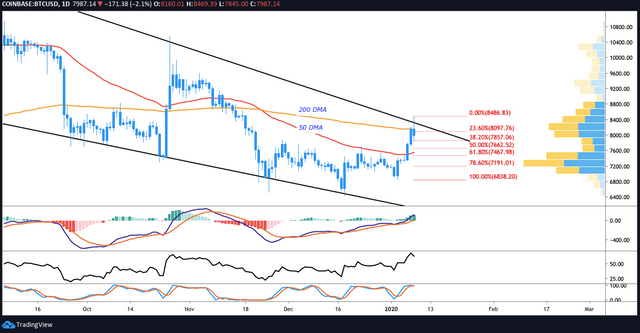 China's nationwide blockchain network, the Blockchain-based Ser­vice Net­work (BSN), will launch in April 2020, six months after it was rolled out for testing.
Backed by Chinese government policy think tank the State In­for­ma­tion Cen­ter (SIC), the ambitious project aims to provide a trusted and scalable infrastructure for supporting new blockchain projects as well as the development of smart cities and the digital economy.
BSN is a joint initiative of China's state policy think tank and state-run companies
Tang Sisi, deputy head of the Smart City Development Research Center of the Chi­na's State In­for­ma­tion Cen­ter (SIC), announced the news at the China Ur­ban Reg­u­la­tion In­no­va­tion Fo­rum in early January, Chinese finance-focused publication Sina Finance reported on Jan. 7. According to the executive, the BSN will be officially launched for commercial operation in April after the network was first released for internal beta testing in October 2019.
Stronger privacy is coming to the largest stablecoin, tether, with a recent blockchain-to-blockchain swap of $15 million worth of tokens.
At 11:27 UTC on Jan. 7, stablecoin issuer Tether conducted a cross-chain swap of some 15 million USDT reserves from ethereum to Blockstream's Liquid, a federated sidechain running parallel to the bitcoin blockchain. The technical possibility of USDT's Liquid debut was first announced in July 2019.
Innocuous at first glance, the transfer has implications for both digital asset trading and the larger tether market, which saw a mass migration from Omni, a bitcoin-based protocol, to ethereum and even Tron over the course of 2019.
But what Liquid offers is privacy.
The Customer Electronics Show (CES 2020) is already in full swing. And this year's event, now being held in Las Vegas and winding up on January 10, will have a special significance for the cryptocurrency and blockchain industry – following on from themes first explored at CES 2019.
But for many, this will be the year when innovators and industrialists must stop talking about blockchain, and actually start making money from it.
Nowhere is that truer than South Korea – where many of the country's largest conglomerates, banks and business groups spent 2019 talking about how much blockchain-related tech they would be commercializing in 2020. South Korean media outlets such as Fn News have been reporting about some of the companies set to showcase blockchain-related solutions at CES 2020. But not only South Korean companies participate in the event.
Samsung
Samsung's IT services arm, Samsung SDS, is displaying a blockchain-powered automotive parts management solution, as well as its own mainnet, Nexledger. The company has previously developed interoperability solutions that it claims have already helped bridge the gap for companies and government entities that make use of different blockchain protocols. It is also extremely active in the areas of logistics and shipping.
Hancom
South Korea's answer to Microsoft has been busy creating a blockchain-powered suite of office solutions, but will also unveil what it says is a comprehensive data management platform for a wide range of certification, including birth certificates, digital identification, education records, employment history and medical records. Interestingly, the same platform also appears to offer blockchain-verified cryptocurrency trading data records. The company will also exhibit details about its own mainnet, as well as smart contract technology.
…
New York governor Andrew Cuomo wants to give the Department of Financial Services (NYDFS) more powers in regulating certain licensed entities, including cryptocurrency startups.
Cuomo presented his 2020 "state of the state" plan on Wednesday, publishing a 321-page list of proposals including a new look at exemptions that currently exist for certain consumer financial products and services.
While NYDFS, the creator of the notoriously hard to acquire "BitLicense," can already bring enforcement actions against unlicensed entities, some companies can claim that they are not subject to the regulator because they do not directly sell their products to consumers.
🗞 Daily Crypto News, January, 9th💰
"Mainnet hardfork day. Blink will be enabled and Lokinet clients will be switched to use the new network."
Team updates at 4:30 PM UTC/ 11:30 AM EDT: Engineering, Node network, Product/UX, Helpdesk, Legal, BD, Marketing, CEO Closing thoughts, AMA.
Chainlink (LINK), Loopring (LRC)
"Tune in January 9th @ 2pm EST for a live stream chat w/ @EidJohann for Chainlink & Brecht Devos Chief Architect of @loopringorg..."
NEO Live on Telegram at 2 PM (UTC+8).
MediBloc Tokenswap Extended December 19th, 2019 18:00 — January 9th, 2020 18:00 (KST) Method: Token swaps using medibridge will be allowed.
STEEM Trading Update by my friend @cryptopassion
Here is the chart of my last analysis :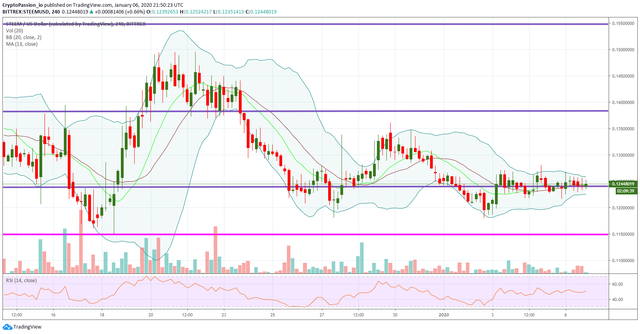 Here is the current chart :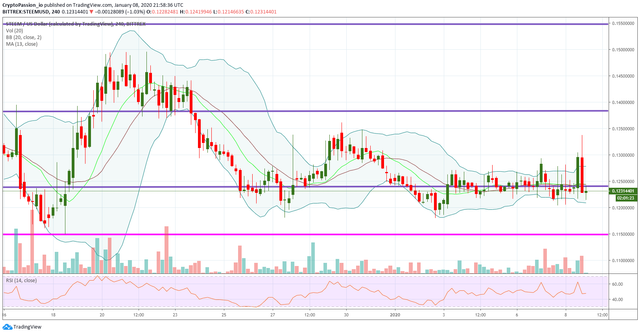 The STEEM was not moving since several days, staying on the support line at 0.124$. Just before the start of the correction on the BTC, the STEEM started to move witha nice UP but that UP has been invalidated as soon as the BTC started its correction. So we are back again on the support line at 0.124$ and we are even trying to break it. Let's hope that support line will hold...
Last Updates

You don't want to miss a Crypto news?