🗞 Daily Crypto News, January, 14th💰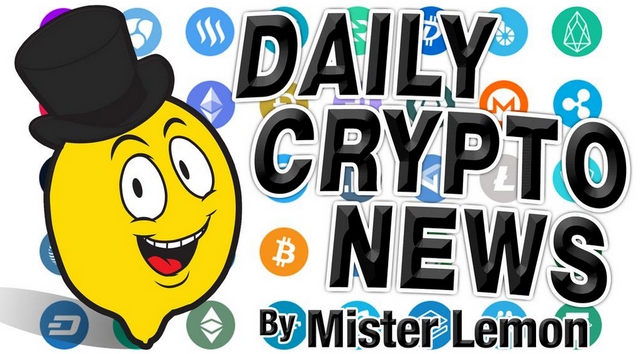 CME's Bitcoin Options See First-Day Volume of $2.3M;
Bitcoin Price Rallies 3.7% to Hit 2-Month High ;
Payments Giant Visa Acquires Fintech Firm Plaid for $5.3 Billion ;
Blockchain Will Be Most In-Demand Hard Skill in 2020: LinkedIn ;
55 Contracts Mark First Day of Bitcoin Options on CME ;
🗞 Daily Crypto News, January, 14th 💰
STEEM Trading Update
Welcome to the Daily Crypto News: A complete Press Review, Coin Calendar and Trading Analysis. Enjoy!
Options on bitcoin futures from Chicago Mercantile Exchange (CME) got off to a good start on Monday, seeing trading volume reach 55 contracts in the opening session.
That amounts to a notional volume of about $2.3 million or 275 bitcoin, with each contract worth 5 BTC. Also, only call options traded on the first day, as noted by Skew.com, provider of data analytics for Bitcoin and Ether derivatives.
An option contract is a derivative based on the value of an underlying instrument that provides the right, but not the obligation, to buy or sell the specified amount of the underlying on or before the expiration date. A call option gives the holder a right to buy, while the put option gives the holder the right to sell.
The growth of bitcoin options is widely being touted as the move in the right direction for the cryptocurrency, as it may boost institutional participation and help bitcoin evolve into a mature asset class.
The price of bitcoin (BTC) has risen once again after a successful launch of CME's bitcoin options surpassed rival Bakkt on its BTC futures contracts in the first day of trade volume.
On Jan. 14 at around 00:30 UTC, the price of the world's largest cryptocurrency by market value rose above an area of resistance that had stifled previous rallies near $8,200 for over a week beginning Jan. 7.
As of press time, BTC is changing hands at $8,413 after reaching its highest point in nearly two months at around $8,446, CoinDesk BPI data shows.
This comes several hours after the successful launch of Chicago-based derivatives exchange CME's futures contracts for BTC, which surpassed rival Bakkt in reported volume within its first day of trading.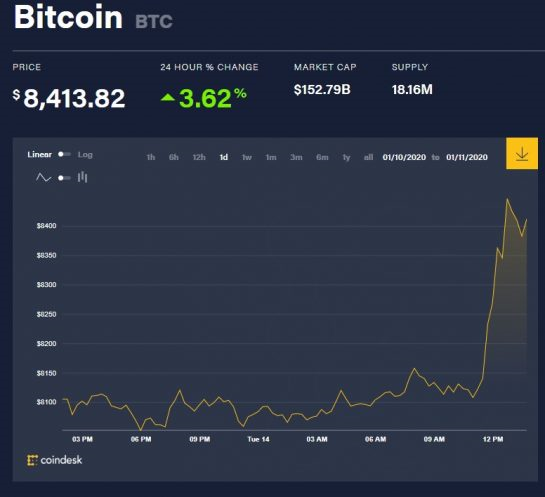 Per the release, Plaid has developed a network that allows users to easily connect their financial accounts to the apps they use to manage their financial lives.
The firm's products reportedly allow for convenient sharing of financial information with thousands of apps and services by allowing users to link various accounts.
The announcement states that 75% of the world's internet-enabled consumers used a fintech application for moving funds. As such, it has "become increasingly important to facilitate consumers' ability to use fintech applications." Visa Chairman and CEO Al Kelly commented:
"Plaid is a leader in the fast growing fintech world with best-in-class capabilities and talent. The acquisition, combined with our many fintech efforts already underway, will position Visa to deliver even more value for developers, financial institutions and consumers."
Blockchain will be the most in-demand hard skill in 2020, according to a new study by the educational subsidiary of professional social network LinkedIn.
A newcomer to LinkedIn's annual list of top-demanded hard skills, blockchain now tops the list of the most-needed skills in 2020, according to a LinkedIn Learning blog post on Jan. 13.
Blockchain to surpass cloud computing and AI in 2020
In 2019, blockchain-as-a-skill overtook major hard skills including cloud computing, analytical reasoning, artificial intelligence (AI), and user experience (UX) design, becoming the number one hard skill in demand among global employers in 2020, according to LinkedIn Learning.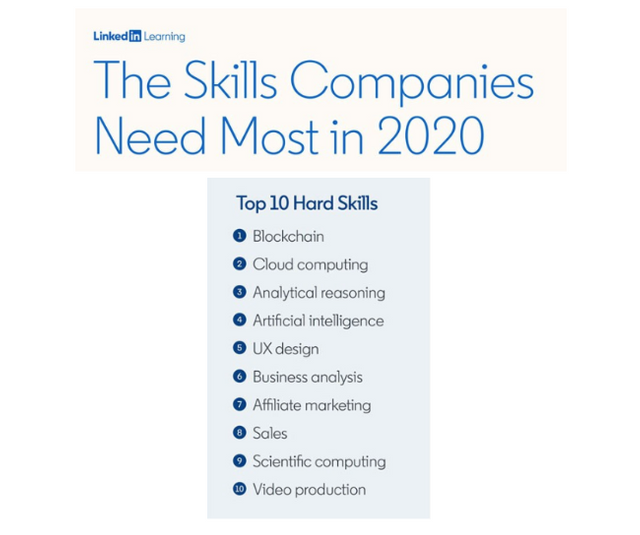 Following the launch of bitcoin options trading on the Chicago Mercantile Exchange (CME) yesterday, the exchange reported that 55 options contracts changed hands during the first day of trading.
Each options contract at the CME represents a right, but not an obligation, to buy one bitcoin futures contract, which in turn represents 5 bitcoins. That means bitcoin options worth a total of 275 bitcoin – or about USD 2.3 million – were traded on the first day. That compares to a volume of only USD 381,000 on Bakkt, according to data from crypto analytics provider Skew.
Meanwhile, other competitors have performed better: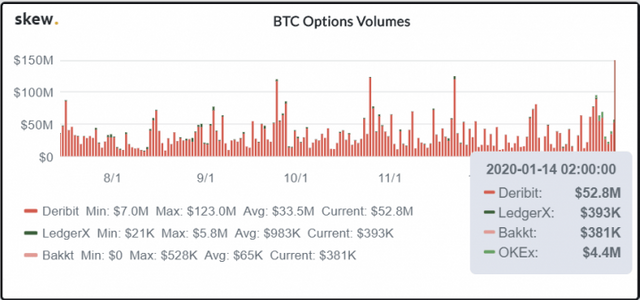 🗞 Daily Crypto News, January, 14th💰
Bitcoin Cash (BCH), Centurion (CNT), General Event (CRYPTO), Krios (KRI), PAC Global (PAC), Ternio (TERN)
"Washington Elite A.I. Blockchain Summit - Autonomy and Robotics Edition" in Miami from Jan 14 - 15.
"The 10,000,000 $WTA pre-mining for all users will start on Jan. 14, 2020. Please download the latest version of $WTA App and pass KYC..."
We will be announcing partnership with a well known crypto wallet on January 14.
Stay tuned on our channel and social media on January 14th 2020 as we will announce the winners for Dapps Incentive Program 2019.
Dynamic Trading Rights (DTR)
"#TokensNet will be down for a scheduled database upgrade tomorrow on 14 January 2020, at 11 AM (UTC)."
STEEM Trading Update by my friend @cryptopassion
Here is the chart of my last analysis :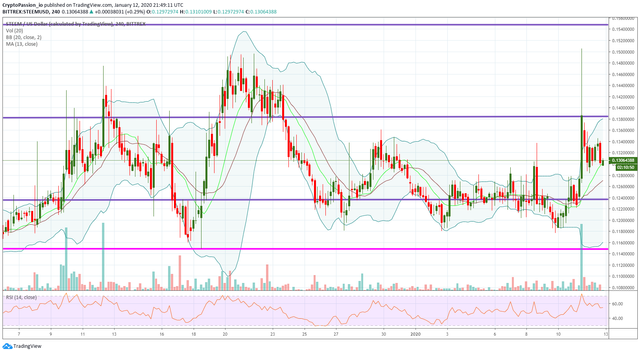 Here is the current chart :
(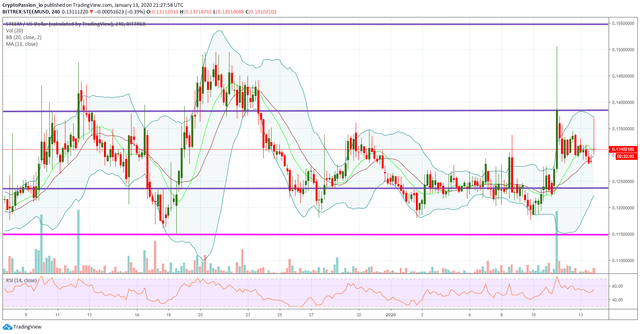 )
The Steem is quite volatile these days. Look again the candle that we are just having. We almost move from one support line to one resistance line. However, the resistance line at 0.138$ is still not broken and except if we have a big up on the BTC, it doesn't look that the market is ready yet to break it. Let's see which line we will test first.
Last Updates

You don't want to miss a Crypto news?