🗞 Daily Crypto News, January, 16th💰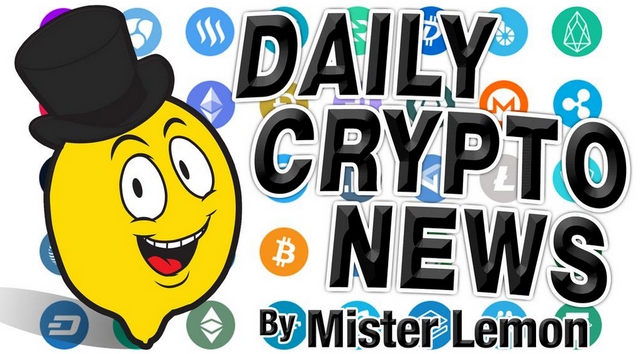 Bitcoin Price Rally to $9K in Danger as a Double Top Pattern Appears ;
Ahead of Davos, What Can Cash Teach Us About Crypto? ;
US Congress Looks at Role of Crypto and Internet in Funding Hate Crimes ;
JPMorgan Veterans' Kadena Launches Public Blockchain, Integrates Wallet to Cosmos Network ;
Anxious S Korean Crypto Exchanges Prepare for Crunch Talks with Banks ;
🗞 Daily Crypto News, January, 16th 💰
STEEM Trading Update
Welcome to the Daily Crypto News: A complete Press Review, Coin Calendar and Trading Analysis. Enjoy!
Over the last few hours, Bitcoin price (BTC) swiftly dropped 3% from $8,863 to $8,557 and for the third time in 24 hours bulls were forced to defend the $8,600 support level, which has currently been bought into on each dip.
The pullback came after the digital asset struggled to rise above $9,000, twice testing $8,863 over the past day, which could be interpreted as a take profit signal for traders.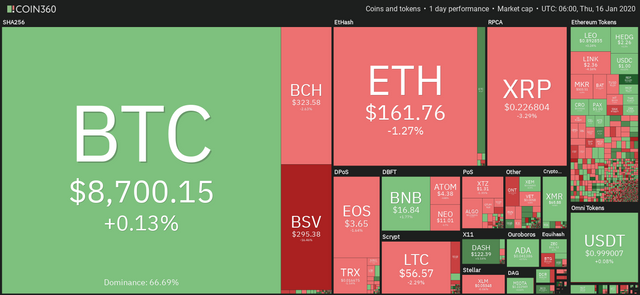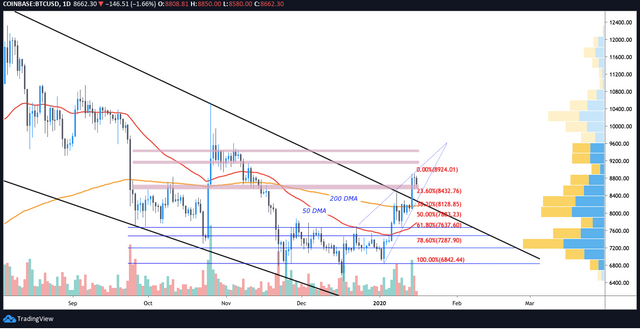 Jill Carlson is a Principal on the investing team at Slow Ventures. The opinions below are her own.
"Transactions are slow and costly."
"What is it backed by?"
"Can we conduct anti–money laundering compliance?"
"There are serious security flaws."
"It carries tremendous operational risks."
"We have concerns around stability."
Are these comments about cash or cryptocurrency? It is a little hard to say.
The similarities between the two represent an uncomfortable truth, particularly when you consider that many of the parties who have leveled such criticisms at cryptocurrencies over the last three years have been the issuers and defenders of cash itself: central banks.
The House Financial Services Committee has raised concerns over the use of cryptocurrencies to fund domestic terrorism in the United States.
In a Jan. 15 hearing, the FSC Subcommittee on National Security, International Development and Monetary Policy has examined how U.S. financial institutions can combat domestic terrorism, extremism and acts of hate.
Titled "A Persistent and Evolving Threat: An Examination of the Financing of Domestic Terrorism and Extremism," the hearing featured five witnesses reporting on various fundraising methods used by organized domestic extremists. Particularly, the officials and executives have outlined crypto as an important fundraising tool for hate crimes, emphasizing that criminal funding is often distributed via popular social media platforms like Facebook and Telegram.
Crypto startup Kadena's public blockchain launched Wednesday, adding interoperable smart contract support between the public chain and its private chain counterparts.
The Brooklyn-based offshoot of JPMorgan's blockchain center announced the launch marks another step in its effort to develop scalable, secure proof-of-work alternatives to the current leading cryptocurrencies ethereum and bitcoin. As part of its efforts in interoperability, Kadena is also integrating its wallet Chainweaver with the Cosmos Network, allowing different blockchains to interact.
The integration process is expected to be complete by March.
Using Kadena, individuals or businesses can begin looking at apps and projects that use "a fully-scalable base layer as a piece of public infrastructure" while maintaining privacy features to address any regulatory or other concerns, founder and CEO Stuart Popejoy told CoinDesk.
Nervous South Korean cryptocurrency exchanges are preparing to renew their banking deals with domestic banks – with media reports claiming exchanges are feeling "pessimistic."
Per Newsway, the country's "big four" exchanges, the market-leading Bithumb, Upbit, Coinone and Korbit, are "putting all their energy into preparations" ahead of contract talks with the banks. The exchanges existing banking deals all expire at the end of the month.
Under existing regulations introduced in early 2018, the country's exchanges are compelled to enter into six-month renewable arrangements with domestic banks. Banks and exchanges must meet strict criteria pertaining to customer withdrawals and deposits – which must be made using government-sanctioned real name-verified, social security number-protected accounts.
🗞 Daily Crypto News, January, 16th💰
Blockchain Sovereignty Wallet v1.02 mandatory upgrade. Please upgrade the PC and VPS wallets before block height 330,000.
General Event (CRYPTO), SingularityNET (AGI)
WorldWideWeb Forum 8th annual meeting in Zurich from January 16-17, 2020.
Join the Bitcoin.com team and the Bitcoin Cash community on Thursday, Jan 16th, 6:30 pm at the American Social, after day 2 of TNABC.
Team updates at 4:30 PM UTC/ 11:30 AM EDT: Engineering, Node network, Product/UX, Helpdesk, Legal, BD, Marketing, CEO Closing thoughts, AMA.
"... Webinars in English will be held every Wednesday at 6 PM (GMT +5) and Thursday at 6 PM (GMT +1)"
STEEM Trading Update by my friend @cryptopassion
Here is the chart of my last analysis :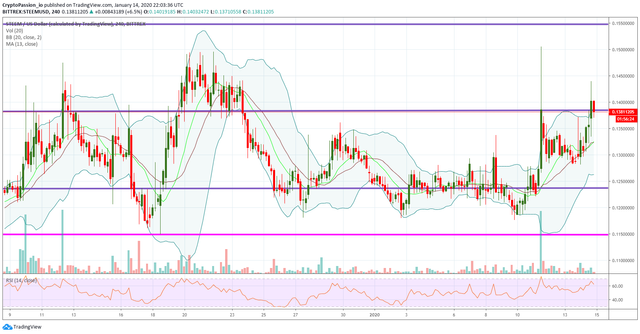 Here is the current chart :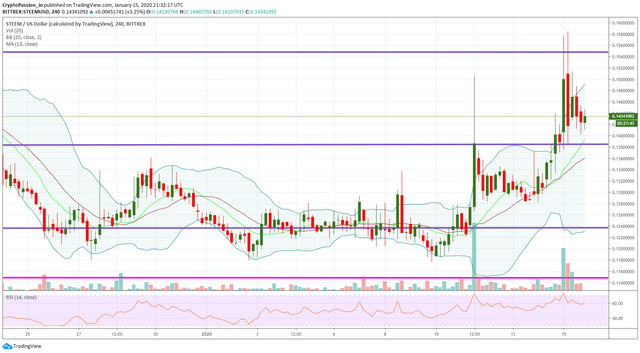 The correction on the STEEM is more important than on the BTC but we still stay in UP trend. So it is really possible that the UP come back again to break the resistance line at 0.155$. All we need is that the BTC breaks the 8900$ resistance line and I think STEEM will break his resistance line also. Let's see and let's imagine some new UP moves on the STEEM !
Last Updates

You don't want to miss a Crypto news?