STEEMALIVE CONTEST: "How is traditional wedding done in your village". Tell us how it is done in your village. Contest prize is 40 Steem.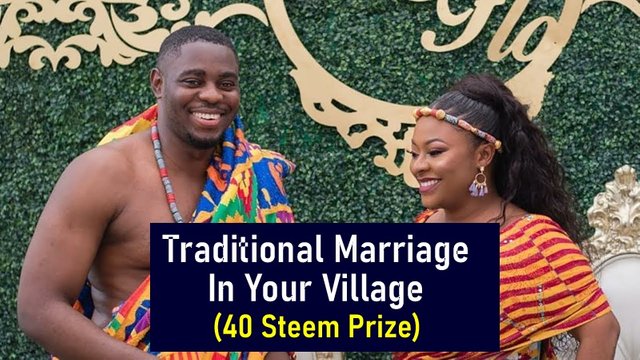 " Source
Hello dear friends it's another exciting time to show us what you've got. It's a contest time!! HURRAY!!! This contest is been organized in the steemAlive community by our friends from Bamenda Cameroon and everyone is free to participate and win amazing rewards.

CONTEST IDEA
Tell us about how to marry a wife in your own village. We all come from different villages and so have different cultures which define our way of action and style. Many men are eager to get married and sometimes do not know the process of marrying a wife. So this contest is all about showing us how to dowry a woman in your respective villages involving all stages


How to participate in this contest
Make a post in this community about the dowry process in your village. You should talk about the most exciting parts of the event. Your post should include the following:
• Introduce your village
|• Whole dowry process
• Include pictures of the event

CONTEST RULES
Zero percent tolerance to Plagiarism. All images and texts must be 100% Original. We will check for plagiarism and ban any participant found guilty from the community and report them to @steemcurator01.
• Old pictures can be used but must be yours. You can include at least 4 pictures in your submission
• You must vote and resteem this post
• Your post must be published in steemAlive community. Make sure you're subscribed to steemAlive community
• Submit your entry link as a comment to this post
• Your entry should be at least 500 characters long.
• Your tags should include these tags and any other #steemalive #traditionalwedding (#country for example #cameroon if you're from Cameroon)
The Prize - 40 Steem
We will distribute 3 Steem each to the best 3 entries with the best in terms of quality and originality. A consolation prize of 1 Steem would be sent to the next 31 participants. Prizes will be sent to winners after the expiry of the post which is 7 days.

How winners are selected
We will first make sure that all participants contested according to the rules. Then we will also check the following:
Quality of content: Detail of story, formatting of post, Picture quality, originality, etc
NB: Copy and paste is prohibited and plagiarism will not be accepted
@cc
@focusnow
@njiatanga
@ngoenyi
@whitestallion
@yeesja


Subscribe:::Discord.
:::Whatsapp :::join trail :::Steemalive Website