Steemit Engagement Challenge S5-W3 | IF ONLY…
Season 5 Week 3 of the Steemit Engagement Challenge is here!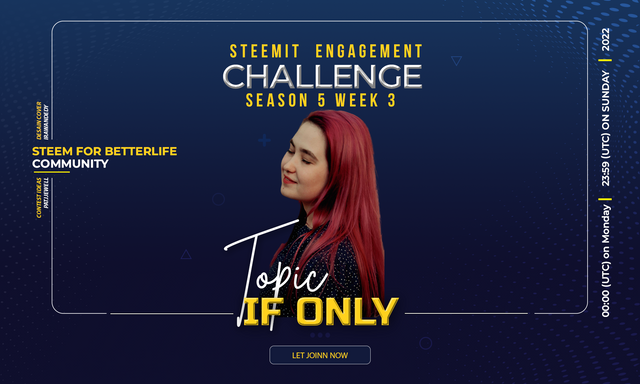 Image Source

"Here was another 'if only' — if only he had acted quickly, spontaneously, throwing 'tact' and 'good form' to the winds. Just then she had needed him, and he had failed. This bitter reflection positively, for a time, hindered his strange friendship with Louise, he avoided her almost to the point of boorishness, almost deliberately seeming to have lost his interest and his affection. The pain of his 'might have been' led him instinctively to devalue his loss, make it not a loss but something inconceivable and nil." — Iris Murdoch, The Green Knight

For this contest we want you to tell us If there are two words spoken by all of us it's the words "IF ONLY".
Today we want you to write a post about that "If Only" moment in your life. - Kindly see, the first sentence must go out "For this contest we want you to tell us"
Posts must be posted in the STEEM FOR BETTERLIFE community
Write a post with no less than 350 words
Post must be steemexclusive
All relevant languages are allowed
Use your own images, and if not you must Avoid non-copyright free images and post the source of the images
Use Post Title " Steemit Engagement Challenge S5-W3: If Only
You must use the the #steem4betterlife-s5w3, #yourcountry, #club? tags, among your first 5 tags
Participants may not use any auto-vote services
Paste your post link in this post to make searching easier
Up vote this post, resteem it and invite 3 other users to participate
Actively commenting on other engagement participants across the engagement community
Like with all contest there must be a verification and scoring process.
This will be as follows;
Scoring System or Verification Format
| Verification Date | Month Date, Year |
| --- | --- |
| O'clock | 00.00 PM/ AM |
| Get Upvote | 0 |
| Valid Comments from Other Users | 0 |
Description
Information
Score
Plagiarism Free
✅ or ❌
1
#steemexlusive
✅ or ❌
1
Bot Free
✅ or ❌
1
Verified User
✅ or ❌
1
Markdown Style
2
Quality Content
4
Total Score
10
Club Status Verification Period
Month Date to Month Date, Year
Transfer to Vesting
xxx.xxx STEEM
Cash Out

xxx.xxx STEEM

Result
clubxxx
Voting CSI
00.00 ( 0.00 % self, 00 upvotes, 00 accounts, last 7d )
Determination of Club Status refers to the https://steemworld.org/transfer-search Web-based Application
| Note | Development Notes from Verifier |
| --- | --- |
---
---
---
We do not guarantee that every participant will be supported by steemcurator01 or steemcurator02
The jury's decision cannot be contested
The main hashtag for this contest search is #steem4betterlife-s5w1
Engagement: Post should get at least 10 upvotes and 5 valid comments from other users. (Comments like "great" "good" "nice" etc. simple words are not eligible.)
Participating time is from 00:00 (UTC) on Monday to 23:59 (UTC) on Sunday.
Good luck!
Note :