Steemit Engagement Challenge S5/W6 - A Friend in Need is a Friend Indeed
It's the sixth week of the Steemit engagement challenge in season 5. We welcome you to another contest organized by our community. It's going to be another great time spent together and we look forward to having you on this.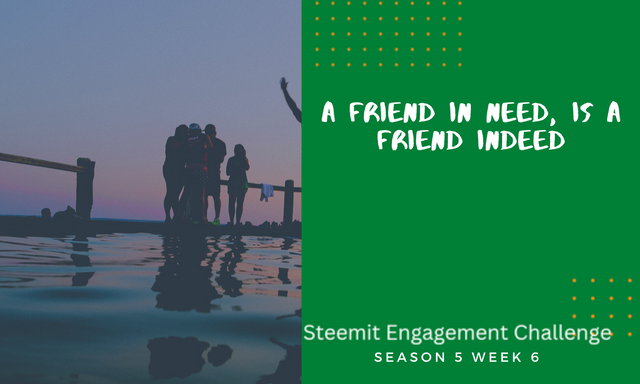 ---
Theme - A Friend in Need is a Friend Indeed
This is an adage that symbolizes true friendship, trustworthiness, and commitment to one another. We are very sure that you all have different experiences in relation to the different disappointments and great breakthroughs that were engineered by people/friends that are not bloodline. But at this time this is in correlation to the selfless services and sacrifices that we have enjoyed through great people in our lives.
This contest is basically needing your great participation in narrating some of these appreciative moments and sacrifices from our dear friends. A guide from the contest hints may help in guiding us accordingly.

Contest Hints
Share your understanding of the saying "A Friend in Need is a Friend Indeed".

Do you have anyone you can call a friend indeed? (Choose one regardless of the distance apart at the moment) How did you meet and how long have you known each other? (Share his/her name and picture).

What are the special qualities that attracted you to the person or the sacrifices they have made for you in the past? Do you think your friendship remained intact as it started?

Is the person on Steemit and how is he/she faring in the Ecosystem? If they are not, why have they not joined through you? (Are there special reasons for that).

Write a short message to tell him/her how amazing he/she is.

Contest Guidelines and Rewards
Write an article on the subject with at least 300 words and post it in this community.

You are eligible to make only one entry per week.

The Title should be - " *Steemit Engagement Challenge S5/W6 - *A Friend in Need is a Friend Indeed".

Endeavor to subscribe to the community and follow our official account @steem4nigeria.

Leave reasonable comments on at least three entries from other participants (ensure you interact greatly with other users).

Use the tags #steem4nigeria-s5w6, country (e.g #nigeria), and club status in the first five tags. Invite at least three of your friends by mentioning them in your comment on this post and at the bottom of your entry.

10 STEEM Power (5, 3, and 2 SP) would be shared between the top 3 winners.

Write quality content to stand out and also to be suitable for support. The contest starts at 00:00, on the 14th of November, and ends at 23:59, on the 20th of November 2022.

In conclusion, we want you to share those great moments and sacrifices received from this dear friend in addition to other details not captured/included in the contest hint. We look forward to your entries and good luck. We also invite you to take part in the ongoing contest in our community before it runs out in a few hours.
---

---
Note: We would appreciate it if you can support our community by setting some beneficiaries to

@steem4nigeria

(maybe 10%). It's not mandatory.
---
Support the growth of Steem4Nigeria by delegating some SP

50SP
100SP
150SP
250SP
500SP
1000SP
1500SP
2000SP
2500SP