Steemit Engagement Challenge Season 5 Week 5 - My Day in Pictures
It's the fifth week of the Steemit engagement challenge in season 5. We welcome you to another contest organized by our community. It's going to be another great time spent together and we look forward to having you on this.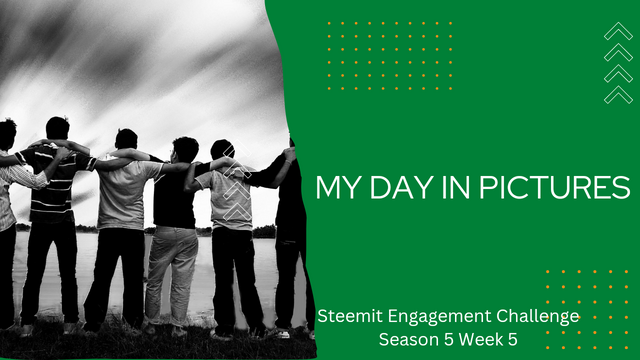 ---
Theme - My Day in Pictures
We have numerous activities we get involved in on daily basis and all put together can be presented as an entry into the diary game. In our community today, we want to see how you have spent your day and this would be shared through the popular diary game on the platform.
It would be a bit slightly different this time, we term this "My day in pictures" which means we are expecting a minimum of a certain number of pictures with clear stories about each. You will get to know more about this in the hints below.

Contest Hints
Share your normal diary game article that walks the audience through your day, most importantly in pictures with detailed stories about each picture (Minimum of 5 Pictures and Maximum of 8 Pictures).

Do you involve in any unplanned activities for the day like repairs of your vehicle, work tools, and others? Share with us.

Are there any special events around you for the day? Let's hear about them.

If you would rate your productivity today, what would you give yourself out of 10? What adds up to or negatively affected your productivity for the day? It could be the power supply, weather, and so on. Tell us about the factors.

Contest Guidelines and Rewards
Write an article on the subject with at least 300 words and post it in this community.

It must not be purely an indoor diary, there should be time spent outdoors included.

Your entry must be recent activities that align with the day of the diary.

The Title should be - " Steemit Engagement Challenge S5/W5 - My Day in Pictures: (DD/MM/YY)".

Endeavor to subscribe to the community and follow our official account @steem4nigeria.

Leave reasonable comments on at least three entries from other participants (ensure you interact greatly with other users).

Use the tags #steem4nigeria-s5w5, country (e.g #nigeria), #thediarygame and club status in the first five tags. Invite at least three of your friends by mentioning them in your comment on this post and at the bottom of your entry.

10 STEEM Power (5, 3, and 2 SP)
would be shared between the top 3 winners.

Write quality content to stand out and also to be suitable for support. The contest starts at 00:00, on the 7thof November, and ends at 23:59, on the 13th of November 2022.

In conclusion, we want you to share your quality diary game with us with a well-developed brief story about the pictures and other things included in the contest hint. We look forward to your entries and good luck. We also invite you to take part in the ongoing contest in our community before it runs out in a few hours.
---

---
Note: We would appreciate it if you can support our community by setting some beneficiaries to

@steem4nigeria

(maybe 10%). It's not mandatory.
---
Support the growth of Steem4Nigeria by delegating some SP

50SP
100SP
150SP
250SP
500SP
1000SP
1500SP
2000SP
2500SP