Steemit Engagement Challenge S2W4 | Steem4Nigeria Contest | Your dream about Steem/Steemit in your country
Introduction
Hello friends, we are happy to have made it this far with all of us in the Steemit Engagement Challenge Season-2 as we welcome you to week 4. It has been a cruise drive with all of you as we've had tons of entries and engagement participation in the community. For those users who delegate to the community (@steem4nigeria) and as well set the community as one of their beneficiaries, you are the real VIP. We know and sincerely appreciate all your efforts on the platform.
Looking at the rain of entries from week 1 to date, and with other steemexclusive posts dropped in the community, we are certain of the growth of everyone as we continue to support in our unique ways. It's time to show us what week 4 got for all of us...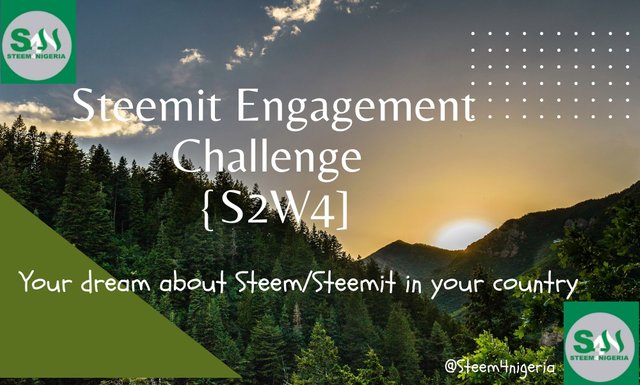 Your dream about Steem/Steemit in your country: The state of the awareness of Steem in your country and what are your contributions?

The Steem Blockchain and Steemit decentralized Social handle have continued to give us the platform to freely express ourselves by posting quality and steemexclusive content and in return, we receive rewards accordingly. Moreso, it avails us the opportunity to earn from its curation activities where users can now leverage its investment channel via the building of influence (Steem Power) to earn more.
The Steemit platform with all this offering also needs to be sustained by our continuous quality engagements, growth, and development therein. Our dreams and visions that are tailored toward the development of steemit are veritable ways to contribute immensely to the platform. We know there are some ongoing programs and projects being carried out in our various locations in favor of steem's growth. Tell us those contributions of yours. The contest hints could also be a guide in articulating your content.

Contest Hints
How well is Steemit known in your Country? Do you think it's popular enough or there is a need for more publicity?

What are the ways you think the promotion of Steemit can be more effective in your Country? This can include special projects you have in mind.

Do you think Steemit would be adopted more in your country if the points you listed above are implemented?

How have you contributed your quota to the development of Steemit in your community?

Contest Guidelines and Rewards
Write an article on the subject with at least 300 words and post it in this community.

Endeavor to subscribe to the community and follow our official account @steem4nigeria.

Leave reasonable comments on at least three entries from other participants.

Use the tag #steem4nigeria-s2w4, #steemexclusive and club status in the first three tags. Invite at least three of your friends by mentioning them in your comment on this post and at the bottom of your entry.

10 STEEM would be shared between the top 3 winners. (5,3,2 Steem respectively)

Write quality content to stand out and also to be suitable for support. The contest ends on the 3rd of June 2022.

Conclusion
In conclusion, we are looking forward to seeing quality entries on those projects or plans that would hitherto bring about steem growth and development in our respective locations. Participants also stand a chance of being supported at the end of the week or in our Daily Top 3 posts powered by Booming. Let's see your inputs on this and we wish you success. Thank you.
---

---
Support the growth of Steem4Nigeria by delegating some SP

50SP
100SP
150SP
250SP
500SP
1000SP
1500SP
2000SP
2500SP