Steemit Engagement Challenge Season 8 Week 4: "The mental health of a content creator"
Talking about health is not only referring to our body, but, considering that we are integral people, we should never leave aside our mental health. As social beings we are in constant interaction, and one of the activities to which we dedicate more time in the course of our lives (apart from sleeping ) is to work, that's why mental health in the labor field is something we should always consider.
But when we dedicate ourselves to content creation, where mental and emotional- is an elemental component, talking about our MENTAL HEALTH as content creators is something that interests all of us in Steemit who make life, which is why this week 4 of the Steemit Engagement Challenge in your Steemit Health community we will talk about "Mental health in content creators ".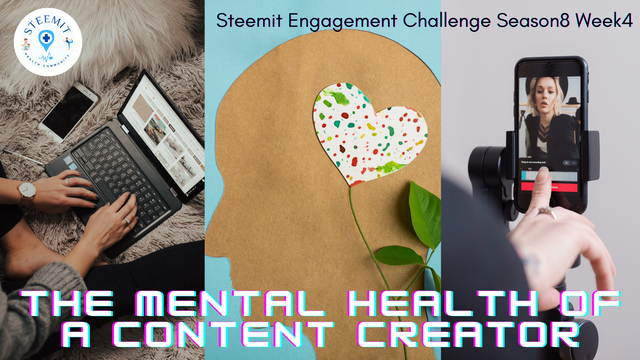 [Image created in Canva Pro]

Based on the above, here are a series of questions, from there, you are free to tell us about your experience as you wish:
1- How do you feel when creating content? Is it a pleasant experience for you or, on the contrary, does it generate anxiety and discouragement?
2- Have you ever felt mentally exhausted by generating content on a daily basis? Tell us about your experience.
3- What do you feel when your content is not valued as you expect it to be? Does this affect you mentally?
4- What would be your recommendations for a content creator to keep a healthy mind?

Contest rules
The publication must be made in Steemit Health community within the following schedule and time: March 20, 2023 to March 26, 2023 at 23:59 UTC.
Keep in mind the following: the publication must be #steemexclusive, do not use any vote buying service, you can use any language.
Post must be more than 300 words
Plagiarism prohibited, remember that all posts will be scanned.
Use images of your authorship or free of copyright.
Remember that you must belong to a club (club5050, club75, club100).
Post title "SECS 8 Week 4: The mental health of a content creator"
Use the tags #steemithealth-s8w4 #country (Your country) #steemexclusive.
Leave the link of your publication in the comments of the contest.
Invite at least two users to participate in the Steemit Engagement Challenge Season 8 Week 4: The mental health of a content creator.

Prizes
3 winners will be selected to whom we will grant Booming votes to each one, and additionally, Steem Power, as follows:
First place: Booming Vote + 5 Steem Power.
Second place: Booming Vote + 3 Steem Power.
Third place: Booming Vote + 2 Steem Power.
We not only invite you to participate with your publications but also to actively comment on the post of other users, surely we can also learn a lot from them.

We hope you enjoy this SEC season 8, Let's begin...
Steemit Health Community Team:
@nadiaturrina (Administrator)
@josevas217 (Moderator)
@franyeligonzalez (Moderator/Organizer)
@steemdoctor1 (Moderator)
@dexsyluz (Moderator)