Steeming Community Contest Week #02 | "Dear Steemit" 120$ Total Worth of Upvote!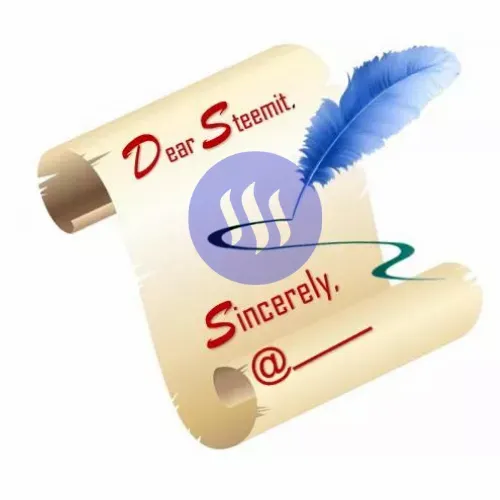 Great news to all Steemingzen contest enthusiasts especially the newcomers! We are glad to announce that the contest "Dear Steemit" has now become a weekly contest and is now on its week 2.
The goal of this contest is for you not to run out of content and have something to look forward to writing as it is just all about you and your daily activities. This will also let the steemingzen newcomers developed their writing skills and learn how to write creatively.
Tips?
Write an open letter dedicated to Steemit like that of a close friend. You tell him more about you and your daily activities. Something like, you are now very close to each other that you simply share what you are doing even without being asked. You comfortably tell Steemit what you did that day. You may also share about your job, vacation, hobbies, your charity, relationship, happiness, and even your trouble.
Whatever else you want to tell to steemit, jot it down and express it creatively!
Here are rules:📝
Resteem this post
As a steemingzen, do not forget to set 30% of your post payout to @steemingcuration and use the tag #steemingcharity10pc
Make it unique and original! Remember Plagiarism is strictly prohibited.
Be creative in your writing and express it using 200 words or more
Submit only one entry per week
Comment down the link of your entry below
Share this on your social media account and show a picture as proof
Invite at least 3 of your friends
Use #dearsteemit as your first tag and mention @fabio2614 for your entry to be easily seen
You may also use #betterlife and #thediarygame as one of your tags. Who knows, one of the steem curators might see and vote on your post. That would be great then!
---
AWARD🏆
Booming upvote worth:
1st Place: $ 50
2nd Place: $ 40
3rd Place: $ 30
Consolation Prize worth 10 Steem to be shared with other exemplary entries.
---
This contest runs from May 12 to May 17, 2021
---
We are waiting for all your entries steemingzen! Let's make Steeming Community more lively and fun. Show us your support by participating in all upcoming contests. Be part of the continuous growth of this community by delegating your steem power to @steemingcuration.
---
Delegate to @steemingcuration
---

---
Reach us out in our discord channel.
---
This contest is initiated by one of the moderators @fabio2614. Enjoy and have fun!