Steemit Engagement Challenge Season 7 Week 1 - Economic Activity - Diary Game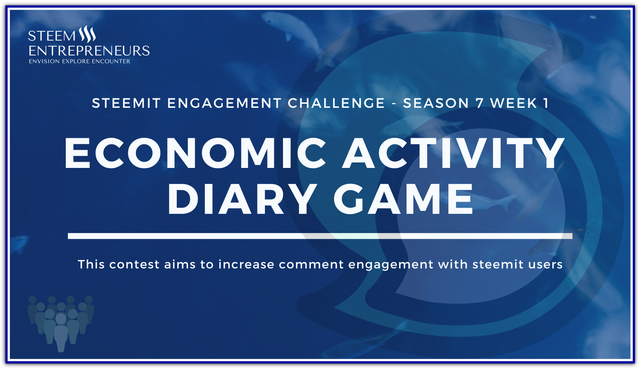 Welcome to the Steem Entrepreneurs Community...
We wish you a happy new year 2023 - Hopefully this year all your goals and targets to grow and develop on the Steemit Platform will be perfectly realized.
The Steem Entrepreneurs community deliberately presents a contest about your daily economic activities in the Steemit Engagement Challenge Season 7 Week 1. The habit of writing your daily economic activities will be very useful for evaluating habits, productivity, finances and other benefits.
Contest background
Without realizing it, economic activities are always carried out by humans, almost 24 hours a day humans carry out economic activities to meet their needs. In general, forms of economic activity carried out by humans include production, distribution, and consumption. Often individuals write diaries about daily activities but do not focus on a particular context which is useful as a record in evaluating daily productivity or finances.
Writing instructions
Writing an Economic - Diary Game is much the same as writing a regular Diary Game. The author tells about daily activities for one day (1x24 hours). The differences in the Economic-Diary Game of the participants are expected to highlight or focus on the economic activities carried out by the participants, such as:
Your daily work activities such as activities in your business venture, your work or other productive activities.
Your daily transaction activities such as buying primary and secondary needs or your other daily transactions.
You can also tell about your other daily activities but still focus on activities that involve economic activities.
Contest Rules
Subscribe and post on the Steem Entrepreneurs Community page.
Original writing with a minimum of 300 words and can use global languages or participating countries.
It is recommended to use the original photo and include the device used for the photo.
Paste the original photo when using copyright-free photos from the internet.
Use title : Steemit Engagement Challenge - S7W1 | The title of your entry.
Use the main hashtag #steementrepreneurs-s7w1, #economic-diarygame and make sure to use the hashtag #steemexclusive.
Mark the location of your economic activity using what3words google maps or others.
Convert your financial expenditure or income transactions with Steem or SBD. You can convert via coinmarketcap or use the web or other conversion applications.
Support the #burnsteem25 initiative by sharing 25% rewards to @null (recommendation).
Invite at least 3 of your friends, resteem and leave your entry link in the comments column.
Please read the contest rules carefully for the perfection of your entry. The Steem Entrepreneurs team will check your entry for plagiarism, participation with #club5050 #club75 or #club100, #burnsteem25 Initiative and rate the entry. Accounts that are currently power down are automatically disqualified.
This contest shall run till Sunday, January 15, 2023, 11.59 UTC
| 1ST PLACE | 6 STEEM |
| --- | --- |
| 2ND PLACE | 5 STEEM |
| 3ND PLACE | 4 STEEM |
Note : Prizes will be given in the form of power ups to the winner's account
| Verified user | ? |
| --- | --- |
| Status club | - |
| Plagiarism-free | - |
| Bot-free | - |
| Tag #steemexclusive | - |
| Support #burnsteem25 | - |
| Voting CSI | - |
| Score | 1/10 |
| Time verification | - |
Determination of Club Status : https://steemworld.org/transfer-search
Every week @steemcurator01 and @steemcurator02 will visit selected communities and choose the best posts to be curated. But keep in mind! svote is not guaranteed. Increase the quality of your posts and engagement with relevant comments to increase your chances of getting the support you deserve.
---
Thank you to all parties who have helped carry out this contest and congratulations for all contestants to participate.
---
Let's support senior steemians @pennsif by choosing @pennsif.witness for better steem growth in the future.
Thank you for choosing and have a lovely day.
Cc : @pennsif | @stephenkendal


Open opportunities for useful contributions and collaborations with steem power delegates for community development.
Please select one from the link :
Thank you to all stemians who have supported and encouraged us to work hard to advance the Community and STEEM to reach wider people.
Kind regards,
Steem Entrepreneurs Team
---
---