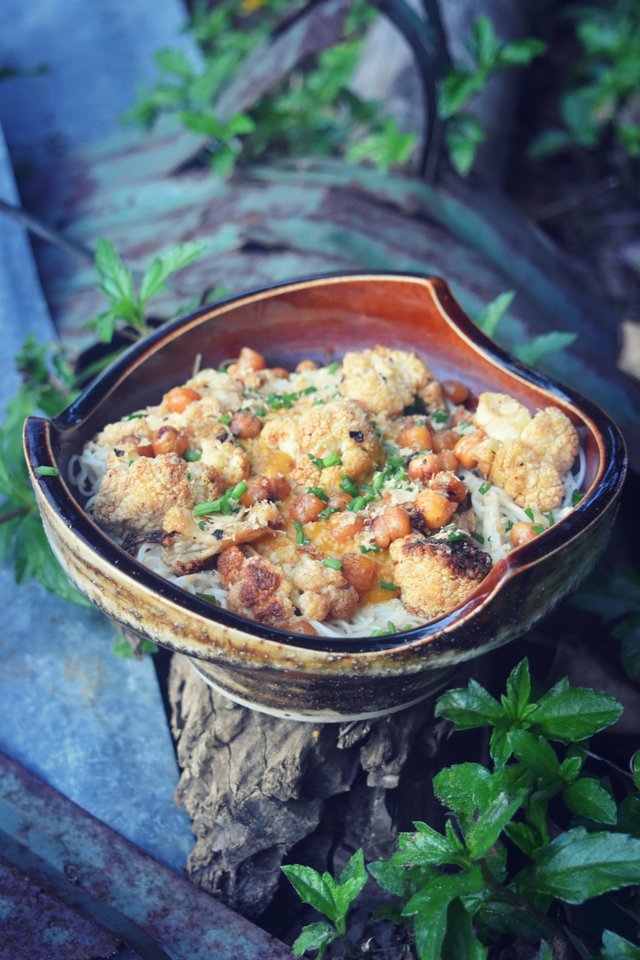 Happy #fruitsandveggiesmonday. Though this little contest has seen a few changes over the past week, this mustn't stop us to keep sharing our vegan delights on Monday, right?
Both @plantstoplanks and @lenasveganliving are facing new projects and personal challenges, making them less available to keep hosting this weekly contest. I wish Katie good luck on her new adventures and Lena a speedy recovery after her planned surgery.
Since we all, myself included, seem to be busy bees I am sharing another quick and easy dish on this wonderful, sunny, tropical Monday.
ROASTED CHICKPEA AND CAULIFLOWER NOODLE WITH HOMEMADE ROASTED VEGGIE SAUCE
---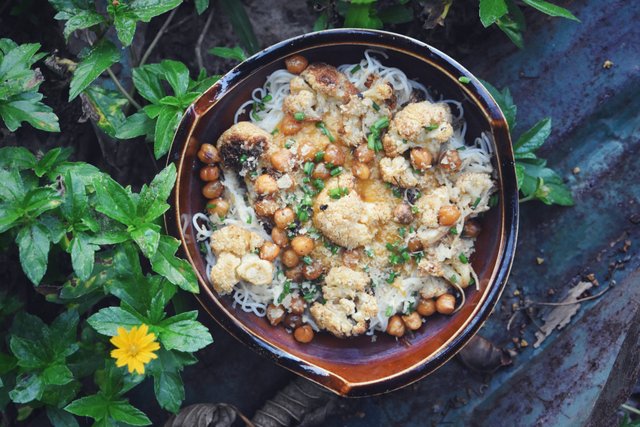 INGREDIENTS (SERVES 3-4)
---
For the sauce
---
Half a small butternut or pumpkin, cut into slices (you can leave the peel on for easy peeling
2 small bell pepper, quartered
7 small tomatoes, halved
4-6 cloves of garlic, skin on and lightly crushed
Himalayan pink salt and pepper to taste
FYI: not quite sure what the local variant of butternut/squash I used is called, but you can use any variety you have available in your country
FYI; this recipe makes more than you need. You can either half the recipe or do as I did and freeze the leftovers for later. It makes a good sauce for pizza or another pasta dish.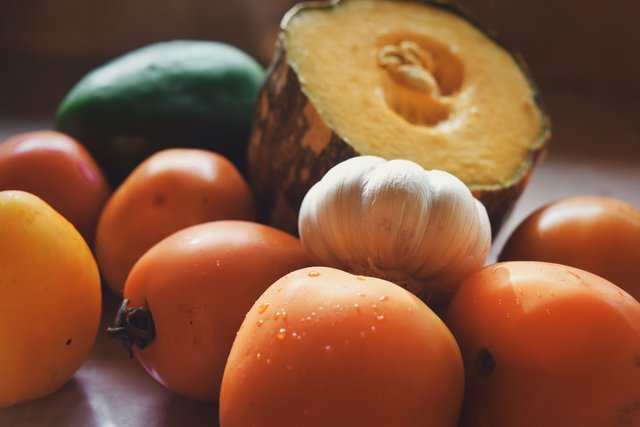 For the noodles
---
1 package of noodles
1.5 cup cooked chickpeas
1 small head of cauliflower, cut into small florets
Himalayan pink salt to taste
Baharat spice mix to taste (or any other spice mix you like)
Nutritional yeast (optional topping)
Though I ordered buckwheat noodles when I made my order at a wholesale we use for the bakery, this is what I got. I am sure they are not buckwheat or normal wheat noodles. Vant read the package as it is in Japanese. My thought is they are rice noodles.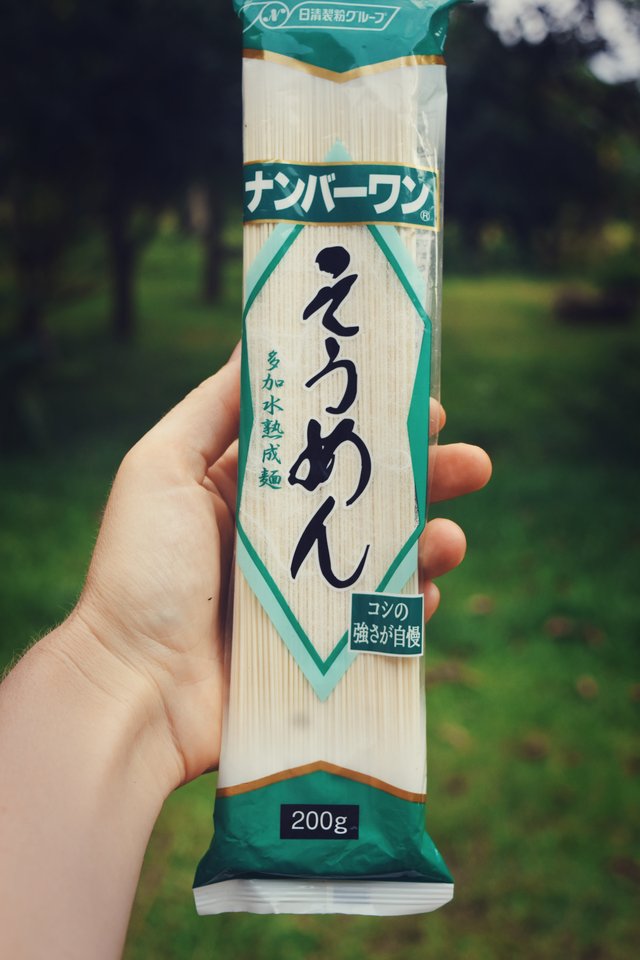 Baharat spice mix
---
4 tbsp smoked paprika
4 tbsp ground cumin
2 tbsp ground black pepper
1 tbsp ground cinnamon
1 tbsp ground nutmeg
1.5 tsp ground cardamom
1.5 tsp ground cloves
Using a blender or pestle and mortar, mix all spices until a homogeneous powder. Store leftover in an airtight container.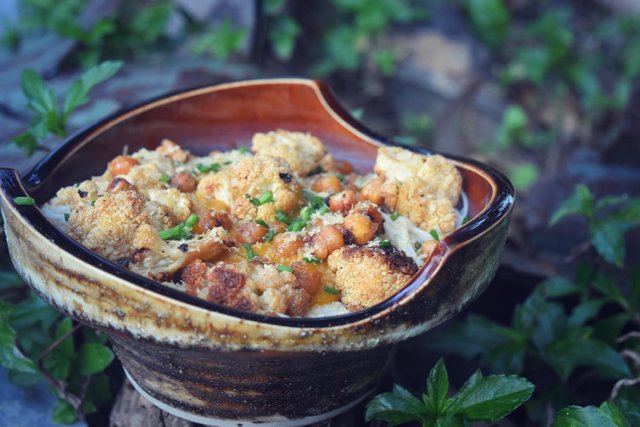 DIRECTIONS
---
Preheat the oven to 200C or 400F.
Lightly oil a baking sheet and add the veggies for the sauce. Add tomatoes and bell pepper cut side up to keep the juices in. Roast until soft and browned.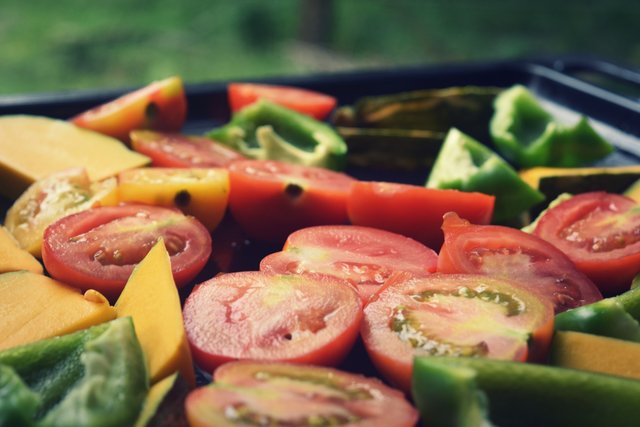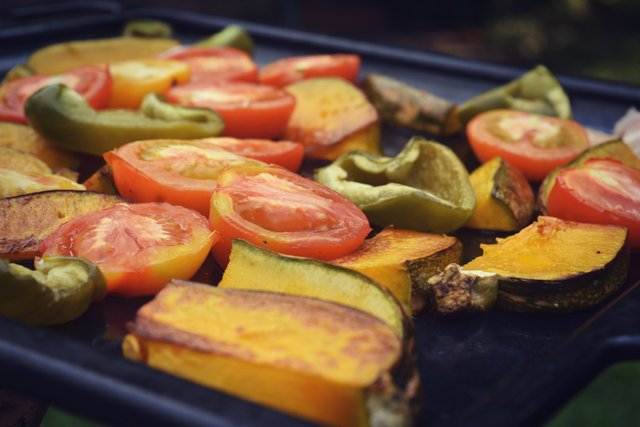 Meanwhile, combine chickpeas, cauliflower, and spice mix in a bowl or straight onto a baking sheet. Drizzle with olive oil and toss to coat. I only have one baking sheet so I had to wait until the veggies for the sauce were roasted. If however, you have a second baking sheet you can already start roasting them to save some time.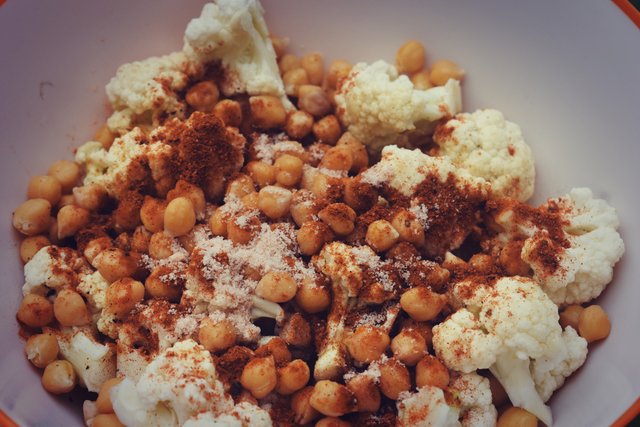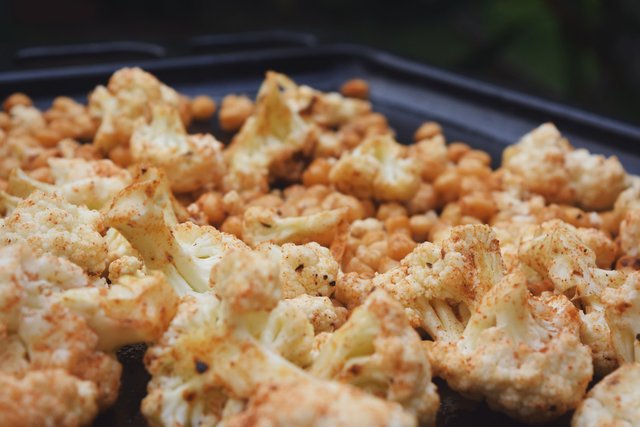 When the veggies for the sauce are roasted, squeeze the garlic out of their skin and blend all veggies until smooth. Add a little water if needed. Season with salt and pepper to taste.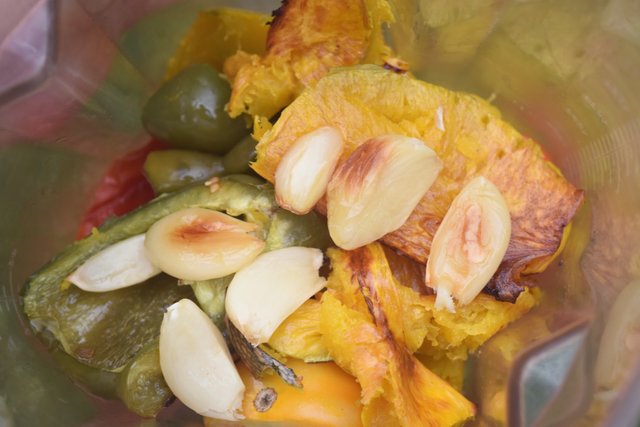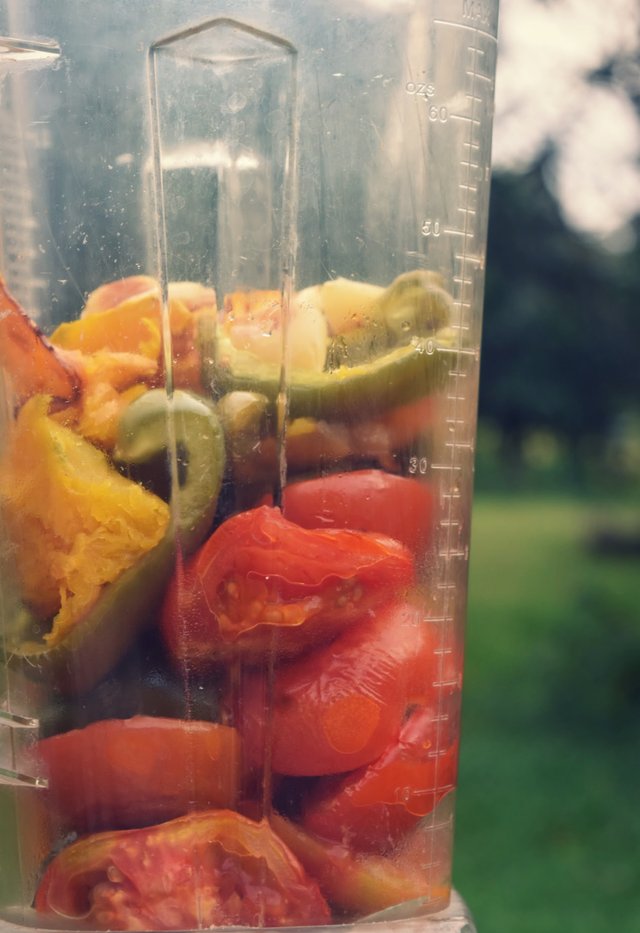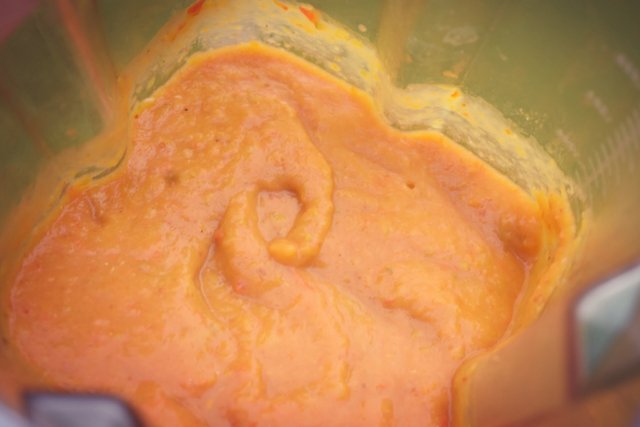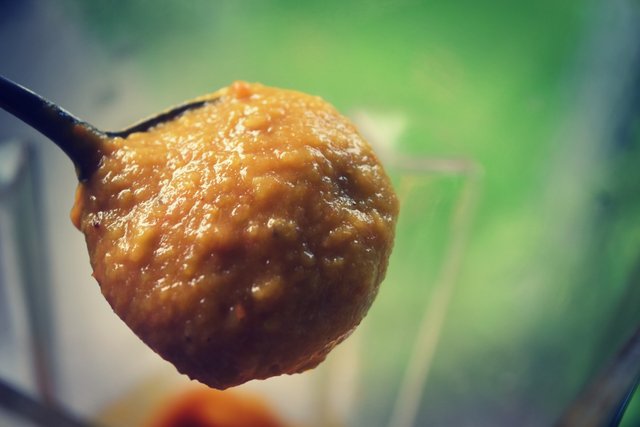 Boil noodles or pasta of your liking until al dente.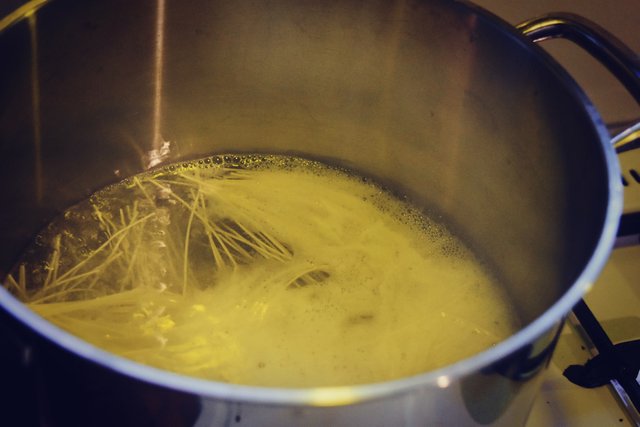 Combine Noddles, sauce and roasted veggies in a bowl. Sprinkle with nutritional yeast and serve.
If you made more sauce just like me, freeze leftover for later.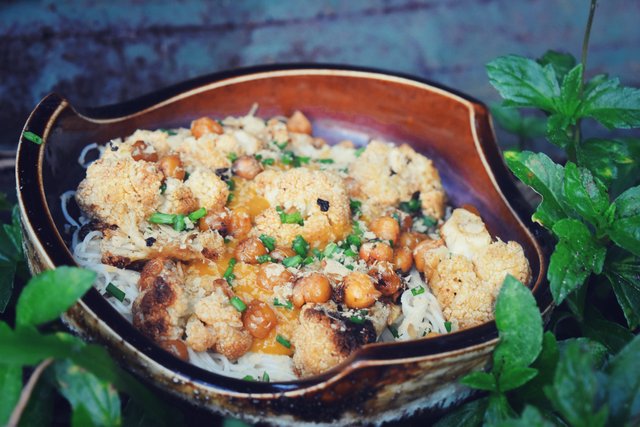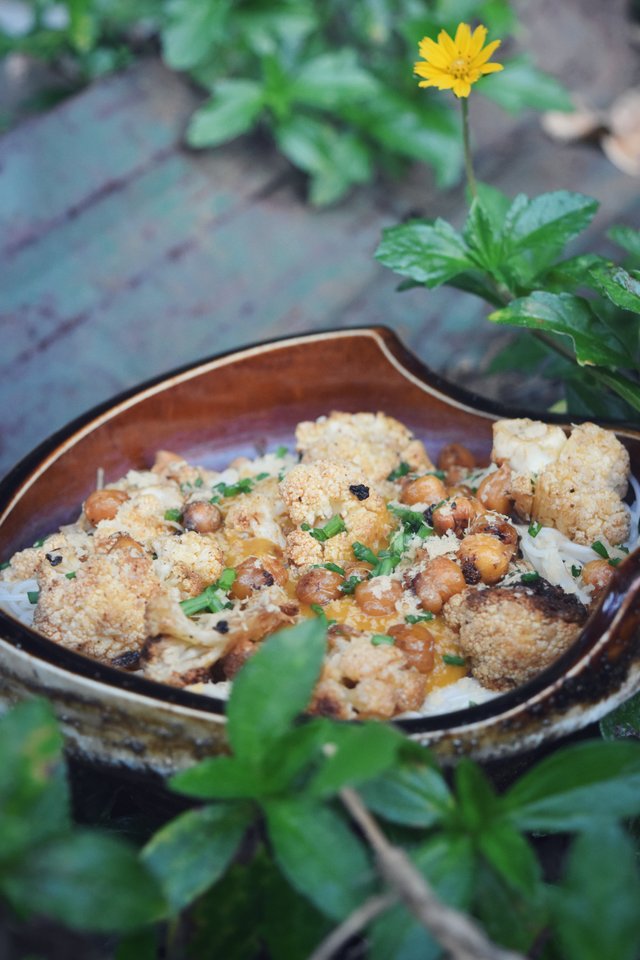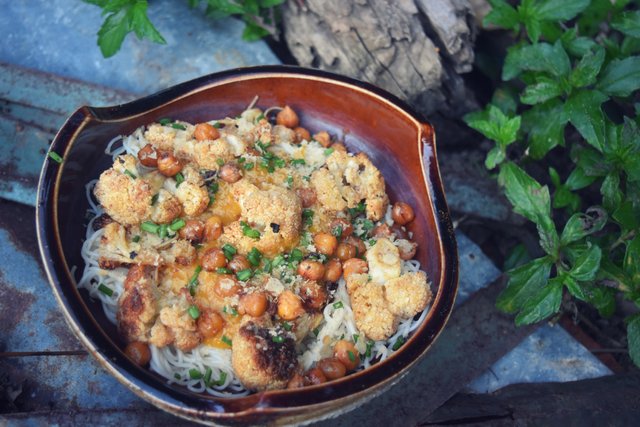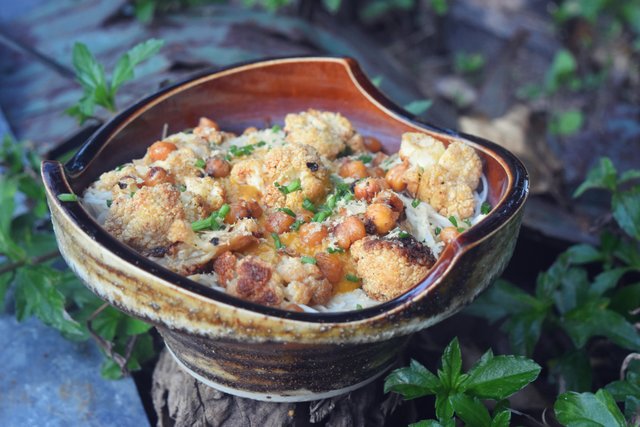 WISHING YOU ALL A WONDERFUL DAY ღ ღ ღ
---

FYI: For green smoothie tips, tricks, and recipes, download my FREE GREEN SMOOTHIE EBOOK HERE!
---
ALL CONTENT IS MINE AND ORIGINAL!
PICTURE(s) TAKEN WITH NIKON D5600
---
LET'S CONNECT!
---
Website - Facebook - Google+ - Twitter - Pinterest - YouTube
---
🥑🍓🍆 FIND MORE YUMMY PLANT-BASED CREATIONS BELOW 🥑🍓🍆
---