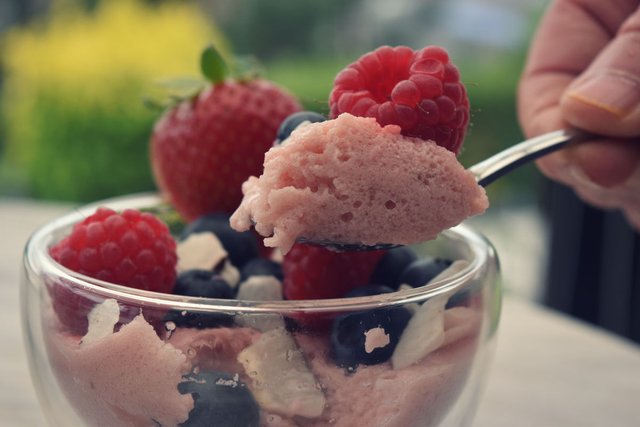 Hello gorgeous people of steemit. Thank you so much for the warm welcome back after being away for a month. Though I have a lot of catching up to do, finding my favorites accounts back here and meeting new steemit souls has put a smile on my face.
Furthermore a big thank you to the @curie community for giving my post 🍲 QUICK AND EASY WEEKNIGHT DINNER - SPICY COCONUT CHICKPEA CURRY 🍲 some extra love and support. Keep up the good work gals and guys.
As I said earlier, though it has been quiet on my side, my kitchen hasn't been shut and quiet at all. In the past month I spend my precious free time cooking for my husband, friends, and friends from friends.
After all the rain we had, I used my lovely garden and outdoor sitting area to invite the people I love and share my yummies with them. Some of them were already vegan, others like my hubby were flexitarians, but many I have cooked for were vegan-curious.... or some I just didn't tell my dishes didn't have any animal products at all.
Although I am a true advocate of the plant-based lifestyle, I don't like pushing my ideas, beliefs, and food on other people. Just let them taste and usually the beautiful, flavorful and colorful dishes do their work for me.
If only all the people I know (and everybody on this planet) would start to eat a little less meat and incorporate at least one vegan day or a vegan before 6 pm regime I would be so thrilled. But as I said I am on a silent mission, cooking for as many people as possible and if they ask about it and they don't get annoyed I will talk for ages about [plant-based foods and a healthy lifestyle lol.
But enough talking let's start cooking.
Today I bring you one of my new favorite desserts which my table guests all enjoyed. I only mentioned after all cups were empty that this didn't contain any egg whites but chickpea liquid aka aquafaba.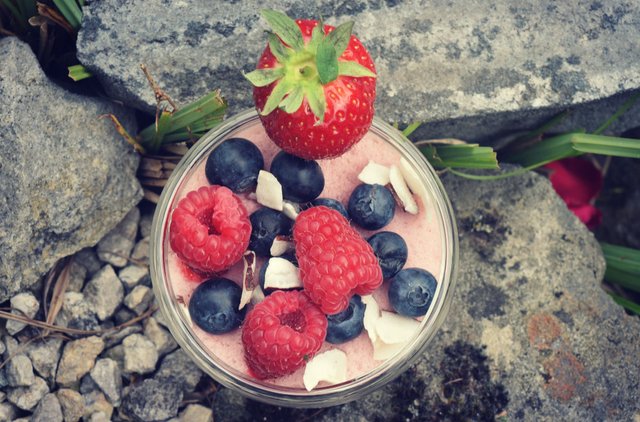 WHAT THE HECK IS AQUFABA?
---
You may have heard of aquafaba ('water-bean') by now. If not then allow me to quickly introduce you to this wonderful liquid.
Aquafaba is the cooking water of legume - usually chickpeas -such as chickpeas. Due to its ability to mimic the functional properties of egg white in cooking, aquafaba can be used as a direct replacement in most recipes that call for egg whites such as meringue, mousses, and marshmallows.
Though slowly cooking dried beans in water for a few hours until the water turns to aquafaba will give you similar results without the added preservatives you get from canned juice, If you are new to using aqufaba, I recommend using the liquid from a can first as this is a fool-proof consistency that always works.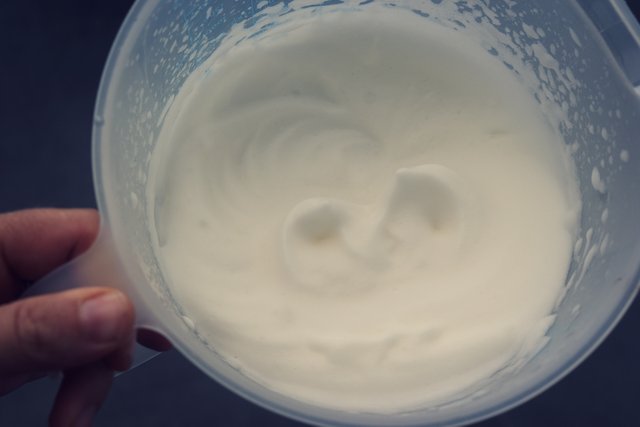 VEGAN STRAWBERRY MOUSSE (SUGAR- AND DAIRY-FREE)
---
This is my entry to the Qurator's Tasty Tuesday #95. Are you a foodie too? Definitely check out this lovely weekly steemit contest.
---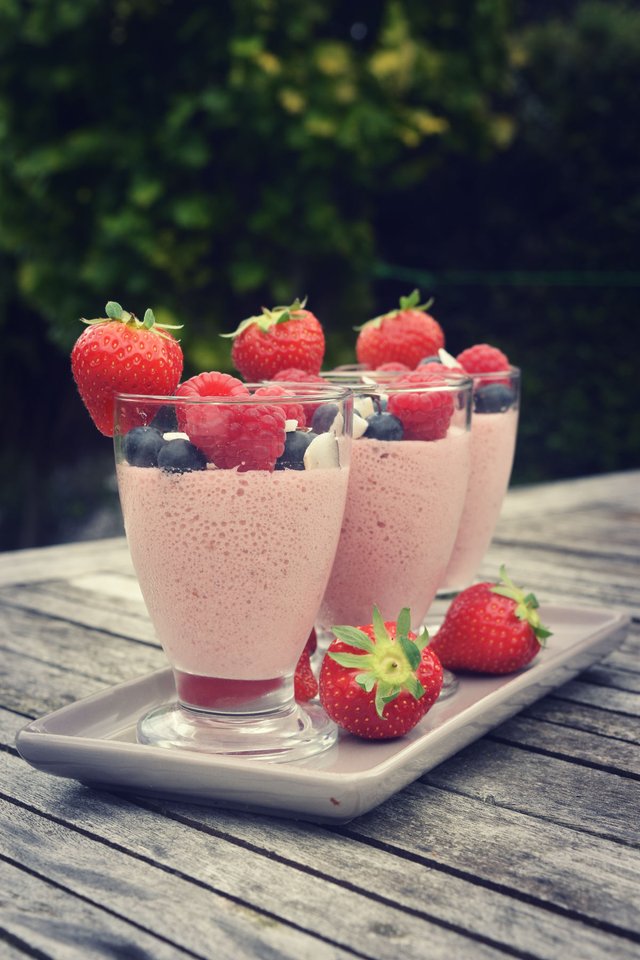 Ingredients
---
200 g fresh strawberries
2 tbsp coconut nectar (maple or raw honey for non-vegans works too)
½ tsp vanilla extract
⅔ cup coconut cream (about 150 gram)
1 tbsp lukewarm water
¾ to 1 tsp agar agarµ1/3 cup aquafaba (about 85 gram)
⅛ tsp lemon juice (substitute with creme de tartar if you have)
FYI: refrigerate the coconut milk to make sure you get all the cream. Remaining coconut water and cream can be used for smoothie or sauces. I also refrigerated the chickpea liquid for the vegan "egg whites" as I have the impression it gets firmer faster when chilled.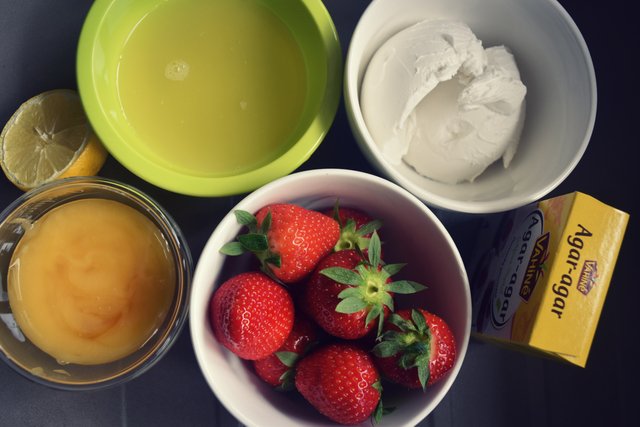 Toppings
---
Fresh berries
Coconut flakes
or any other topping of your choice (ex goji berries, cacao nibs, etc)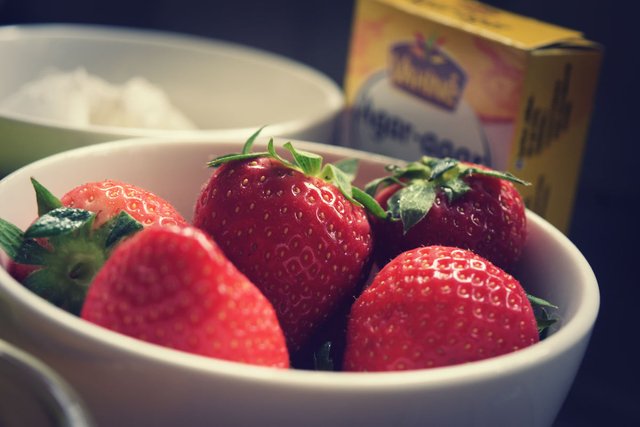 Directions
---
Blend strawberries, maple or honey, and vanilla until smooth. Transfer to a mixing bowl.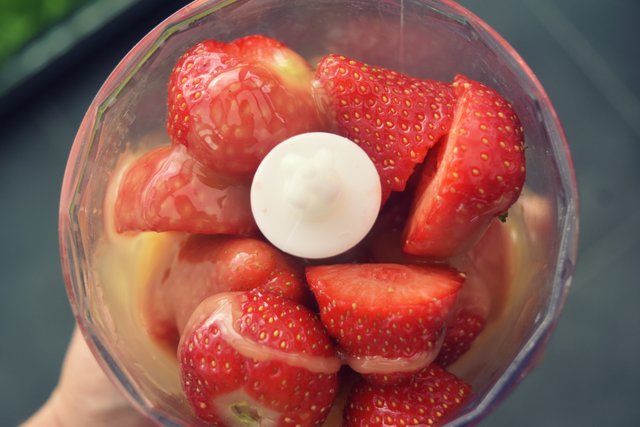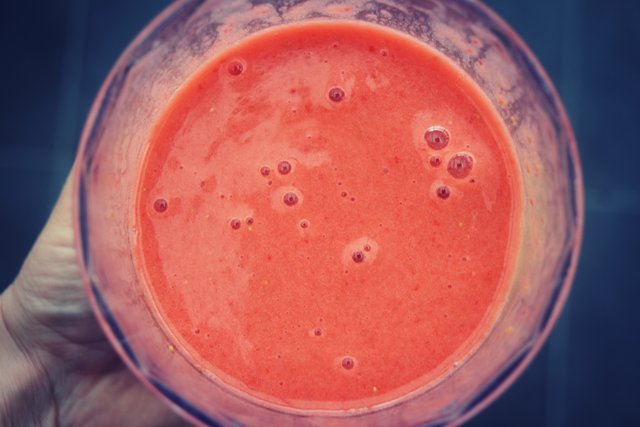 In a small bowl combine water and agar-agar.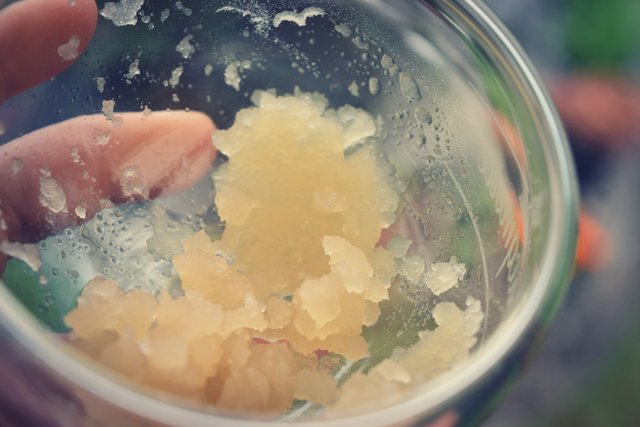 Add dissolved agar-agar and coconut cream to a saucepan and cook over medium heat until it starts to boil. Stir regularly. Remove from heat and pour the hot coconut cream in the bowl with the strawberry juice. Stir to combine and let cool for 20-25 minutes or until lukewarm.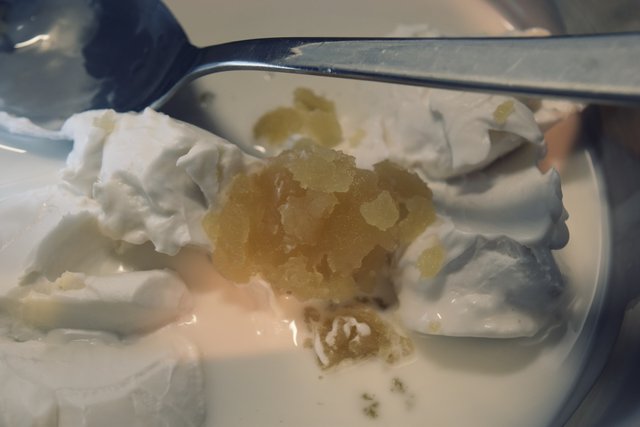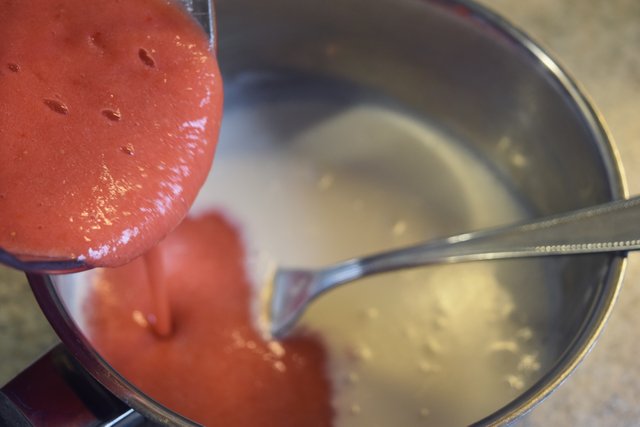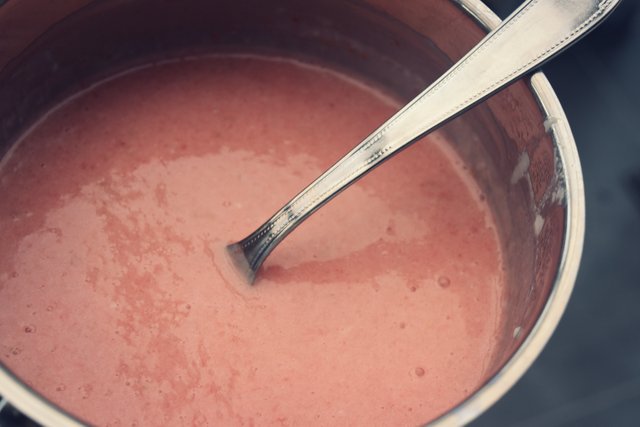 Drain chickpeas, keeping the liquid (aquafaba). Chickpeas can be used for a salad, falafel, hummus, etc. Place in a mixing bowl and lemon juice or cream of tartar. Using an electric whisk, mix on high speed until firm peaks. You should be able to turn the bowl upside down. This takes longer than whisking egg whites so keep whisking until firm. This can take up to 5-6 minutes.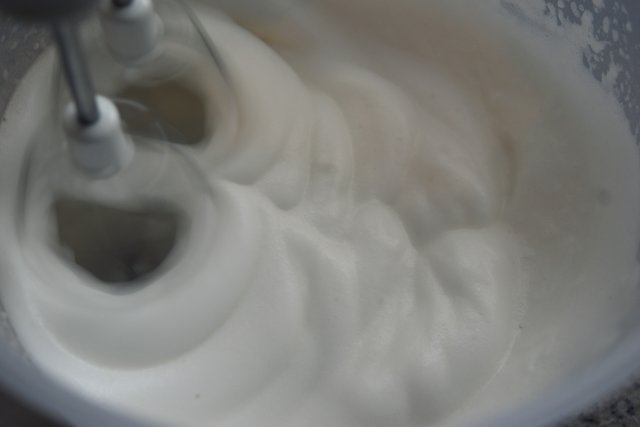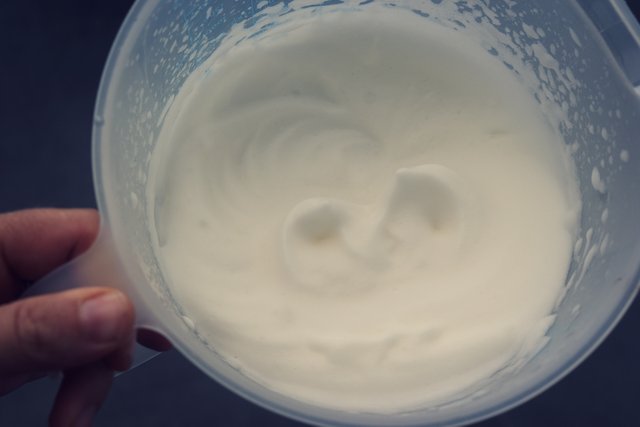 Pour half of the strawberry mix into the bowl and carefully fold with a spatula into the aquafaba. Once combined fold in the remaining strawberry juice. Do not overmix as you want to keep the mousse nice and fluffy.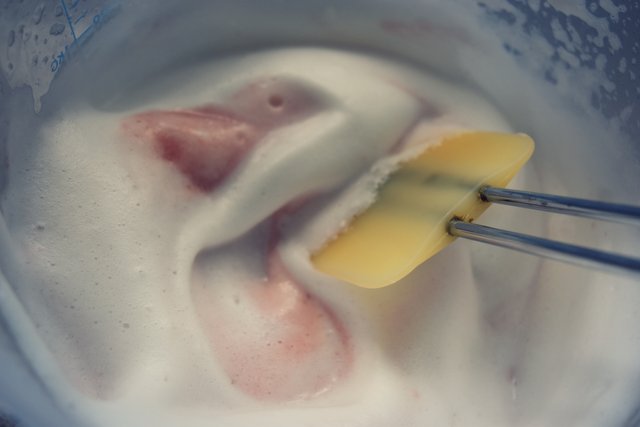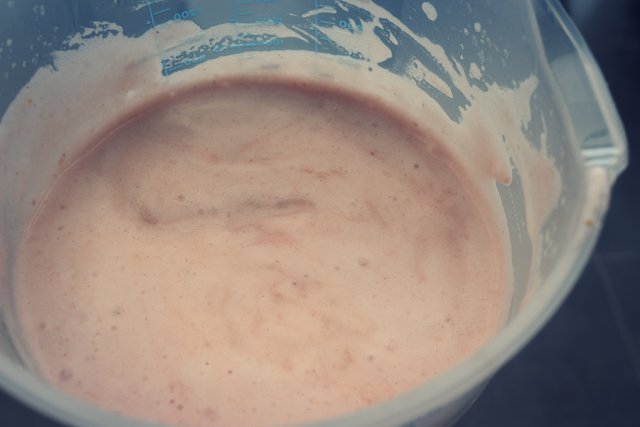 Transfer to glass jars or cups.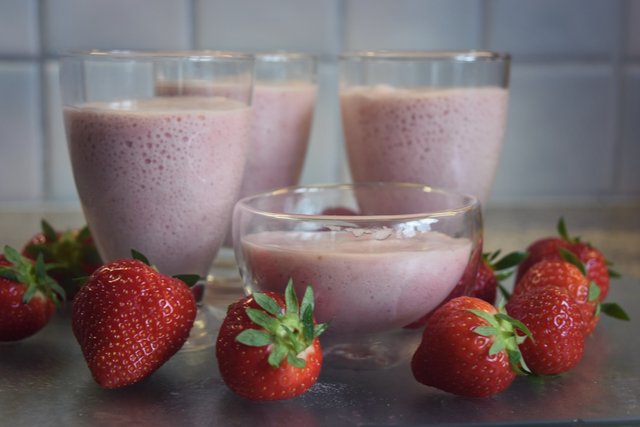 Serve with your fav toppings. I used fresh berries and coconut flakes.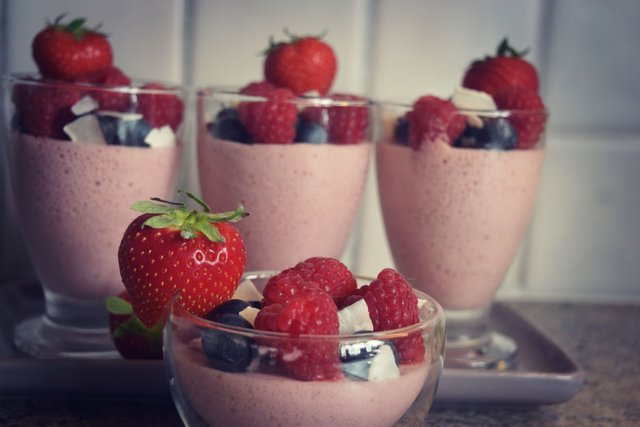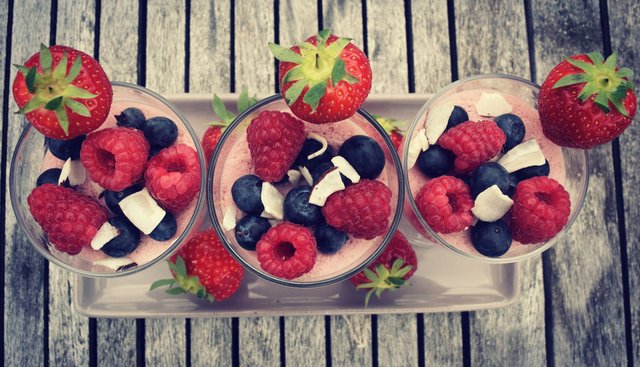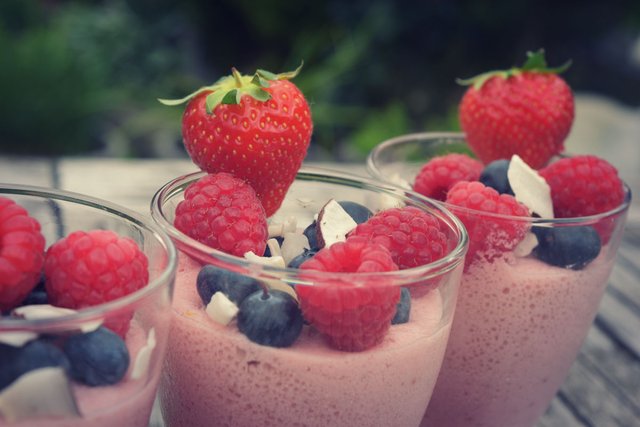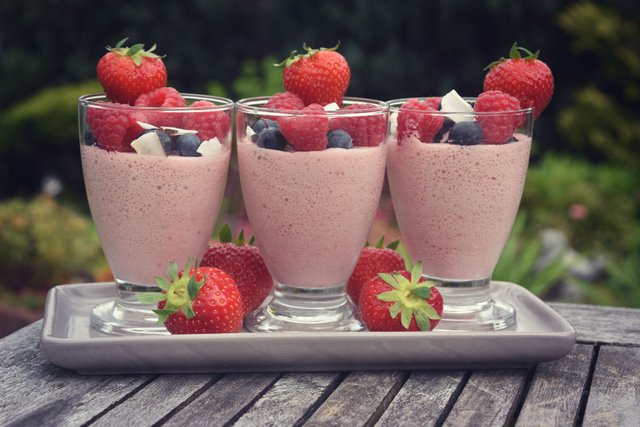 WISHING YOU ALL A WONDERFUL DAY ღ ღ ღ
---

FYI: For green smoothie tips, tricks, and recipes, download my FREE GREEN SMOOTHIE EBOOK HERE!
---
ALL CONTENT IS MINE AND ORIGINAL!
PICTURE(s) TAKEN WITH NIKON D5600
---
LET'S CONNECT!
---
Website - Facebook - Google+ - Twitter - Pinterest - YouTube
---
🥑🍓🍆 FIND MORE YUMMY PLANT-BASED CREATIONS BELOW 🥑🍓🍆
---