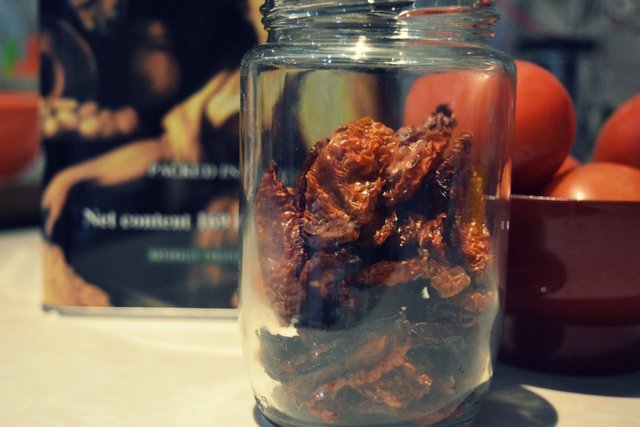 Though I live in the perfect sunny climate to dry tomatoes in the sun, I always prefer to use my oven as bugs are a real problem here. And to be honest not only bugs, but many other jungle critters even know how to remove your bug protection measures.
Think of monkeys, free-roaming cows, civet cats, jungle rats and many more.
So today I am sharing with you my easy method for making your sun-dried tomatoes, even though you live in a gray, cold and not-so-sunny country.
Why bother making your own you may ask yourself
---
Over the years we have gotten so used to supermarkets and convenient foods. So why bother making your sun-dried tomatoes if you could just buy them ready-made.?
Unless you are a science nerd just like me, monosodium glutamate (aka MSG), butylated hydroxyanisole, sulfur dioxide, sodium sulfite, and potassium bromate and many other ingredients listed on the nutrition label may seem normal to you.
But let's be honest. Deep down you know that these names don't sound too good, right? When my parents and grandparents grew up, food was still food. Ingredients were tomatoes, carrots, fresh herbs, and so on.... but none of these strange-sounding chemicals I even sometimes have issues pronouncing them.
I know buying a jar of chemical- and pesticide-laden sun-dried tomatoes is easier, nothing beats the flavor and benefits you'll get from making your own.
In the past, saturated fats coming from natural products such as coconut oil (or even real, organic butter or ghee) have been blamed to cause an influx of heart diseases and other modern diseases. This gave rise to fat-free products, but have you seen any improvement in our health since these chemical-based or altered products came into our lives. On the contrary.
What, to my humble opinion, is causing all the modern disease cancer and heart diseases included are the chemicals leeching in our food supply due to new farming methods and processed foods...
Making my own sun-dried tomatoes among many other foods is how we keep the power over what we are putting into our bodies.
Let's get started here, shall we?
---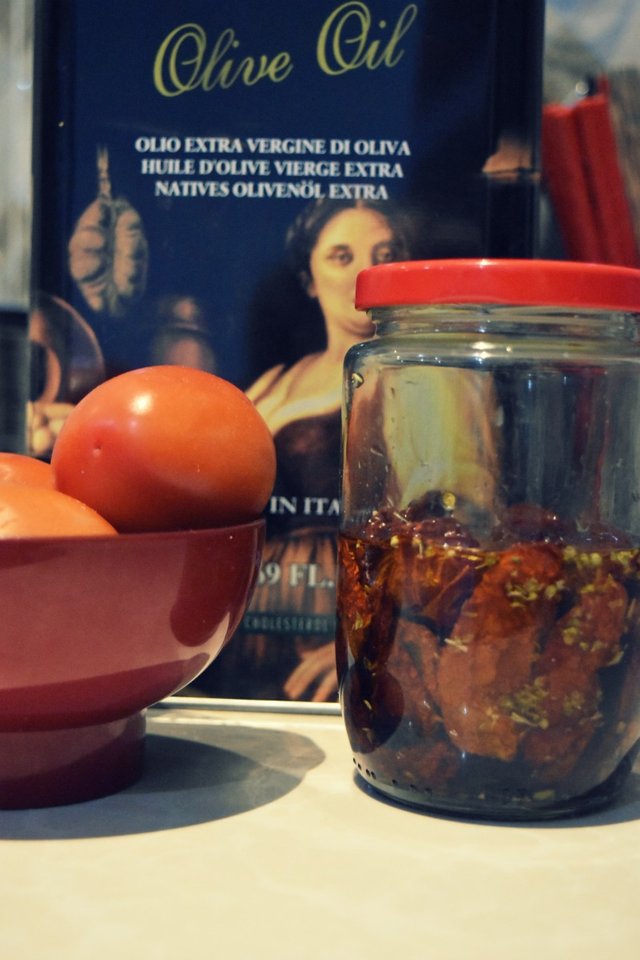 DIY SUN-DRIED TOMATOES - THE EASY WAY ☀ 🍅
---
This is my entry to the Qurator's Tasty Tuesday #98. Are you a foodie too? Definitely check out this lovely weekly steemit contest.
---
INGREDIENTS
---
1-2 kg tomatoes or more if you have a big oven or multiple baking sheets
Sea salt and black pepper
Extra virgin olive oil
Optional: fresh or dried Mediterranean herbs (I used dried oregano this time)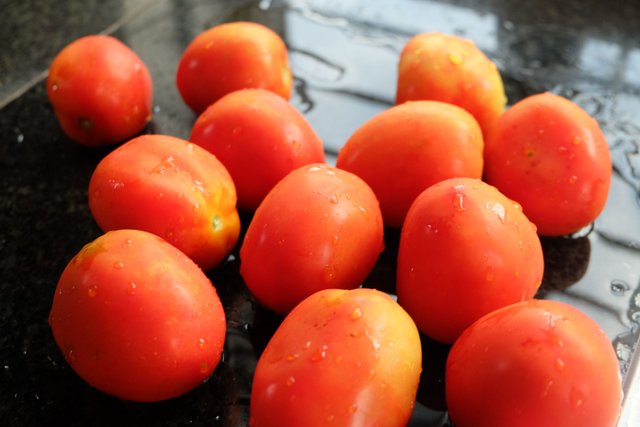 INSTRUCTIONS
---
Preheat oven to 200F (95C).
Thoroughly wash the tomatoes and cut them into parts, gently squeezing out the seeds and excess liquid. Place the tomatoes on a baking sheet. Sprinkle with salt, black pepper, and olive oil.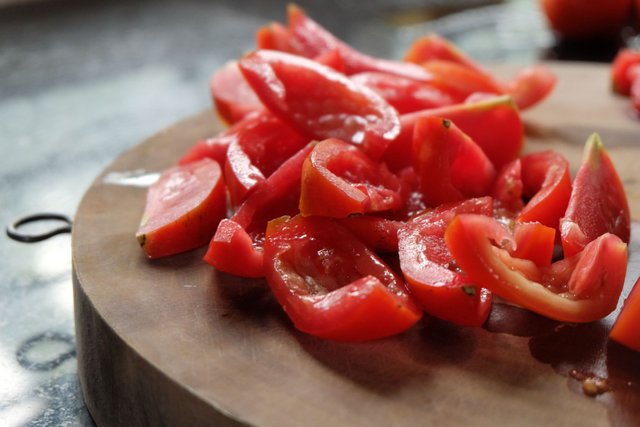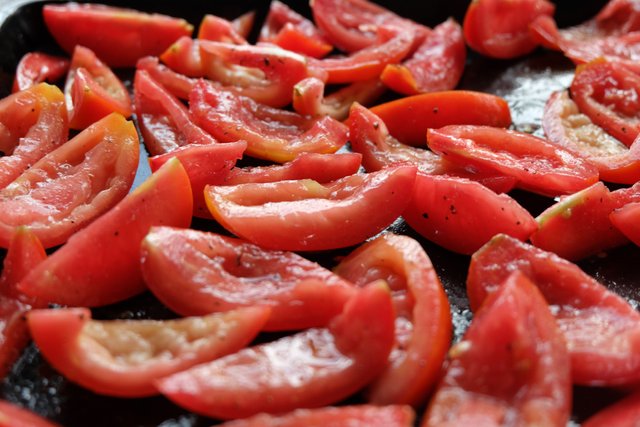 Bake until tomatoes take on a leathery texture. This will take 4 to 6 hours (depending on how big you cut the tomato parts). Toss the tomatoes every 1 to 2 hours. FYI: Smaller pieces will go faster, so you might have to check them faster.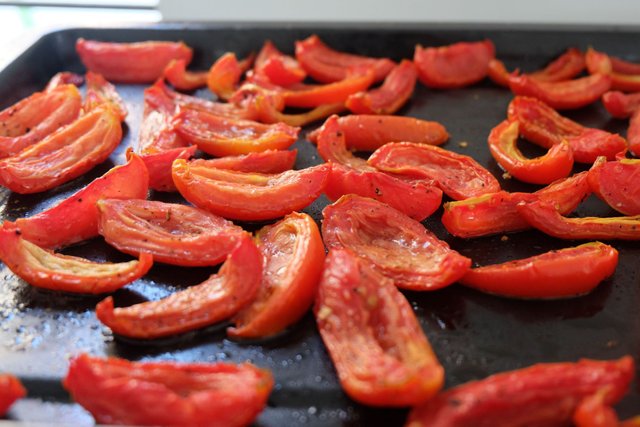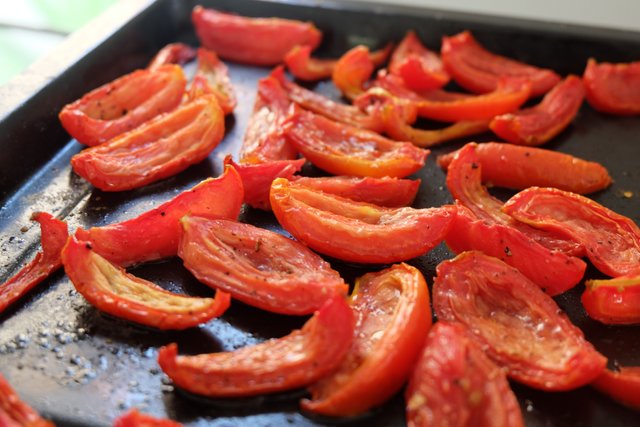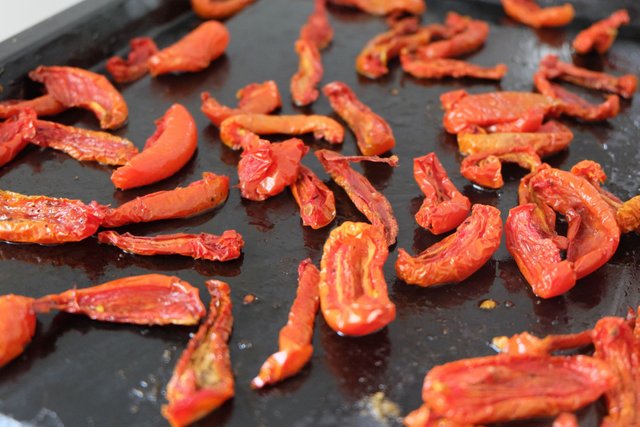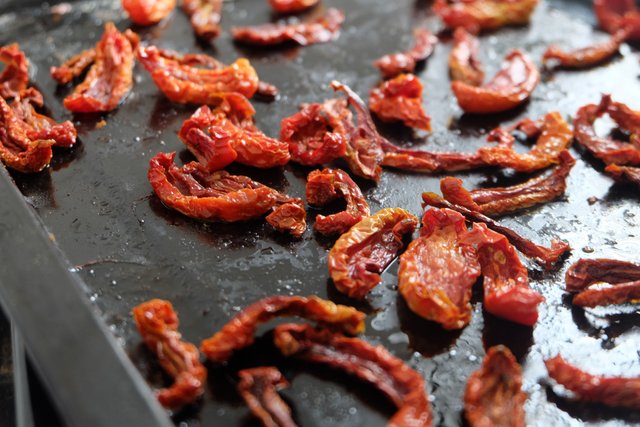 When ready allow tomatoes to cool and store them in olive oil in a jar or container with a lid.
Optional: add your favorites to infuse to oil and flavor the tomatoes. Lovely addition.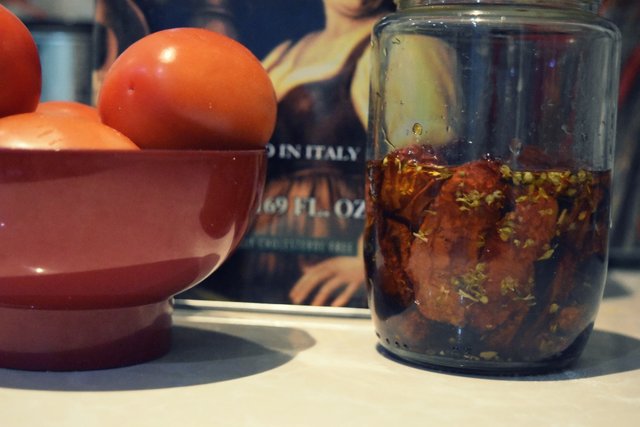 WISHING YOU ALL A WONDERFUL DAY ღ ღ ღ
---

FYI: For green smoothie tips, tricks, and recipes, download my FREE GREEN SMOOTHIE EBOOK HERE!
---
ALL CONTENT IS MINE AND ORIGINAL!
PICTURE(s) TAKEN WITH NIKON D5600
---
LET'S CONNECT!
---
Website - Facebook - Google+ - Twitter - Pinterest - YouTube
---
🥑🍓🍆 FIND MORE YUMMY PLANT-BASED CREATIONS BELOW 🥑🍓🍆
---