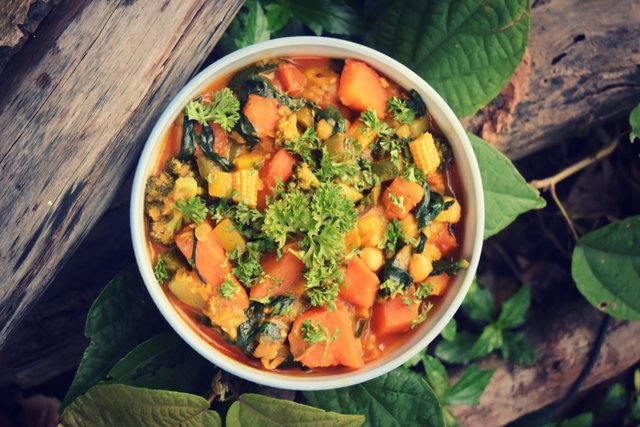 Greetings steemit food lovers. I know it has been a while…. So for all of you wondering… YES, I am still alive and kicking. As always life has been very busy, hence my online absence.
Nonetheless, I have been cooking yummy pant-based meals and desserts that are lined up to share. But I think many of you can relate to my busy lifestyle finding it hard to find time for steemit. I still love you all and what a better day than #fruitsandveggiesmonday to reemerge after almost a month of steemit silence.
#fruitsandveggiesmonday is one of my favorite weekly contests made possible by gorgeous and inspirational people @vegansofsteemit, @lenasveganliving and @plantstoplanks.
Never heard of them or this little contest go check out their profile and be amazed by the plant-based and healthy lifestyle tips, tricks, and recipes you will find there.
But let's talk food now, shall we?
Spicy Coconut Chickpea Curry
---
Coconut curries make a great weeknight dinner and they are packed with so much plant goodness. Furthermore, they are the perfect dish to clear out the fridge and make bigger amounts to eat the day after or freeze for later.
So to be shy to add whatever you have left.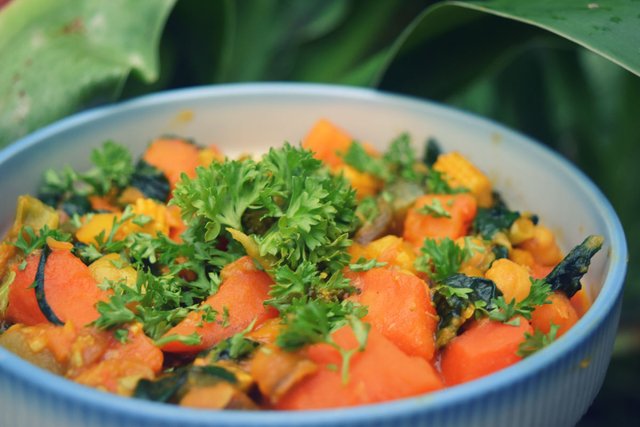 Ingredients (serves 4)
---
Herb mix
---
Ground cumin
Ground turmeric
Mustard seeds
Chili powder
A piece of a cinnamon stick
For the coconut curry
---
1 onion, chopped
3-4 cloves of garlic, minced
Piece of fresh ginger, grated
1 medium zucchini, chopped
1 small broccoli, cut into small florets
1 medium eggplant, chopped
1.5 cup cooked chickpeas
2 to 3 cups sweet potatoes, chopped
1 big or 2 small bell pepper, chopped
A handful of baby corn (optional)
2 big handfuls of spinach or kale, roughly chopped
Fresh parsley or cilantro, chopped (garnish)
1.5 cup unsweetened coconut milk
Water as needed
Directions
---
Heat cooking oil over medium heat. Saute onion until fragrant, add garlic and ginger and cook for a few minutes more. Then stir in the spice mix, stir well and add a little bit of the coconut milk to avoid the herbs from getting burned.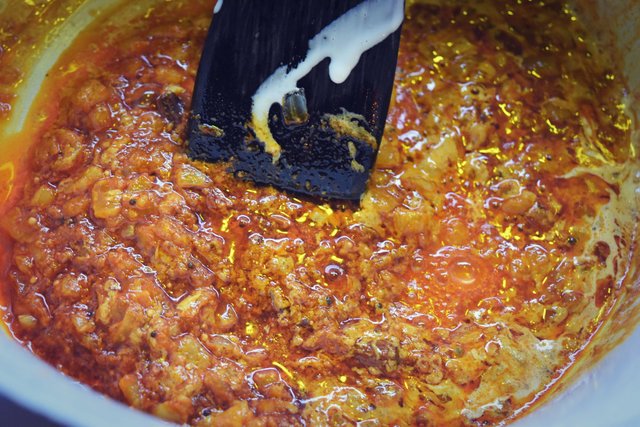 Then add bell pepper, eggplant, broccoli, and zucchini. Cook for a few minutes before adding the sweet potatoes, coconut milk, and water. Stir well and cook, covered, for 10 to 15 minutes. Add more water if needed.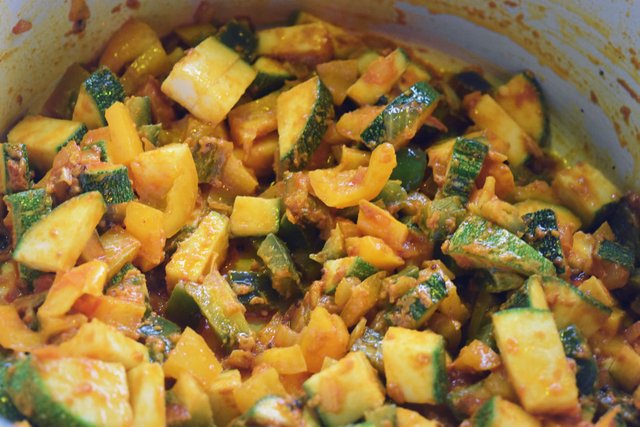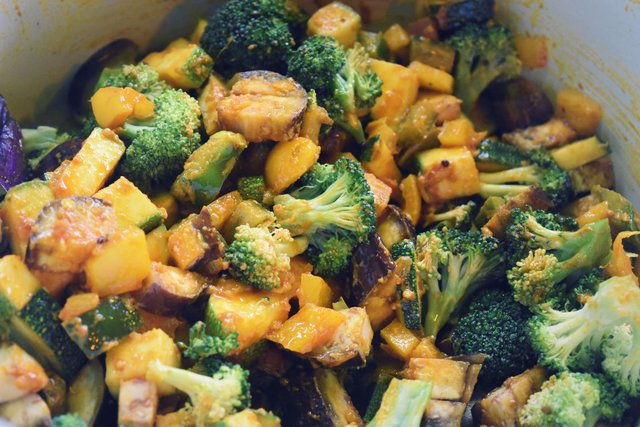 Uncover, add baby corn if using and cook for 10-15 minutes more or until the veggies are soft and most of the liquid has evaporated and the sauce has thickened. The last few minutes add spinach or kale and chickpeas and cook until heated through.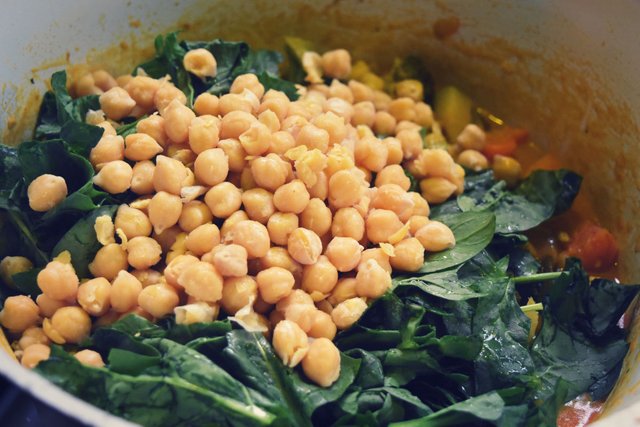 Add to a bowl or plate and garnish with fresh parsley, cilantro or any other fresh herb you like.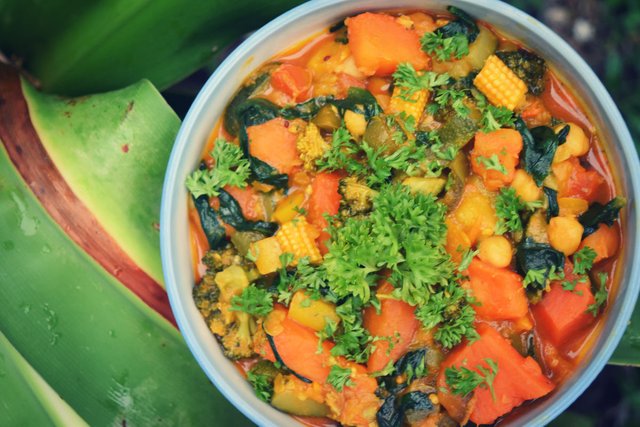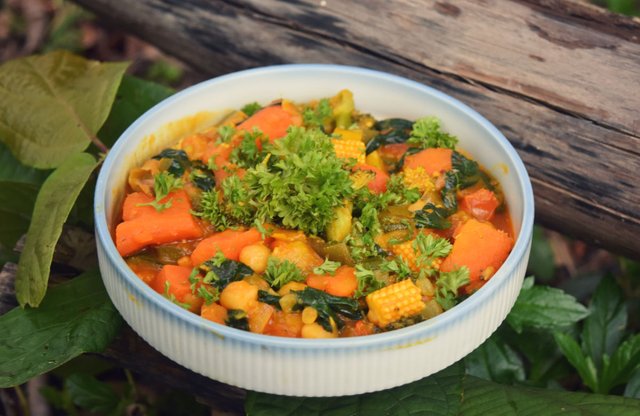 WISHING YOU ALL A WONDERFUL DAY ღ ღ ღ
---

FYI: For green smoothie tips, tricks, and recipes, download my FREE GREEN SMOOTHIE EBOOK HERE!
---
ALL CONTENT IS MINE AND ORIGINAL!
PICTURE(s) TAKEN WITH NIKON D5600
---
LET'S CONNECT!
---
Website - Facebook - Google+ - Twitter - Pinterest - YouTube
---
🥑🍓🍆 FIND MORE YUMMY PLANT-BASED CREATIONS BELOW 🥑🍓🍆
---