When we think of freedom it may come at a cost, for others it is may be taken for granted. These are some of the thoughts that were going through my mind when I created #FreedomFriday nearly two months ago. A few other reasons were the "disappearance" of The China Ink Girl and the banning of quite a few people like Alex Jones, Ron Paul Institute and Tommy Robinson from Facebook, Twitter, YouTube, Yahoo, and other social media platforms. There is a part of me that cries out for F-R-E-E-D-O-M every single day, and these situations are happening globally on a continuous basis.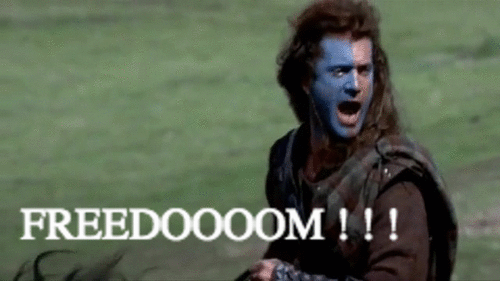 Every Man Dies. Not Every Man Really Lives. ~William Wallace
My initial post concerning freedom of speech was a blog entitled Eagle Spirit's Freedom Friday Initiative ---> I Begin With Freedom Of Speech!, and this was prompted by The China Ink girl mentioned earlier. Her disappearance broke my heart and I could not sit in silence.
Within the two months of initiating this cry for all of us to use our voice, I joined a great group of freedom fighters called @freedomtribe led by @richardcrill and @lindseylambz. Richard asked me to tell him what my initiative was about and long story short this is what led me to my second post on Eagle Spirit's Freedom Friday Initiative No. 2 ===> Exploring The Freedom Of Assembly!. This was a topic Richard thought was worthwhile since many of these topics are not being discussed. I agree.
The only real prison is fear, and the only real freedom is freedom from fear. ~Aung San Suu Kyi
Another topic discussed in @freedomtribe and suggested by Richard was Freedom of Religion and this one got a few people from the group interested. In fact, @riverflows made a great post Freedom Of Religion: The Problem with the Manifestation of Belief discussing the fine line of freedom of religion that can turn into discrimination. Another participant was @lopzdaniel with his post Freedom of religion and religious and political hypocrisy, which discussed the religious hypocrisy in his home country of Venezuela. My third post added to the discussion with Eagle Spirit's Freedom Friday Initiative No. 3 ===> Exploring The Freedom Of Religion!, explaining my own personal experience with religion in America.
Many ideas grow better when transplanted into another mind than the one where they sprang up. ~Oliver Wendell Holmes
#FreedomFriday No. 4 -- "What Does Freedom Mean To Me?"
For this week our topic will be open-ended in order to invite as many people as possible to participate. We invite you to take on this question with an answer that can range from:
Your original poetry.

Write a long or short story.

Your original artistry; drawing, painting, music, etc.
We want to hear from you in any way you wish to share your expression of freedom and what you see going on in the world. How do you really feel? What is your heart and soul telling you about freedom? Sing us your song so we can support and rejoice with you.
For those that truly impress me, I am going to send 1 STEEM to @SteemBasicIncome for your Steemit account. Thank you for all those that participate.
As always, reading your comments is a pleasure, so please leave one below.
Greetings,
Thank you for stopping by to read my blog. I'm a Certified Indian Blood member of the Hopi & Apache Native American tribes, Reiki Master-Teacher, Medicine woman in-training, paralegal, researcher, and writer based in the mountains of Colorado, USA. I work closely with fellow planktons and minnows in a few groups by helping them adjust to Steemit and curate quality content. I'm especially interested in finding others who love natural medicine originating from ancient practices, gold and silver, and energy work. Additionally, I'm the creator of #MedicineCardMonday and #FreedomFriday, so if you are interested in receiving Native American Medicine stop by my blog every Monday to say hello!
A'OO, Eagle Spirit