It's freeeeedddom Friday Folks!!! @eaglespirit started a fabulous #hashtag here called 'Freedom Friday', and on her introductory post about it she writes:
'It is my hope that people will continue this initiative by posting about not only their ideas of what freedom means to them, but also what is going on in their country as events shift.'
@eaglespirit is in the same steemtribe as me - a beautiful place called @freedomtribe. You can join their server here - they support passionate content creators that are doing what they love, promoting 'life, freedom, truth, love, and happiness in all forms'- so if you're willing to delegate a little to the tribe and join their curation trail, you'll be in for a treat. It's one of my favourite places on Steemit and you can read about it here!
Anyway, @richardcrill threw the word 'religion' at us in the Discord channel when @eaglespirit asked for it this week. Eek! However, never one to shirk a challenge and intrigued by the #freedomfriday initiative, I started thinking about what 'religious freedom' means in Australia and what's going on right now. What I've found compelling, and worrying, is the same sex marriage debate and it's link to exemptions to discrimination laws held by religious institutions.
Any laws that support absolute religious freedom can limit the freedoms of others, and that's what bothers me.
Right now, we're not able to discriminate on the basis of gender, race or sexual orientation. Yet, there's a plea for exemptions based on religious belief - a kind of conscientious objection to, for example, provide services for people that those of particular faiths might object to, such as LGBTQI.
---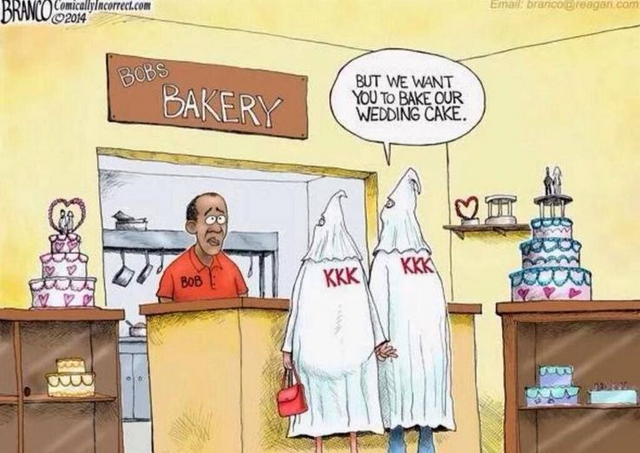 Debate about laws about whether or not you can refuse service based on belief are not particular to Australia.
---
The laws around this differ from state to state - some religious bodies might have an exemption. For example, if the Anglican church objects to homosexuality, and the bakery is owned by the Anglican church, they could refuse to bake a wedding cake for a LGBTQI, or, as happened in Australia, you could have your church minister refuse to officiate the wedding because you believe in same sex marriage, which might oppose the beliefs of the church. Both are well known cases, and not the only one.
Oh, and for the record (because there are so many Steemians who aren't sure that Australia even exists, let alone anything else about it apart from kangaroos and sharks) at the end of last year, Australia finally legalised same sex marriage. They took their time, being the 26th country to do so, but hey, we got there in the end as it was getting all a bit ridiculous. For fuck's sake, love is love. Der.
The deal with exemptions from discrimination are actually quite hard to operate, and can vary from state to state. For example, a Christian youth camp refused an LGBTI youth suicide prevention group access to their campsite, and because they couldn't show they were a religious body and there was so much disagreement about whether homosexuality is a 'doctrine' of Christianity, it was found to be wrong. Yet a foster care service legally refused a same sex couple access to their services because the organisation was considered 'religous in nature' and that allowing a same sex couple wasn't acceptable to it's members. Huh? It seems pretty murky, law wise, to determine whether a belief is enough to excuse discriminatory conduct.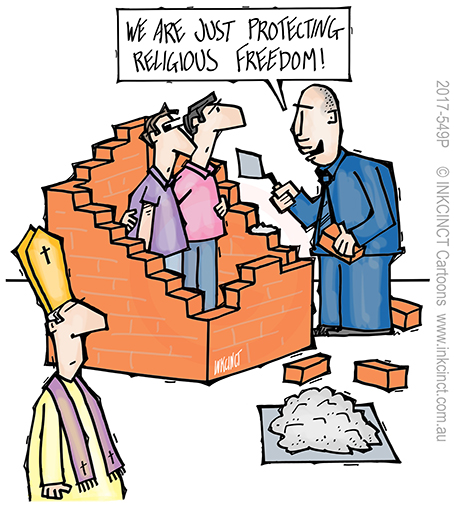 So all of this led to the Ruddock review, which is meant to sort out these inconsistencies. The panel is looking at perhaps suggestions of amendments or tests for religious exemptions. It's looking at two rights - the right to hold a religous belief, and the right to *manifest* it - that is, to bring it into reality in a way that might affect others - for example, vocally discriminating against LGBTQI. You can believe in something all you like, but when it harms others, well, that's a whole other story! That's my biggest problem with this freedom - whilst I believe in the freedom of BELIEF - remember, we can't dismiss the religion of others just because WE don't believe in their crazy shit (sorry for the dismissal, but you get my point), but when it limits and harms others through discriminatory acts and words, then I do have a massive problem with it.
.
I get that people have the right to exercise religious freedom. For example, J. went for a job at a Baptist School once (true story) and he wasn't hired because he didn't believe. Not only that he didn't believe, but that, when asked for his opinion on homosexuals, he clearly stated unequivocally that everyone is entitled to do what they want. Like any sane person would say. Whilst on one level this seemed discriminatory, and kinda wrong, on another level, would it have been appropriate to have someone working there that didn't believe in your core values? I wouldn't want a white supremacist, for example, working in my place of employ. But where do you draw the line? Because clearly, this kind of discrimination was totally abhorrent to us.
People are getting crazy about this stuff. Sharia law, for example - people believe that religious freedom laws will allow unreasonable manifestation of beliefs, like corporal punishment for woman. People seem to get confused between the right to have a belief, and the fact most of the time it's illegal to manifest that belief. And so it should be.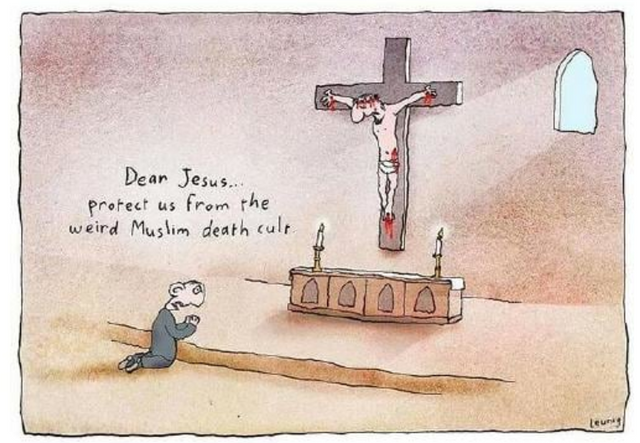 This is the problem I have with any religious freedom laws designed to protect businesses and institutions. On one hand, you can say 'well, why should they be forced to provide a service to someone they object to?' yet, if you think about it, once, Australia believed that blacks were savages and included them in the flora and fauna til 1967. I'm pretty sure people are pretty uncomfortable with putting 'race' in as a substitute for 'LGBTQI'. It's just legalising discrimination, surely?
So the major question is, in a nutshell (or a cake tin):
Is religion an excuse for discrimination which would otherwise be illegal?
Clearly, when one freedom encroaches on another freedom, there's a serious debate to had.
There's many that say 'hey! why would I want a homophobe to marry/bake me a cake/allow access to my property' anyway, but seriously? Would we say to an indigenous woman: 'Sorry, can't sell you that hat because I don't like black people' or 'Can't employ you, love, because woman aren't as smart as men?'. I absolutely believe in people's right to belief whatever the hell they want, but when it encroaches on other people's freedom's, I don't have much respect for that.
The Ruddock report came out on May 18, but so far, it's not been released to the public yet, as far as I know. I'm hoping it will take us in the right direction, allowing for religious belief, but not belief manifesting as discrimination.
---
---