Happy #FreedomFriday! We're switching things up on this weeks Spreading the Love curation report - our very own Freedom Tribe member @eaglespirit has initiated using the tag #freedomfriday as an opportunity to post about freedom and the many ideas within this big topic. Of course, it's right up our alley at @freedomtribe so we are highlighting our members that are making this new hashtag an excellent place for discussing Freeeeeeeeedoooooom!!!
This week we chose Freedom of Religion as our #freedomfriday topic - stay tuned for an update on next weeks freedom theme if you would like to participate!

Our goal at @freedomtribe is to support passionate content creators that are doing what they love! We promote life, freedom, truth, love, and happiness in all forms. Our only rule beyond that is no hatred or abuse towards anyone. In these curation reports, we will be showcasing posts that we are voting on from both members and non-members.
How do I join Freedom Tribe and become a member?
First, we encourage you to join The Freedom Tribe Discord
You become a member by delegating SP and following our curation trail at any %. You will gain post promotion abilities and other benefits discussed in this post:
Thank you!
Thank you for taking the time to visit the posts below and show them some love with upvotes and comments. We have chosen these posts because they exemplify the kind of consciously created content that we love to see. We hope you love it, too!


---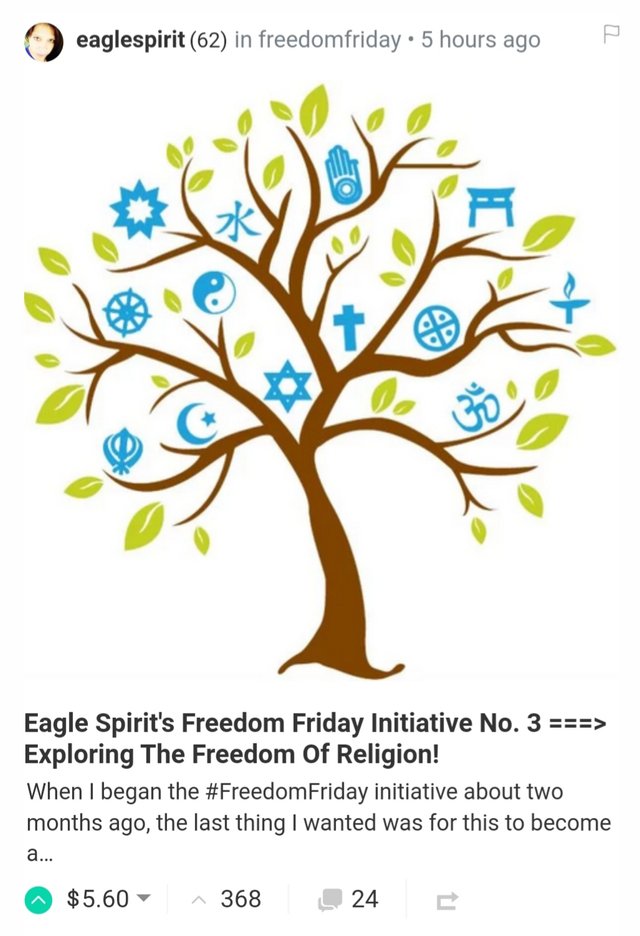 In her third #freedomfriday post, @eaglespirit objectively explores our culture's idea of religious freedom and shares her unique experience navigating those murky waters. For all the details about #freedomfriday make sure to checkout @eaglespirit's awesome post!

---
@riverflows post really dives deep into that fine line when your freedom of religion turns into freedom to discriminate. Her post sheds light on our societies gaping loop-hole that still exists, despite all of our recent advances towards freedom for all. If her post doesn't leave you questioning that fine line between practicing your religious freedom and forcing your beliefs on others, then I urge you to check your pulse. Though we've made major progress in this subject, this eye-opening post clearly shows how much work we have to ensure our personal freedoms are causing no harm to others.

---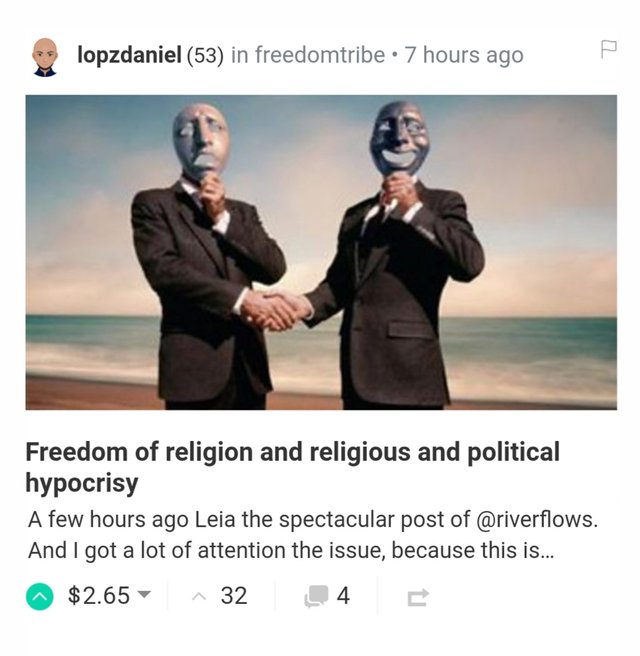 @lopzdaniel has also joined in and offered us a Venezuelan perspective on the topic by pointing out the political hypocracy running rampant in the various religious institutions that are supposed to be a safe haven for the people in need of the most basic, fundamental resources. Thankfully, we have people like @lopzdaniel and his charity @littledisciples who see a need in their community and take it upon themselves to close that gap.



Delegate 10 SP 20 SP 30 SP 50 SP 100 SP 200 SP 300 500 SP 1000 SP to @freedomtribe