Here's a salad that is totally paleo! I made it from weeds from my yard.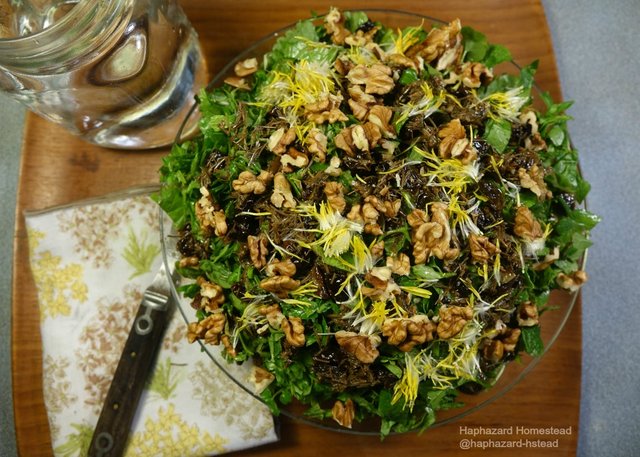 Step 1. Forage the greens
This is not the first salad I made for this Culinary Challenge. After I made my first salad and photos, I realized that one ingredient was unacceptable, even though it was completely delicious and healthy. So, I made another salad! I was curious to see if I could get enough of the same plants less than 24 hours later. Here is my second salad. You can see what I learned about eating Paleo, from my first weed salad.
My salad greens all came from my yard. I just took a walk. I took all the photos first, because that takes a lot longer than actually picking everything. Here are three collages with the plants I picked. Many of these plants grow in many parts of the world as weeds or garden escape artists.
These three photo collages show the plants that I foraged. The captions list their common names. But I include the scientific name in the plant list, because common names vary from place to place. Do you recognize any of them? Which ones do you have growing around you? Many of these plants are weeds and grow all over the world.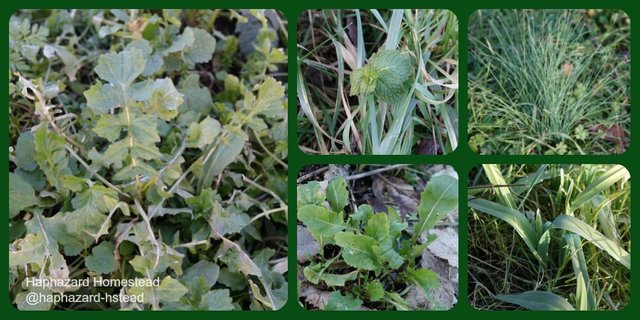 Left: Hedge mustard. Center top: Spearmint. Right top: Wild chives. Right bottom: Elephant garlic leaves. Center bottom: Wild arugula or rocket.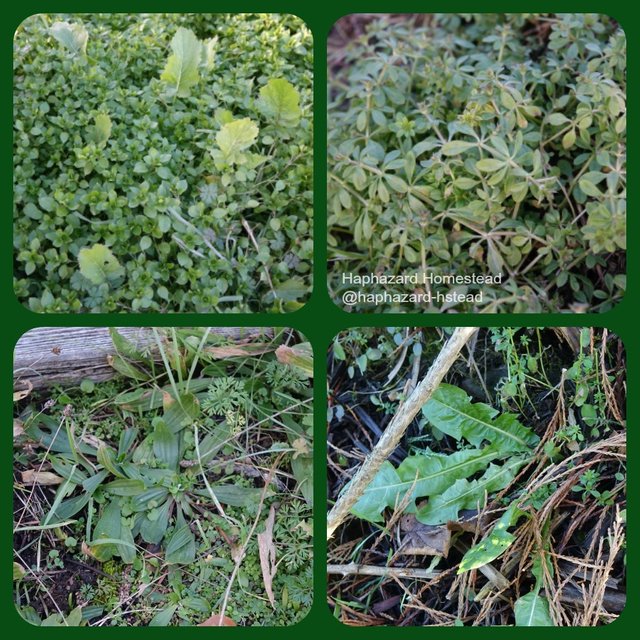 Top left: Chickweed and wild field mustard growing together. Top right: Cleavers or Stick Tights. Bottom right: Dandelion. Bottom left: Narrowleaf plantain.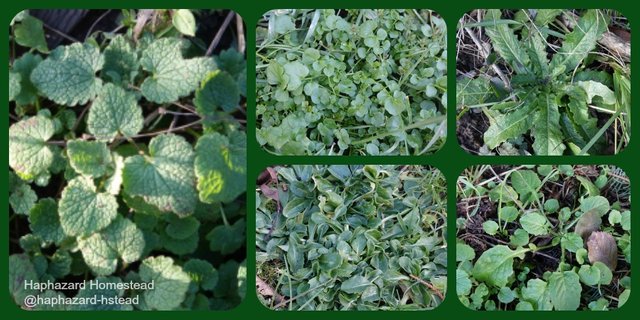 Left: Purple dead-nettle. Center top: Bittercress. Right top: Cat's ear. Right bottom: Nipplewort. Center bottom: English daisy.
Step 2. Bring the harvest back to the kitchen
Back in the kitchen, I lay all my greens out to double-check that I don't have any non-edible plants. And I cull any poor quality plants. The numbers on each image correspond to the number in the plant identification list. Can you recognize any of them? Are any of your favorite wild greens here?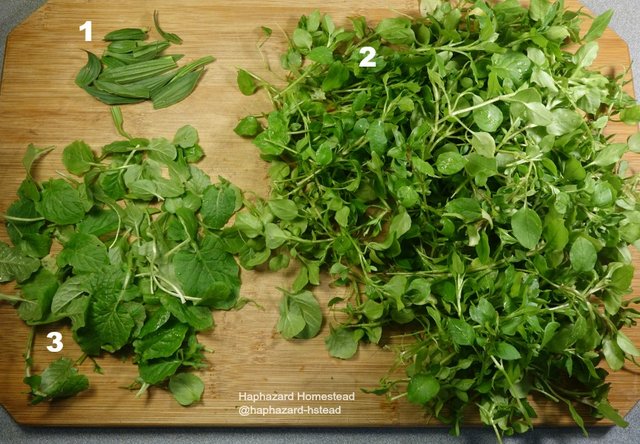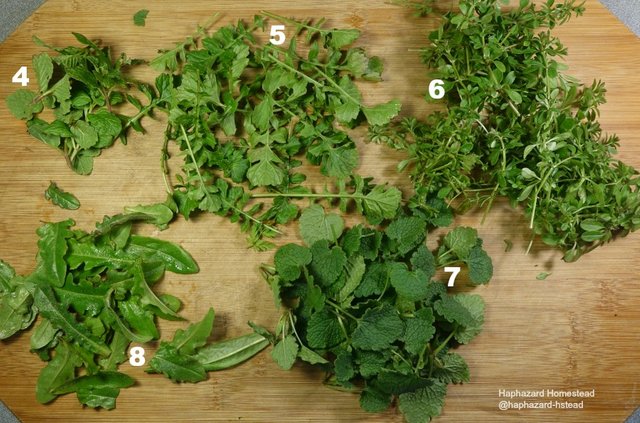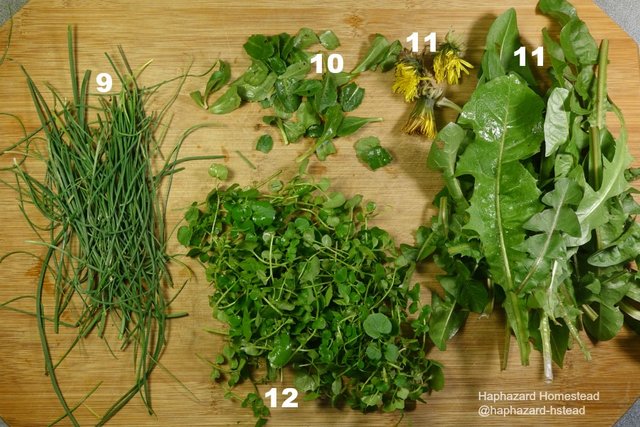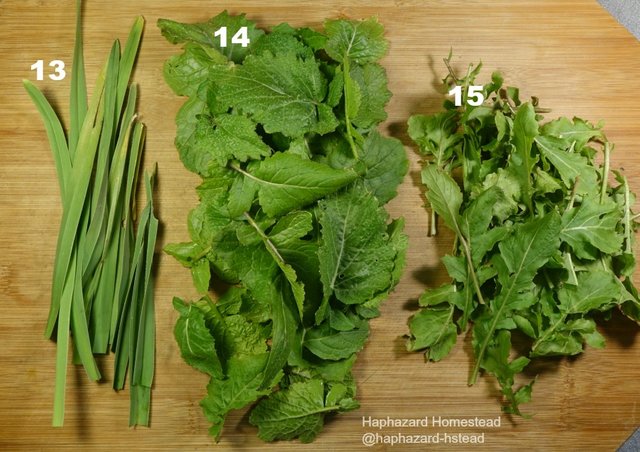 Step 3. Make the salad
Once I review all my plants, I put all the vegetation in a big pan to rinse them well. With all the winter weather, these plants can have mud and grit on them. And they can have slugs or snails on them, too. So it's important to rinse everything really well.
Then I drain the plants and chop them finely. I don't just chop them once, but a few times over. Chopping up all the greenery is not in fashion at fancy restaurants, but this is what makes a weed salad so tasty. By chopping them so finely, all the flavors mix together. You can see that my big pile of greens ends up a lot smaller in the final pile.

I put my chopped greens in a big salad bowl. To keep my salad within the Culinary Challenge Rules, I used my own homemade "balsamic vinegar". It's base is straight-up apple cider vinegar with no additives. I make it in the spring, from tender new growth from spruce trees (Engelmann Spruce in this case), peppercorns, and a little honey (from my own bees for the batch I'm using). I've mentioned my spruce tree balsamic vinegar in a previous post A Garden Harvest Repast, complete with a video showing how to make it.
I mixed my Spruce Tree Balsamic Vinegar with olive oil, and homemade raisins that I dehydrated from my homegrown seedless green grapes last autumn. To soften the raisins, I added hot water and let them sit about 10 minutes. I topped the salad with the dandelion flowers and homegrown English walnuts, too.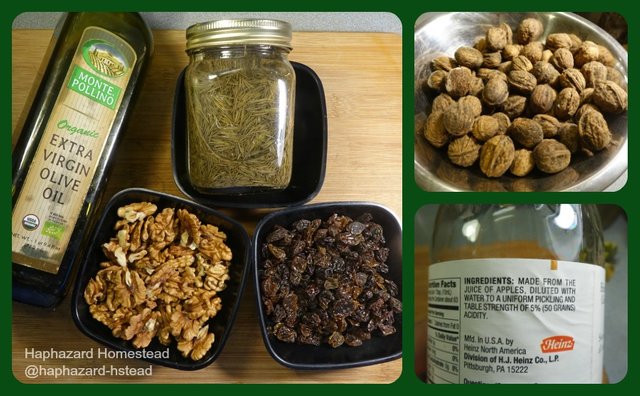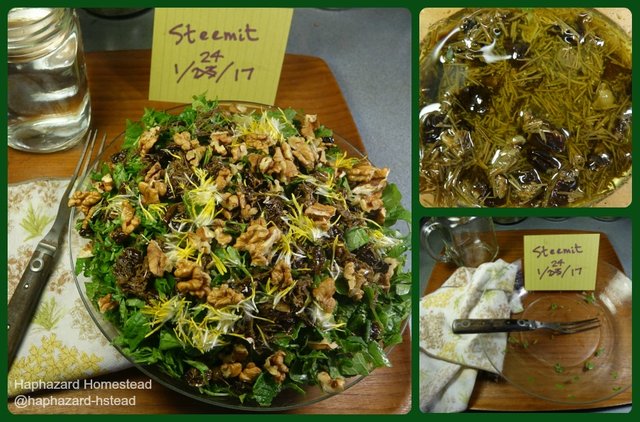 Ingredients: Weeds, raisins, walnuts, Spruce Tree Balsamic Vinaigrette. Paleo for salad lovers!
Plant List
Narrowleaf plantain - Plantago lanceolata - leaves fall through early spring
Chickweed - Stellaria media - from fall through spring
Nipplewort - Lapsana communis - leaves fall through spring
Spearmint - Mentha spicata - it lasts from spring until deep winter
Hedge mustard – Sisymbrium officinale - leaves from fall through early summer
Cleavers - Galium aparine - leaves late winter to late spring
Purple deadnettle - Lamium purpureum - leaves fall through early spring
Cats-ear - Hypochaeris radicata - winter leaves are tender and mild
Wild chives - Allium schoeneprasum - leaves from fall through spring
English daisy – Bellis perennis – leaves from fall through early summer
Dandelion greens and flowers – Taraxacum officinale – winter leaves are tender and mild
Bittercress - Cardamine hirsuta - leaves fall to early summer
Elephant garlic - Allium ampeloprasum - leaves from fall through spring
Field mustard greens – Brassica rapa – leaves from fall through early summer
Wild arugula - Diplotaxis tenuifolia - leaves all year, except for deepest cold
Engelmann spruce - Picea engelmannii - tender needles from new spring growth for the faux balsamic vinegar
---
What Do You Think?
Are there any wild plants to eat in your area in the winter? Do you enjoy any of these weeds in other times of the year? Did you enjoy any wild abundance in 2016? Are you interested in eating wild plants in 2017?
If there are any specific plants from this salad, or others that I've posted about, that you want to know more about, let me know. I'll put together a post about it.
Sustainable Paleo
Being able to eat wild plants, especially weeds, is the epitome of sustainability. The plants in this salad took absolutely zero effort from anyone, except for the picking and cooking. They take care of themselves. Many of them are invasive weeds, so we can pick all that we want. That's incredible and sustainable. I truly hope that every one of you can find wild plants around you, especially weeds, that are good to eat. This is real food for regular people. It's incredibly good food.
I write about foraging because I believe that we can all have lives that are richer, more secure, more grounded, and more interesting by getting to know the plants and the land around us – in our yards, our parks, and our wilderness.
I would like Steemit to be the premier site for Foraging on the Internet! If you have any thoughts about foraging, or experiences to share, write a post and be sure to use the Foraging tag. And check out the @foraging-trail to see curated quality posts about foraging. Happy Foraging!
---
---
** Haphazard Homestead **

*** foraging, gardening, nature, simple living close to the land ***

All content is 100% Haphazard Homestead - photos and all!

I participate in Operation Translation. All my posts are available for translation under the rules listed on the linked post from @papa-pepper. Logo provided by @oepc85. Post goes 100% to Steem Power! Logo provided by @merej99