CQ's Food Mantra#03-- Fat cutter 🌶 Spicy Beet Bot🤖 Juice 🍹-脂肪切割机🌶辣甜菜植物汁🍹
Hi 🎭Steemians,
Welcome once again to Food Mantra from @cryptoQu33n. In this part of Food Mantra series, today, I'm going to share with you a very healthy juice recipe of CQ 🌶 Spicy Beet Bot. I enjoyed preparing it and it's healthy and has excellent revival properties. Its little spicy but that makes this juice excellent fat cutter due to jalapeno. Peppers contain a chemical known as capsaicin, which has fat burning properties. If you start your day with CQ Spicy Beet Bot juice then for the whole day it will help your body to cut fat. I hope you guys like it.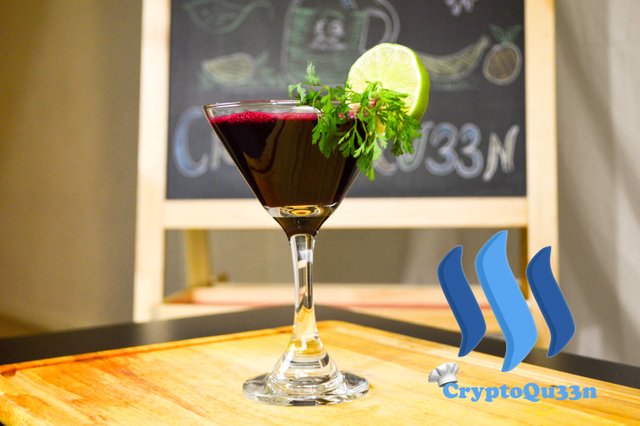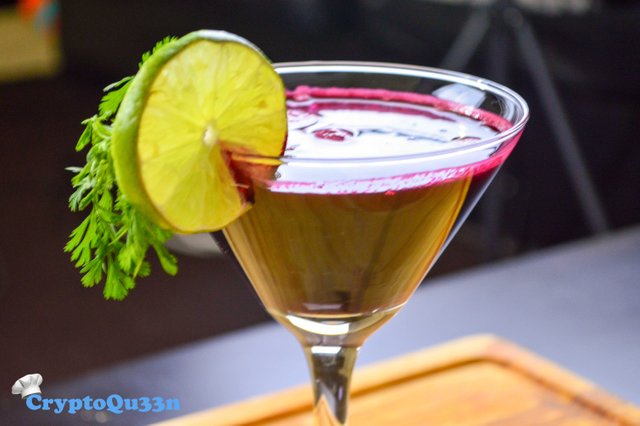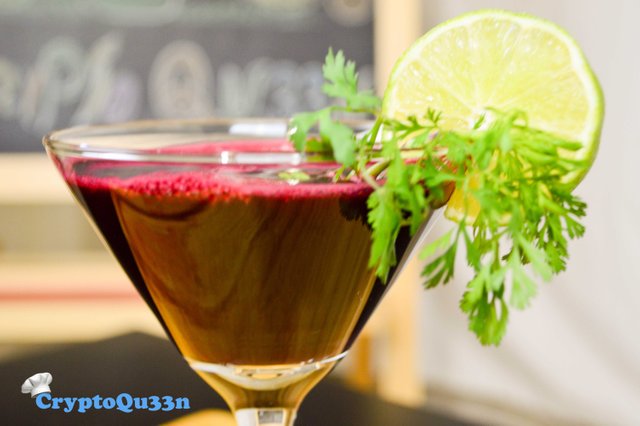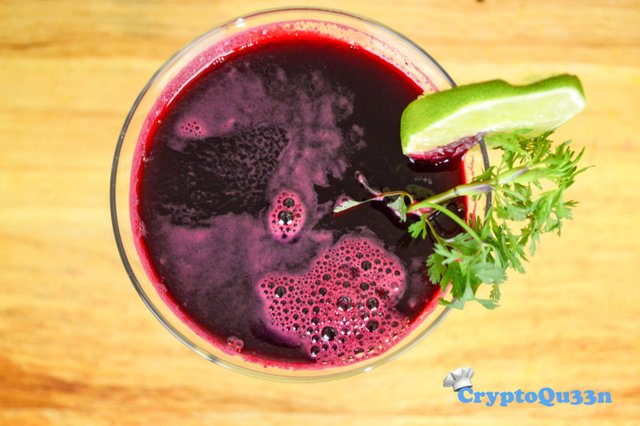 | Preparation time | Total time | Total serving |
| --- | --- | --- |
| 7 minutes | 10 Minute | 1 Serving |
Ingredients
Beet Root - 1 beet (3" dia)
2 1/2 🥕Carrot (Medium size)
Celery - 2 stalk (large)
Fresh Cilantro leaves and stem - 1/4 cup
Ginger root - 3 g
Raw Peppermint crystal– 1 dash
Jalapeno - 1 small pepper
Spinach - 1.5 cup 35g
1/2 Lime - medium (2-1/8" dia)
Black pepper - 1 dash
Himalayan Pink Salt, 0.25 tsp
Whole Blanched Almonds, 7 almonds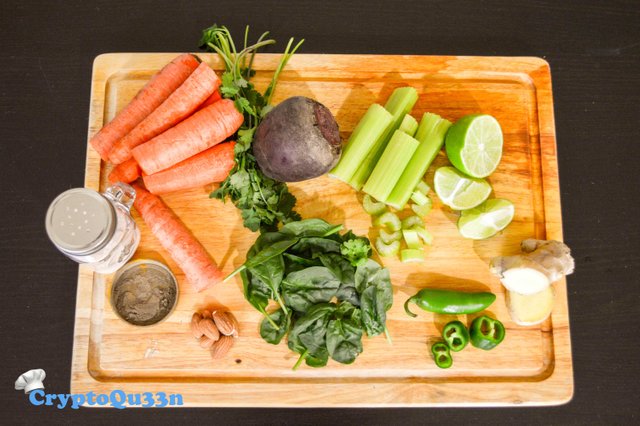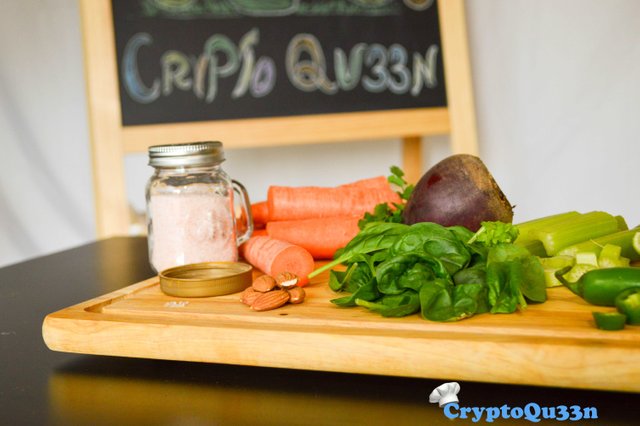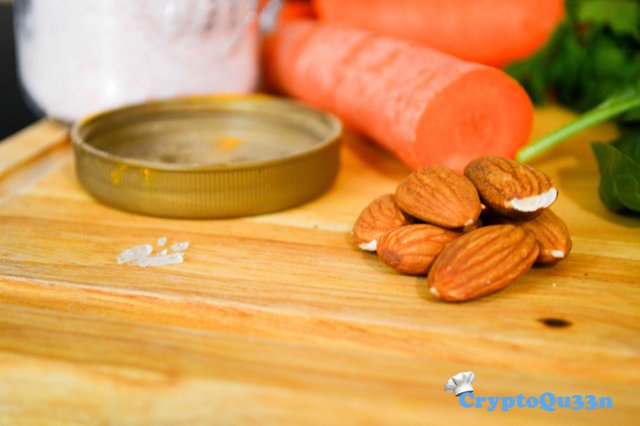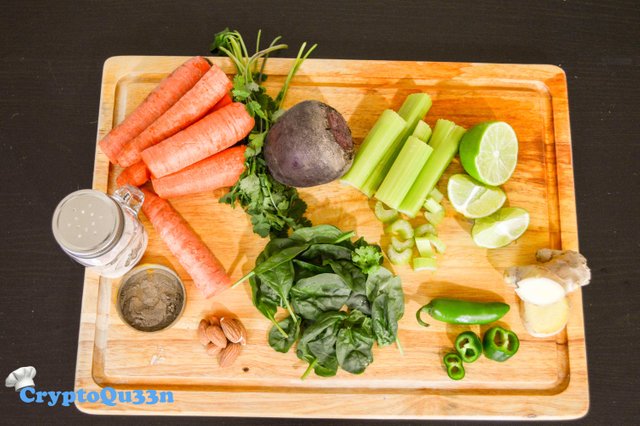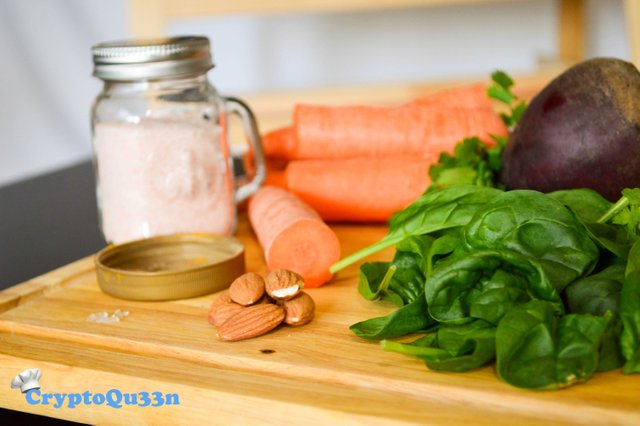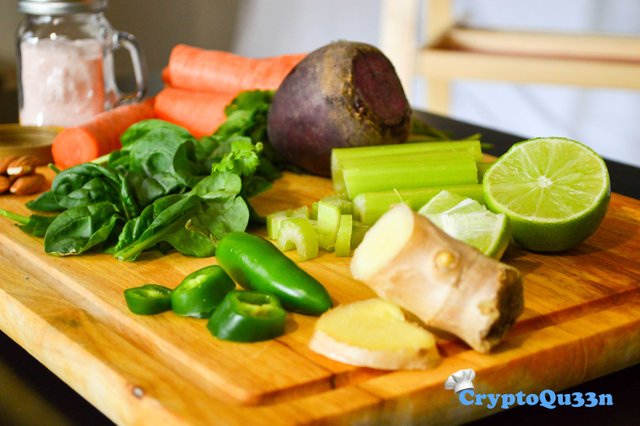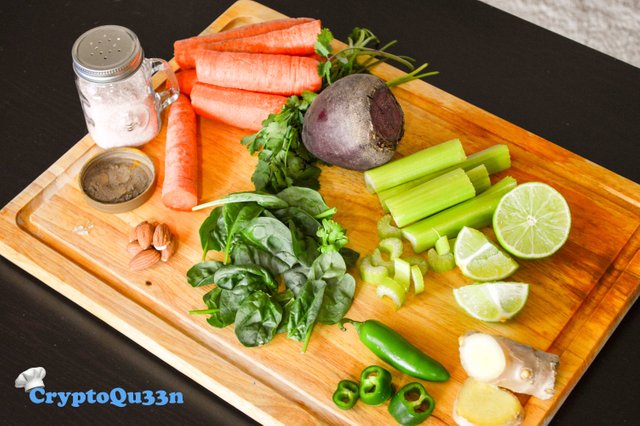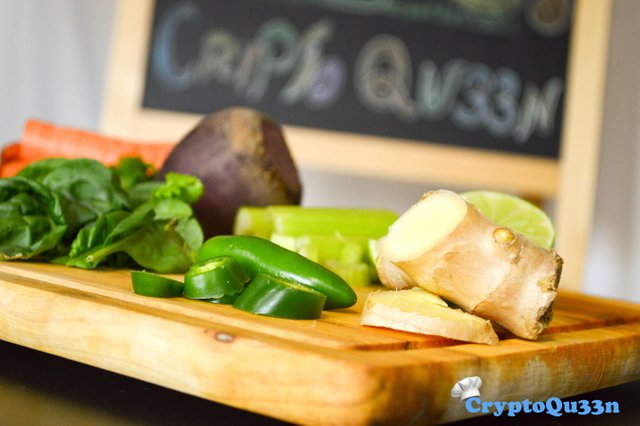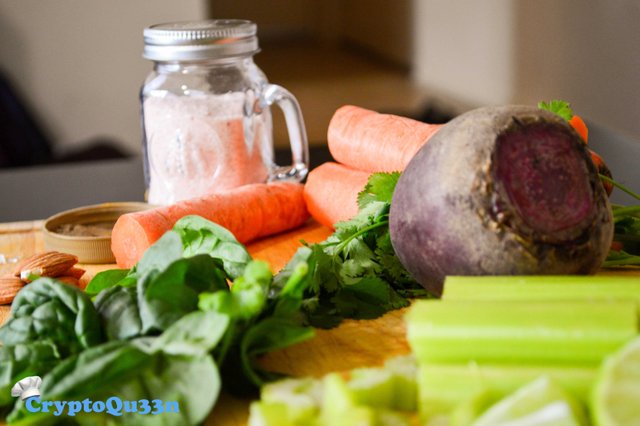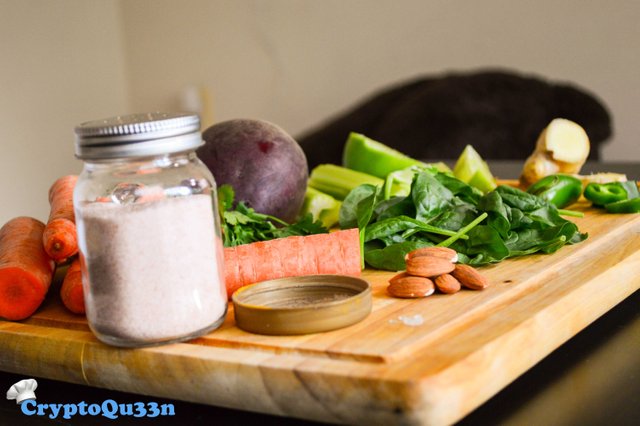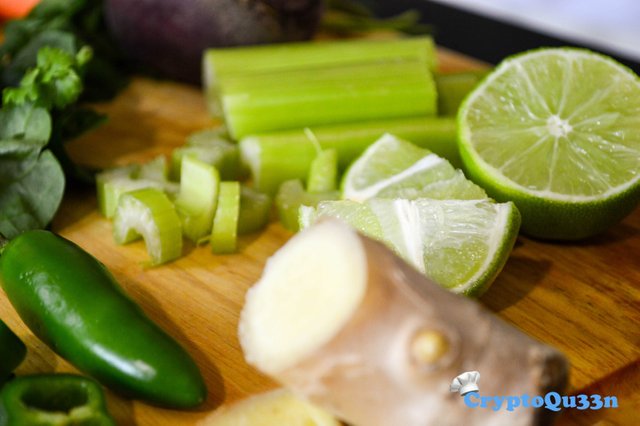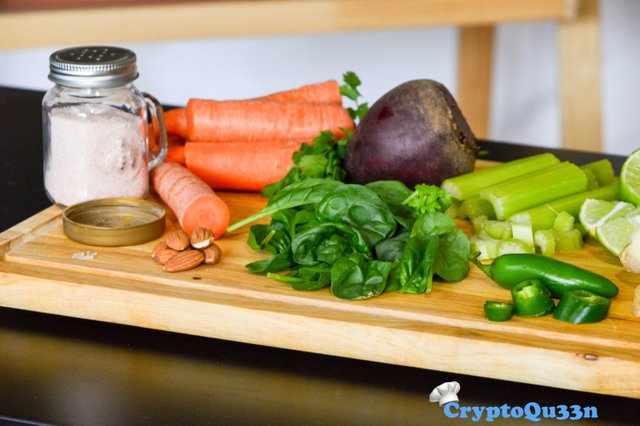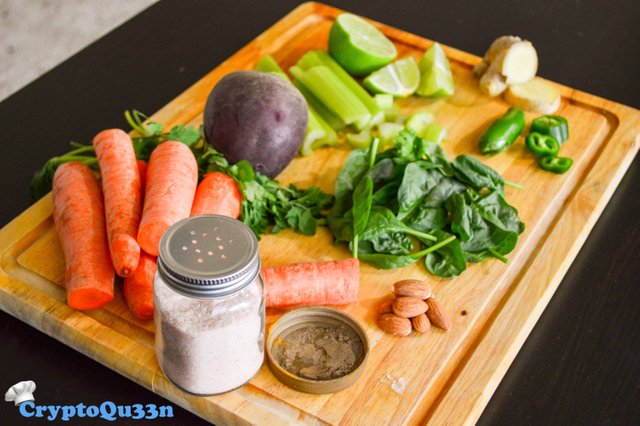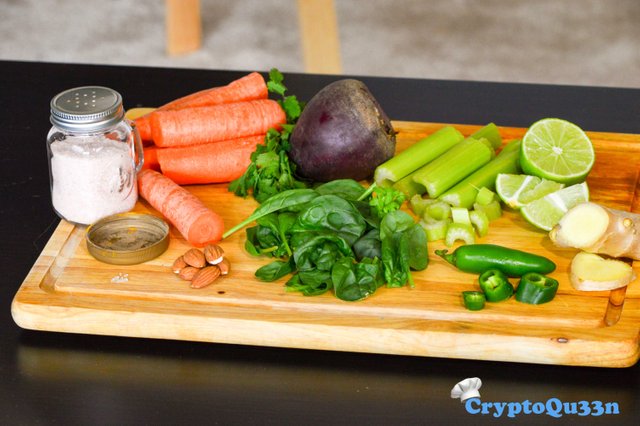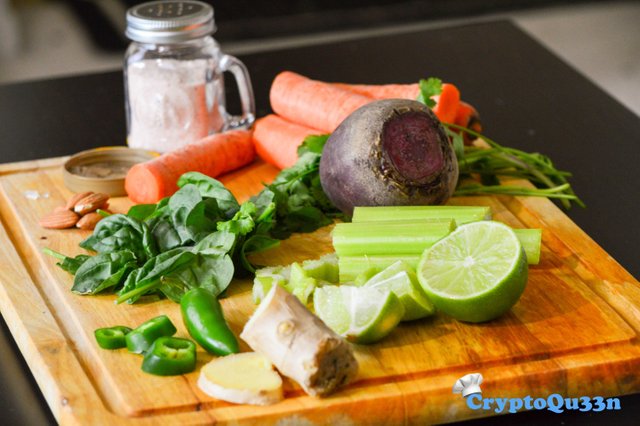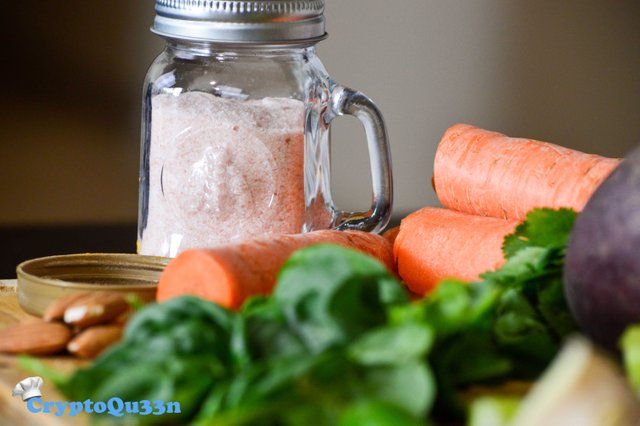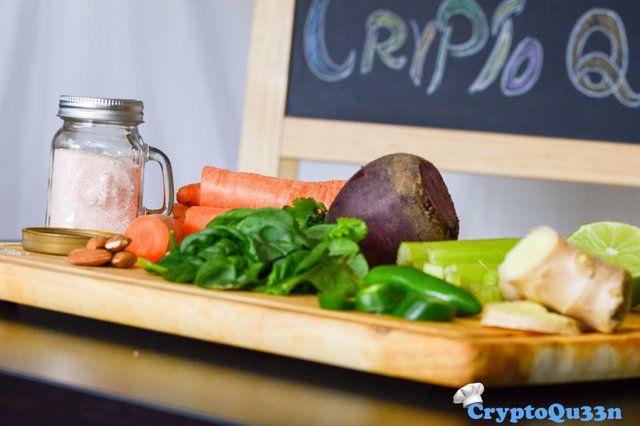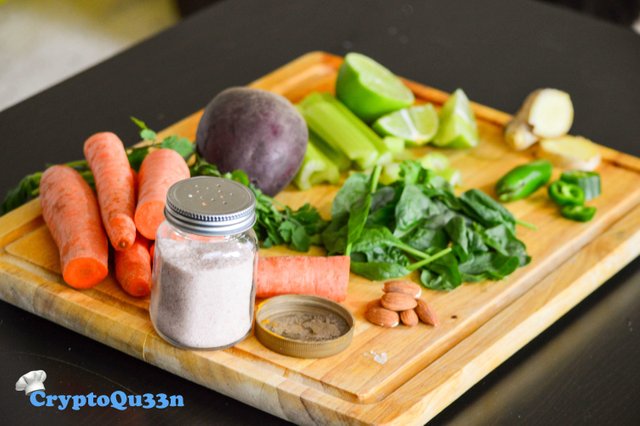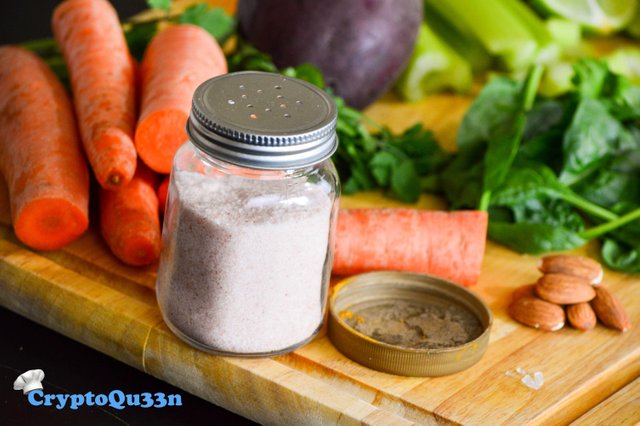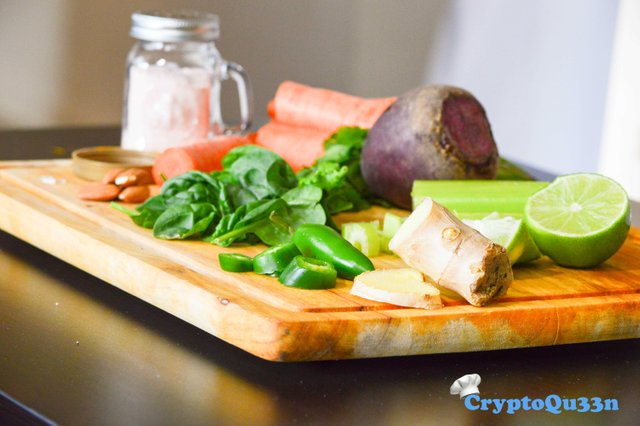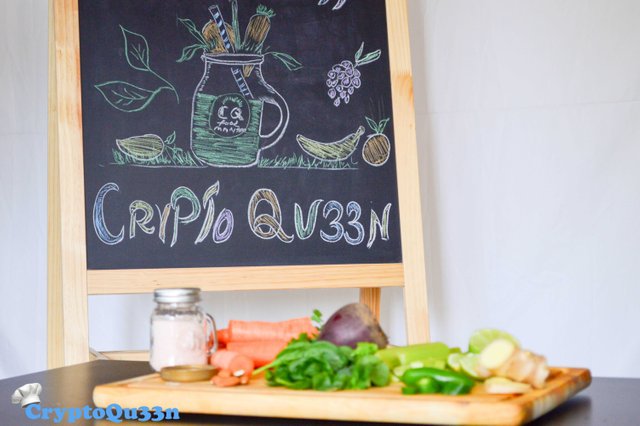 Instructions for 🌶Spicy Beet Bot juice Recipe
Please removes seeds before juicing jalapeno, in case your tolerance to heat from pepper is low.
Pour and process all the ingredients in a juicer.
Shake or stir.
Garnish with fresh mint leaves.
Enjoy this refreshing drink!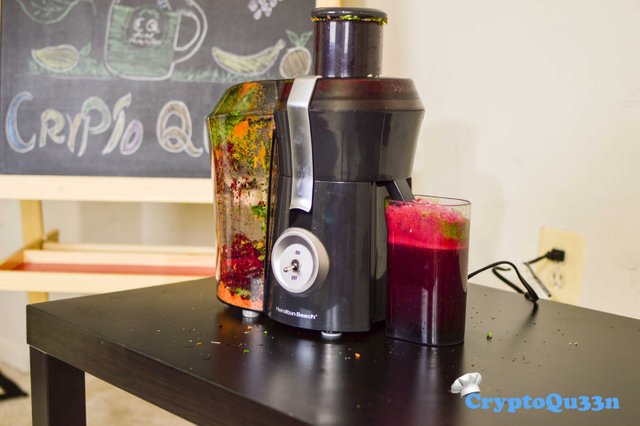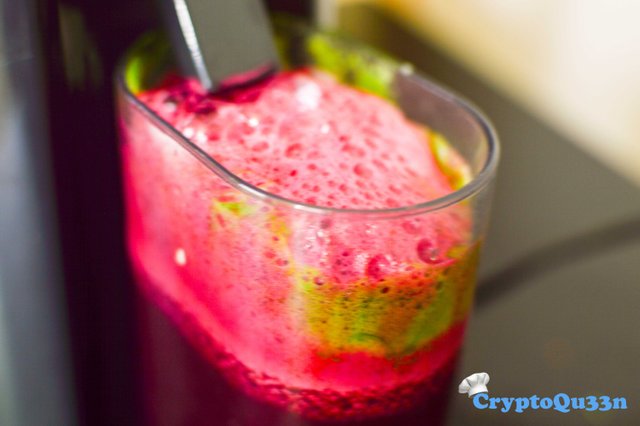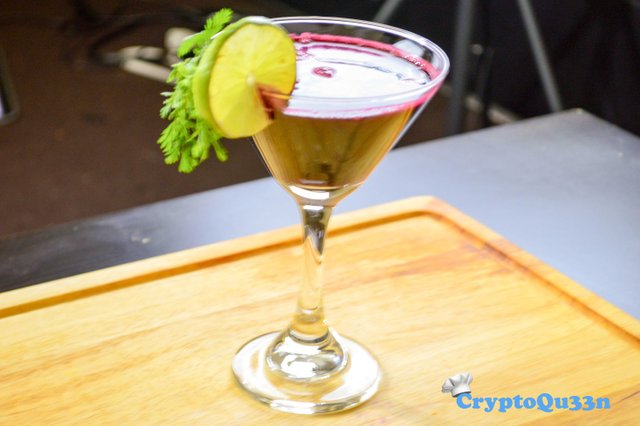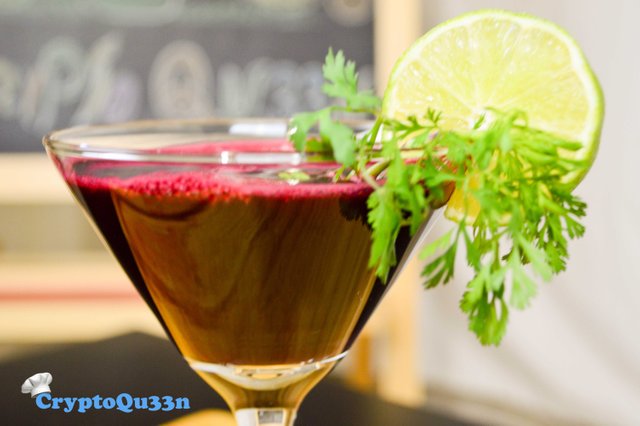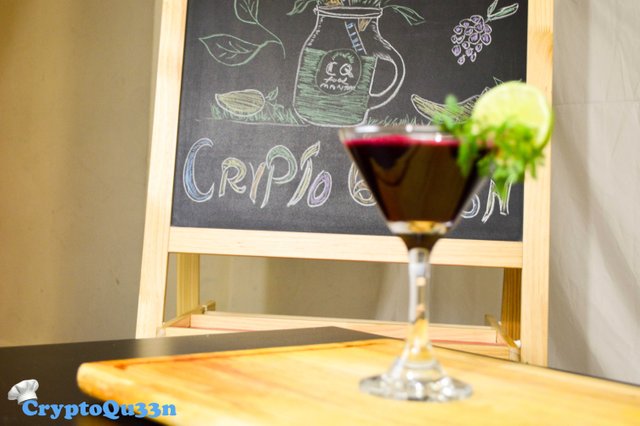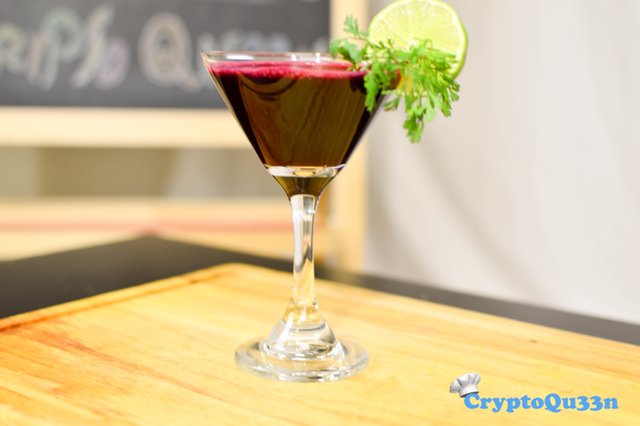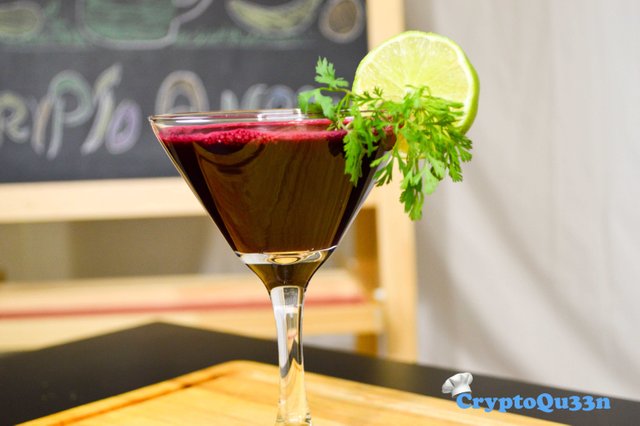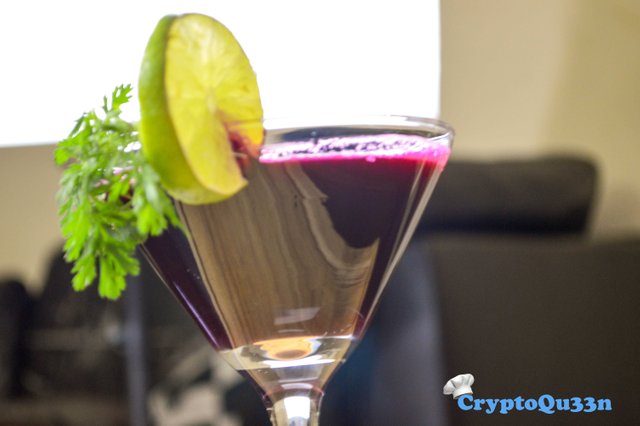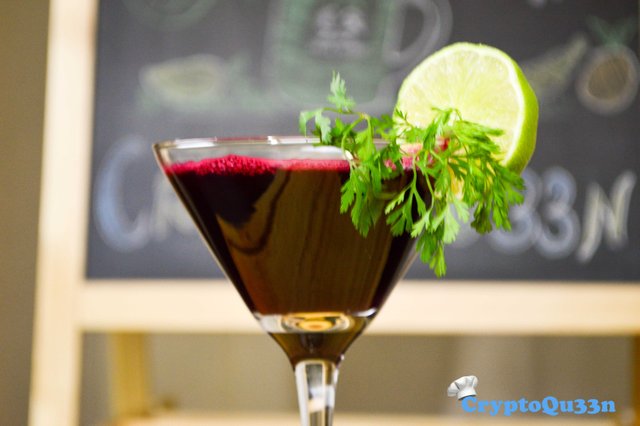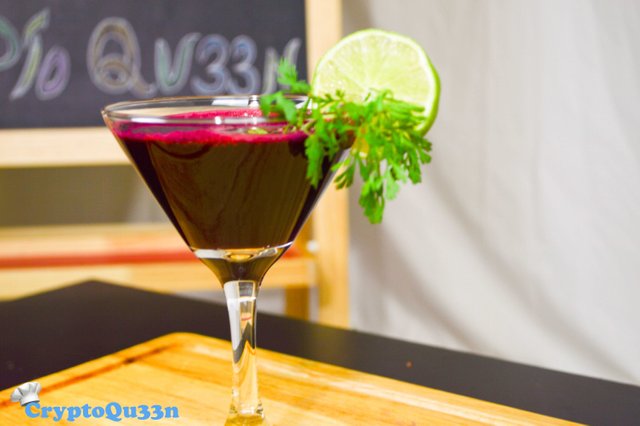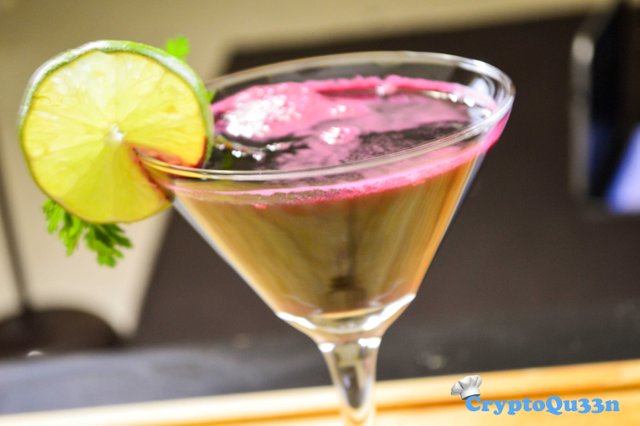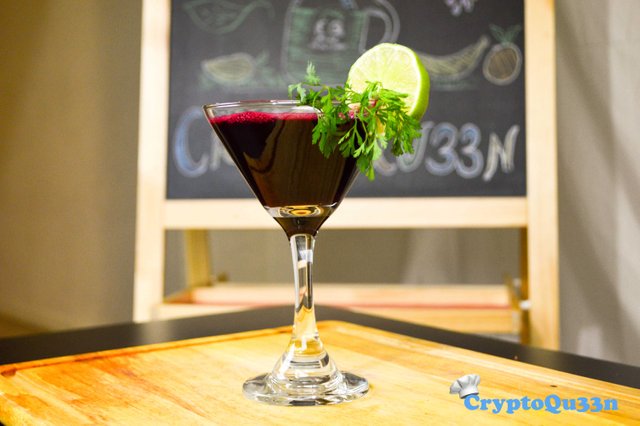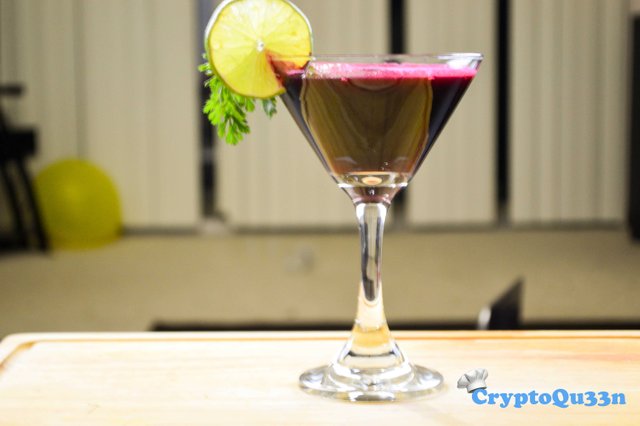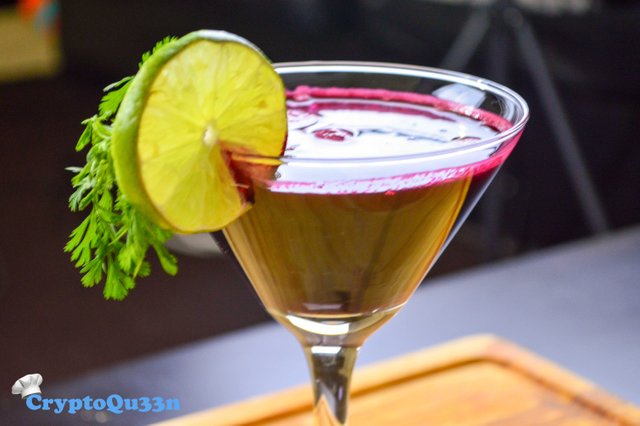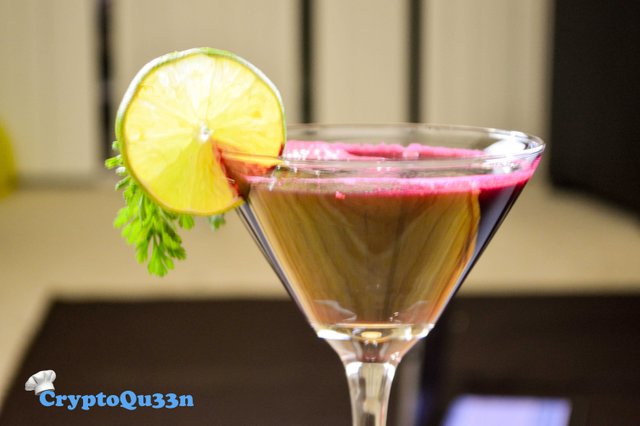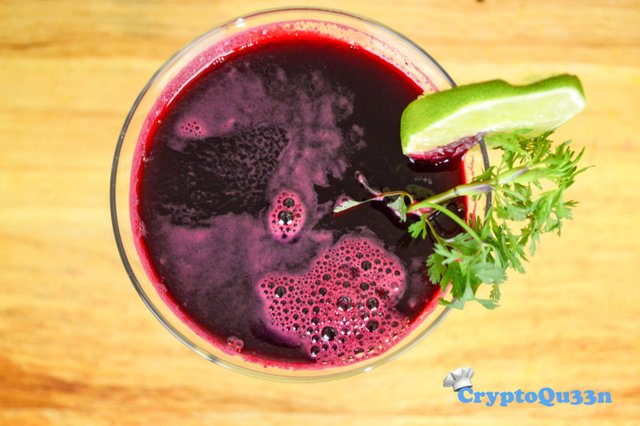 Nutrition Information
Serving Size: 1 of Recipe
Servings Per Recipe: 1
Amount Per Serving
Calories: 456
Total Fat: 7g 11%
Saturated Fat: 1g 6%
Polyunsaturated Fat: 3g
Monounsaturated Fat: 2g
Trans Fat 0 g
Cholesterol: 0 mg
Sodium: 824 mg 34%
Potassium: 2946 mg 84%
Carbohydrates: 79 g 26%
Dietary Fiber: 22 g
Sugars: 115 g
Protein: 14 g
Vitamin A: 611% of DV
Vitamin C: 86% of DV
Calcium: 22% of DV
Iron: 31% of DV
*Percent Daily Values are based on a 2,000 calorie diet
Try this recipe and please share your reviews.







If You like this post, do not forget to

upvote 👍 or follow me or resteem 🔁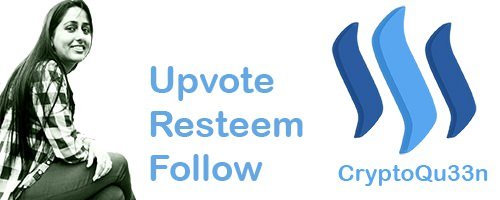 ---
If you liked this post, you may be interested in other articles of mine!
---
CQ's Food Mantra#02--- Healthy Carrot Beet Reboot Juice 🥕🍹

This is second post in my food blog series of Food Mantra. In this post I shared an excellent recipe of CQ Carrot Beet Reboot .....read more
---
CQ's Food Mantra#01--- Healthy Banana-Mint Shake
This is the very first post in my food blog series "Food Mantra". In this post I shared an easy to make recipe for banana shake .........read more
---
CQ's World through my lens#01--- Beautiful Ocean City⛱, Maryland, USA (Part#1)
This is very first of my travel blog, in which I covered beautiful Ocean City Boardwalk, Maryland, USA. This place is so amazing that you want to go there again and again.....read more
---
CONTEST#01 - All for One and One for all (AFOFA )
This is a contest we started to support those minnows, whose quality work go unnoticed. Please support them by upvoting .....read more
---
Hello Steemit! Really excited to join this new family and here's my introduction
This was my very first and introductory post on Steemit in which I tried to share my thoughts and a road map of what I'll bring to this platform .....read more
---