Sci-Fi Novel : An-Other World episode 3
Anyway, why would I do it? All I want for us is to have a simple life, earning enough money for food and necessities, and be safe. I didn't ask to become a breaker. I have never killed or robbed anyone. Do we really deserve all the hatred and anger?
Well, our government doesn't give a damn whether you're a good person or not if you're a breaker. Being a mind breaker is illegal, period. The Council of the Fathers created Elimination consisting of people resistant to hypnosis. The only purpose of Elimination is to catch, imprison and torture the breakers. One mistake and we could easily wind up locked behind bars or dead. That is the harsh reality of being a mind breaker.
This is the world we live in. *** It's warm and clean inside the bank. Brand new ceiling lamps fill the space with colorless light. The floors are freshly mopped. Being here, I get a feeling of having landed in a parallel universe. There's something unrealistic and odd about this place. Too sterile I guess. As I walk down the hallway, a tall young man wearing a holstered gun stops me. "Hey, you," he says roughly. "Do you work here?" This must be our new security guard, who doesn't know me yet. Wordlessly, I show him my name tag. It has my picture and says I'm Ben Hunter, a bank teller. I've been using this name for years, erasing the real one from my head. The picture seems too serious for a person of my age. I've just turned eighteen, but look more mature and could pass easily for an older guy. A fake ID I have says I'm over twenty one. The guard studies my name tag and finally nods. I pin it back to my shirt and walk into the large main office, heading to my desk.
The other employees arrive, seeming ruffled after a long commute. Nobody talks a lot in the morning. While preparing my desk for the day, I notice my friends, Tim and Mandy. I wave to them, but no response follows. They are too busy, drinking coffee and checking documents. No big deal. At 8 am we open. Instead of loans for business, nowadays most people come to the bank to borrow money for food and paying bills. Being helpless and in despair, they often tell you heartbreaking stories and cry. They may threaten and curse you, upon hearing a refusal. The problem is that in most cases we have no choice but to refuse, following the unforgiving rules of the bank.
By the time my lunch hour finally rolls around, I am dog tired and hungry. My empty stomach produces embarrassing growling noises. I count out the last coins in my pocket and get a cup of black coffee. As I enter the tiny dining room, I see Mandy and Tim eating sandwiches at the table.
"Where's your lunch, youngster?" Tim asks. He is a short arrogant guy, hardly older than me. "I'm not hungry," I lie. "Ate a huge breakfast at home." "I hate eating breakfast," Mandy says. "Although my mom gets angry with me, if I don't. She thinks it's the most important meal of the day." Mandy is a chubby plain girl, who lives with her parents and doesn't have to suffer many hardships. Not exactly the sharpest knife in the drawer, she has a tendency for saying something really stupid at times. She seems all right, though. Kind of harmless and simple. "Did you see Lola Great's show?" Tim asks. "I did!" Mandy blurts out proudly. Her eyes sparkle with excitement. "It was terrific!" I feel a chill creeping up my spine. They've just selected the worst topic possible.
As part of her spectacularly sadistic show, Lola Great describes in detail the capture and processing of mind breakers. Man, they even orchestrate an execution complete with a dead body still convulsing from spasms. The show receives the highest rating in the network. Now tensed up, I take a big sip of hot coffee. "Are you all right?" Mandy asks. She's noticed a change in my expression. I take a breath and force a smile, trying to relax. "God!" Tim says. "Those darn breakers are real freaks. The last one killed two families with little kids after stealing all their money." I raise my eyebrows in pretended astonishment of his revelations. "I'm so scared of them!" Mandy says. "What if I meet one? He could do whatever he wants to me and I'd be totally helpless." "You wish," Tim says, laughing. "No, just don't look into their eyes. Lola says they use their stare to manipulate people. If I ever meet one, I'm gonna poke out his eyes and smash in his head. Just keep punching the damn thing till he falls down and can't use his evil tricks on me." I stare right into his eyes and nod, faking agreement. It sucks to be me.
I have to adapt and live a lie every day in order to keep my secret. No true friends. No real trust. Anybody could turn on me at the drop of a hat, calling Elimination. Except Kathy, of course. Being a breaker like me, she's the only person I can believe in. "Maybe all that's just for ratings and they aren't all evil," I suggest quietly. Both mouths drop in surprise. "Are you crazy?" Tim asks. "Well, think about it," I say. "All breakers can't be the same. Some must be bad and some good. Just like us, normal people." Mandy blinks, looking confused. Tim shakes his head. "No way! They're not normal at all," he says. "Those stinking freaks can only kill and rob people.
That's their nature. They can't resist all the temptations that their power brings. Just imagine if you can walk into a bank, take all the money and leave unnoticed. If you could ask a stranger to give away his wallet and erase your face from his memory." He shakes his head again. "No way can they resist doing it. It's too easy." I shrug my shoulders, having no desire to debate. "Maybe you're right," I say. "Of course I'm right," Tim blurts out.
"Anyway, why the heck are you protecting them?" He narrows his eyes in suspicion. "Maybe you're one of them, a freaking mind breaker?" For an instant, I feel like I'm losing control. One incautious word might ruin my entire life. "Oh, sure," I roll my eyes. "I'm an evil mind breaker," I say with exaggeration. "I'm gonna kill you guys and make off with all the cash. Right after I finish my coffee, which you surely would have paid for were I a breaker." I smile slightly, then screw my face into a shocked frown.
Tim and Mandy burst out laughing. Sometimes telling a half truth is the best way to hide. "There's a new movie about mind breakers," Mandy says. "The preview looked really cool. Breakers and normal people falling in love all over the place." She suddenly gives me a strange look. "Do you wanna watch it with me?" she asks. Everything tightens inside me. Is she asking for a date? I didn't see it coming.
I can't let people get really close. It's too dangerous, too easy to reveal your secrets. People can get rewards, informing Elimination about hiding breakers. "Well," I say to Mandy. "You probably won't enjoy when the breakers start blowing up heads in that movie. No, sorry. I'm too busy anyway. Have to take care of my little sister." Looking away, Mandy seems upset. I can't help feeling a little guilty, although I shouldn't.
I'm just protecting my life. Our boss Mr. Thompson comes in grumbling that we're a couple of minutes late for getting back to work. "Customers are waiting out there," he says strictly. "Let's get a move on." I finish off my coffee quickly and hurry back to the desk. My head hurts. I'm tired with all this mumbling about evil mind breakers. Gosh, I hope my work day will end soon. And it does end earlier. Only not the way I wanted.
The door slams open widely and three men dressed in military style clothes and black ski masks charge into the office with guns drawn.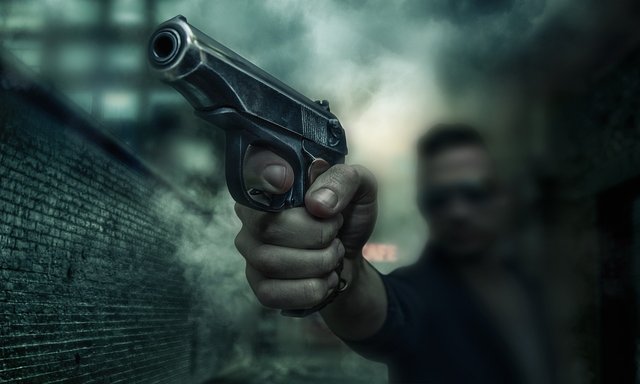 See Episode 1
See Episode 2
Image Sorce: https://pixabay.com/