Investors can expect more rate hikes courtesy of the U.S Federal Reserve.
It just released the semi-annual Monetary Policy Reportwhich forms the basis of the the Fed's testimony in front of Congress next month.
The markets received few surprises in the report.
Here are the highlights:
Fed says outlook for higher inflation appears to be on track
Fed sees labor market strong, hourly pay gains moderate
Fed: fiscal policy likely to give gdp moderate boost this year
Fed: prime-age labor force participation may continue to rise
Fed: drag on gdp from higher oil prices likely to be smaller
Fed says valuations still elevated for range of assets
Fed: vulnerabilities from leverage in financial sector look low
Fed: commercial property valuations continue to be stretched
"Economic activity increased at a solid pace over the first half of 2018, and the labor market has continued to strengthen. Inflation has moved up, and in May, the most recent period for which data are available, inflation measured on a 12-month basis was a little above the Federal Open Market Committee's longer-run objective of 2 percent, boosted by a sizable increase in energy prices" the Fed said adding that the economy continues to be supported by favorable consumer and business sentiment, past increases in household wealth, solid economic growth abroad, and accommodative domestic financial conditions.
As a result, the Fed "expects that further gradual increases" in interest rates would be appropriate continues to oversee an economic expansion that is now the second-longest on record, a task complicated by the recent break out in global trade war.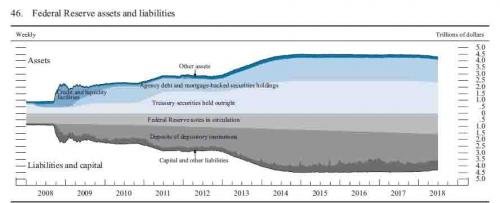 Despite the optimistic outlook, the Fed does see some dangers lurking. It does not believe this is enough to derail the trend we are riding the past couple years. If these factors do become more of a problem, the Fed could change the approach in ensuing months.
At the top of the list is the uncertainty surrounding oil prices. Further climbs could be a drag on the economy as companies and individuals alike are forced to cut back elsewhere to offset the cost of fuel.
Oil prices have climbed rapidly over the past year, reflecting both supply and demand factors. Although higher oil prices are likely to restrain household consumption in the United States, much of the negative effect on GDP from lower consumer spending is likely to be offset by increased production and investment in the growing U.S. oil sector. Consequently, higher oil prices now imply much less of a net overall drag on the economy than they did in the past, although they will continue to have important distributional effects. The negative effect of upward moves in oil prices should get smaller still as U.S. oil production grows and net oil imports decline further.
The rest of the potential pitfalls can be found here:
https://www.zerohedge.com/news/2018-07-13/fed-sees-elevated-valuation-pressures-will-continue-gradual-rate-hikes
For now, the Fed feels the economy is on stable footing. The challenge with this institution is, historically, it is 6 months behind due to the data it is continually monitoring. A great deal of this recovery is tied to real estate which means all will want to watch for cracks in that sector. An unexpected slowdown while the Fed is still raising rates could kick of a recession.