Workshops about Faircoop, Faircoin, Blockchain and Cryptocurrencies in the Red Bull Station in Brazil. We've got brownies and an invitation at the end.
Hi steemians! Few weeks ago (3/3 and 2/24) I was in the Faircoop and its cryptocurrency Faircoin workshops that happened here in the Red Bull Basement, a maker space in the Red Bull Station in São Paulo city, Brazil.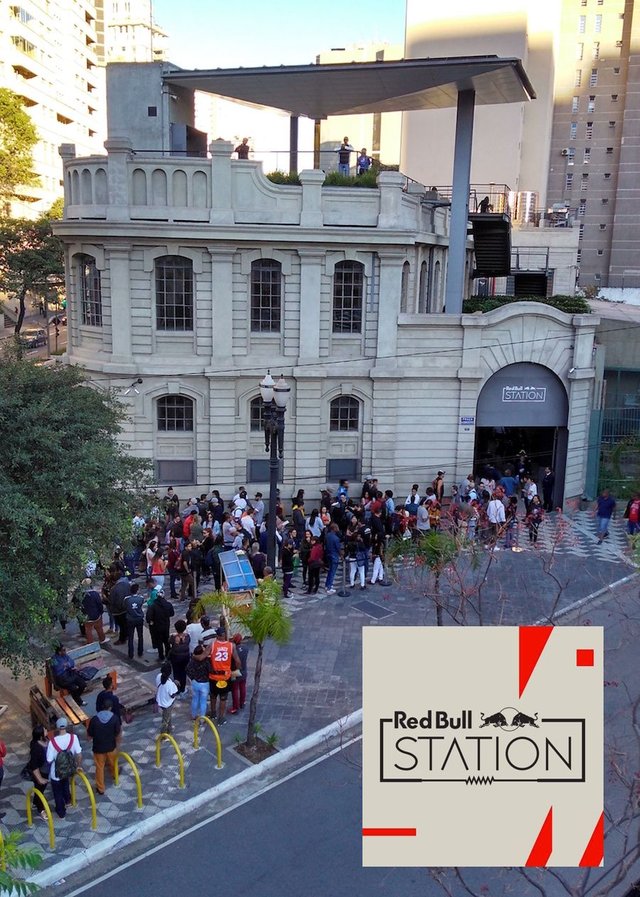 Red Bull Station in São Paulo, Brazil. All these people in line aren't for the workshops, they were waiting to visit the Racionais MC's (most popular brazilian rap group) 30 years cellebration exposition that happened in July last year. Picture by myself available under Creative Commons license on Flickr
I made a post in portuguese inviting the people before the event, wich was free and the first about blockchain and cryprocurrencies in that space, a culture, art and innovation center working in a restored historic building in downtown.
February 24, 2018 - Economy's new way: blockchain and cryprocurrencies I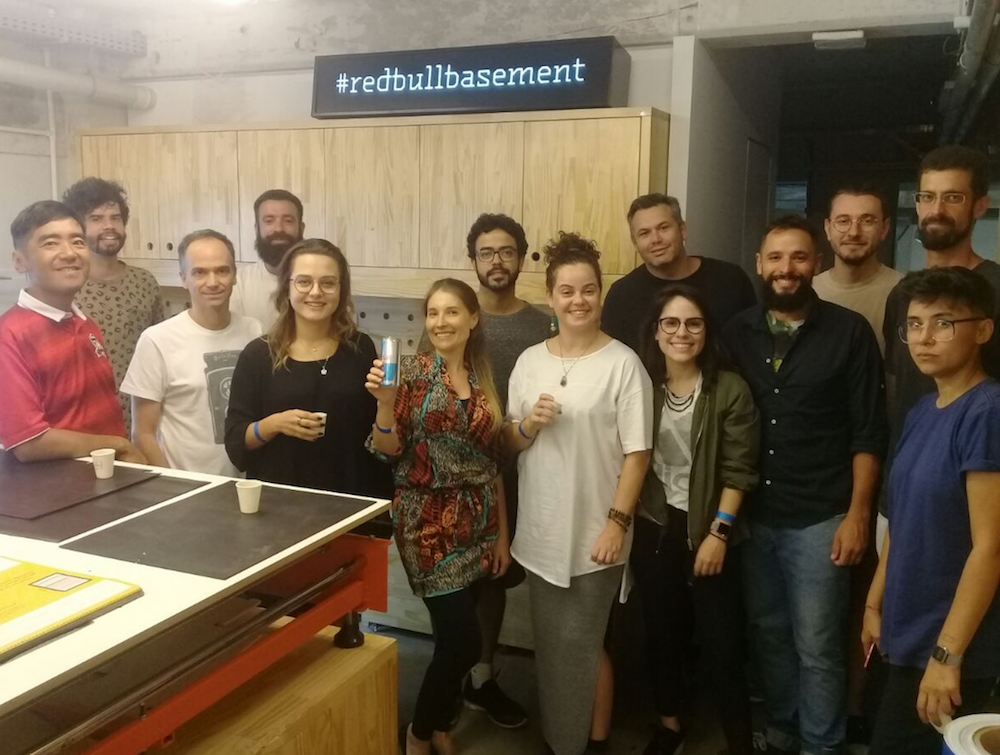 Participants of the workshop in the first day. Photo: courtesy of Christina Bianchi.
In this day I realised that the Ubatuba's Faircoop Local Node and one of the instructors, Marcelo Voos, was also a fellow steemian as @marcelovoos. He led the workshop aside Felipe Fonseca from Ubalab, an open education, citizen innovation and free technology lab in the same city, a seaside town distant 220 km from São Paulo.
I met other steemians @grsmto and @bernamarquez, former co-workers and professionals from many fields related with cryptocurrency and blockchain technology: law, programming, entrepeneurship, journalism, sustainability, etc.
In the workshop's first day we discussed about the actual financial system, blockchain, bitcoin, mining, etc. The presentation in portuguese is shared online in Google Slides, you can access here with a Gmail account.
March 3, 2018 - Economy's new way: blockchain and cryprocurrencies II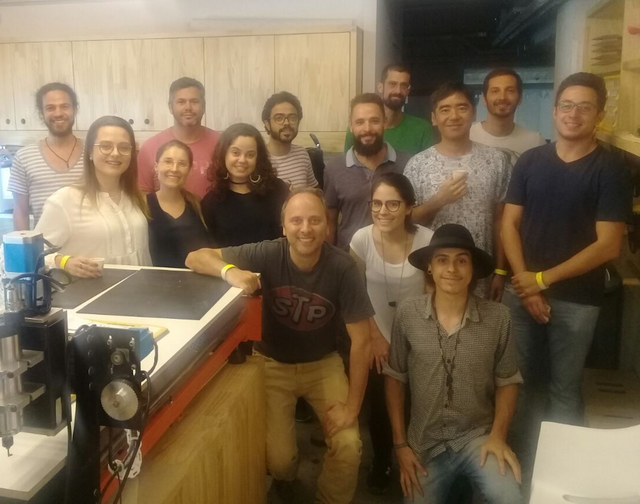 Participants of the workshop in 3/3/2018. Photo: courtesy of Christina Bianchi.
In the next Saturday after the workshop's first day, the subject was focused in the Faircoop, the Earth cooperative for a fair economic system with its cryptocurrency Faircoin. Beyond the use by their members the FAIR is also available in Bittrex exchange, like STEEM/SBD.
Founded in 2014 the Faircoop has the mission to create an innovative glocal economic system from the bottom up in favor of an alternative and post-capitalist model to pave the way for a collective change towards a life in common. With the Faircoin they launched the PoC (Proof of Cooperation) and CVN (Cooperatively Validated Nodes) concepts. You can see more about it in their website: FairCoin activates the first 100% Cooperative Blockchain.
This day presentation in portuguese was shared by @marcelovoos in Google Slides too. If you're interested you can check it with a Gmail account.
One of the founders of Faircoop is Enric Duran, worldwide known by his fight against spanish and european financial system with the voluntary insolvency proposal. He "expropriated" almost 500k euros by 68 regular bank loans (abundant before the 2008 crisis) and distributed the money to activists, direct actions and autonomous organizations. He declared insolvency but had his inprisionment decreed and now is outlaw and hidden. I found this @enric Steemit account created in the beggining of this blockchain social network.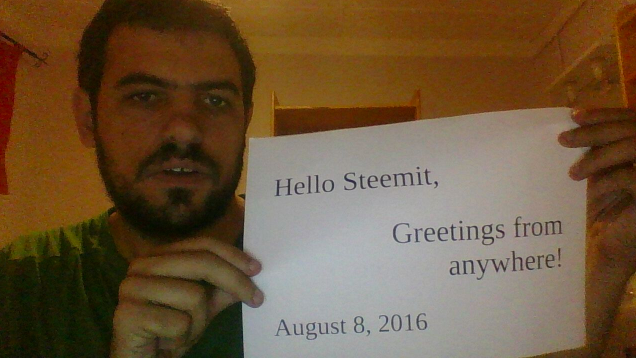 This position of confrontation and civil disobedience continues in the Faircoop guidelines, like many other movements from Catalonia, birthplace of the anarchist culture, beside other locations in the south of Europe. I believe that this activist heritage had a big influence here in Brazil. Strikes in the cities and agricultural communities in the countryside, organized by immigrants from Spain, Italy and even Japan, were really important in our history, as happened in the USA and Latin America. Today one of main Faircoop's project is to bring coffee from Guatemala to Greece, finding an alternative way avoiding paying taxes, rised after the economic crisis in that country. Get your (fair) coffee: http://www.fairtradenotforsale.net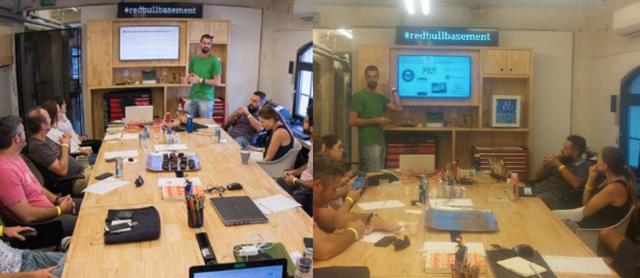 Workshop in March 3, 2018. Image on left was captured from Red Bull Station Facebook fanpage and the one in right was a courtesy from @marcelovoos.
Marcelo Voos (@marcelovoos) explained that by the work of the Ubatuba Faircoop Local Node It is possible to use the Faircoin cryptocurrency to buy local craft beer, organic mushrooms and pay the bill in a restaurant. The merchants negotiate the cryptocurrency based in a stable value, ensured by Faircoop members and discussed in an online assembly in a Telegram group. The decision is set by consensus, like all other decisions in the cooperative.
Here in Steemit I found these posts from other Faircoop's idea enthusiasts:
And this enthusiastic post about an event in the first Mexican Faircoop Local Node some days ago:
Invitation

To create a new Faircoop Local Node is necessary 3 active members at least and they should meet in person once a week. After sharing in the Telegram group and having your actions plan and meetings minutes approved the new local node start to receive help and support in Faircoins to ensure the projects' success.
After learning all about it in these two days of workshops I expressed my concern in joining an eventual São Paulo Faircoin Local Node in a near future. I installed the Faircoin app Android received 1 FAIR from @marcelovoos as a demo. In return I transfered 1 STEEM to him too. If anyone became interested, the Faircoop welcome group on Telegram is: https://t.me/askfaircoop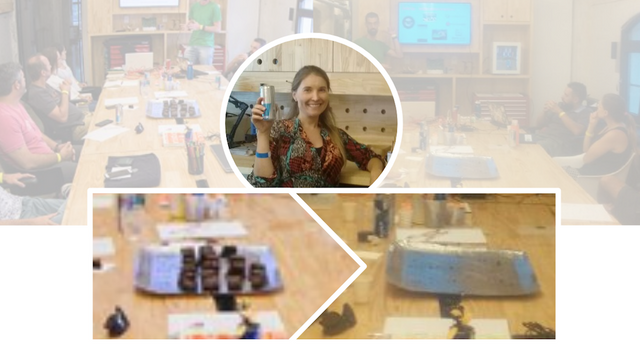 The tray with brownies cooked by Christina Bianchi to share with the workshop participants. Images details (before x after), the one on left was captured from Red Bull Station Facebook fanpage and the one in right was a courtesy from @marcelovoos. Christina Bianchi photo on center taken in 2/24/2018 workshop.
Another remarkable moment of the event was the brownies with Amma organic cocoa nibs, especially cooked by Christina Bianchi to share with other workshop participants. If she decide to take part in the São Paulo Local Node, in the law and cullinary comittee, I am sure the chance to suceed is high :-)
I confess I have ever thinking that the cooperative principle of 1 man = 1 vote not necessarily results in the best decisions. But in Faircoop the decision are made by consensus and the online assemblies are permanent and ad hoc, rising the cooperative model to another path.
Here in Brazil, when the japanese immigrants were majority working in rural areas, there was a joke saying that when 2 japaneses met the first thing they did was to organize a cooperative. Then, the second thing was deciding who would be the cooperative's president and who would be the treasurer :-)
In the workshops, while I was visualizing the future, at the same time I felt going back on time, wearing a Faircoop brooch, with a felt beret on head and this melody passing by my ears: Bella ciao ciao ciao, ma verrà il giorno che tutte quante. Lavoreremo in libertà!
Thank you very much and good luck again!
90% of this post liquid rewards will be donated to the future São Paulo Faircoop Local Node.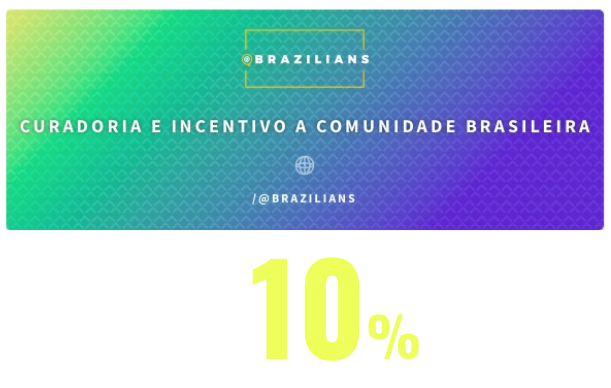 10% of all liquid rewards from this post will be donated to @brazilians
---
Original post in portuguese:
3/11/2018 : Resumo das oficinas sobre Blockchain, Criptomoedas, Faircoin e Faircoop no Red Bull Basement em SP. Teve brownie e convite no final!
Suggested posts:
2/27/2018 - @blockchaincat: Slothicorn point of view
3/15/2018 - @steemcenterwiki: Announcing our first korean contribution: a wiki article about Dan Larimer (댄 라리머) created by @hkmoon
3/4/2018 - What I learned from the Bitch Coin, Shot Work Permit and Unicorn costumes' success in Brazilian carnival this year
1/26/2018 - #BlocoChain | The Bloco Chain in Brazilian Carnival. A decentralized autonomous kind of mini samba school for blockchain and cryptocurrency enthusiasts.
1/5/2018 - The mountain has moved. Mark Zuckerberg mentions encryption and cryptocurrencies in his traditional New Year's resolutions post on Facebook.
12/25/2017 - #merryxmas and wishes for a softer and sweeter life
12/6/2017 - Free tokens distribution announced by BAT (Basic Attention Token) for Brave browser users.
8/8/2017 - The day when I was bitten by the Aedes aegipty mosquito. Warning: graphic content and blockchain mention.
3/4/2017 - Steem and cryptocurrencies as a tool to implement and expand LETS (Local Exchange Trade System)
Log on on Steemit to receive rewards from posting too >>>
More crytpocurency rewards? Answer emails on Earn.com, share links on Refind > and images on Supload >