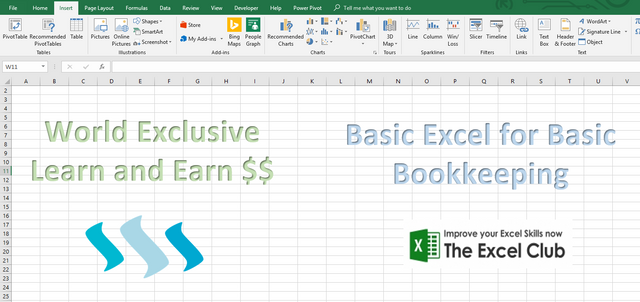 Welcome to this weeks Learn and Earn post for Basic Excel for Basic Bookkeeping.  The first week of the learn and earn experiment.
If this is your first time on Steemit or on a Learn and Earn Post, please do read the full content of this post before you dive into the content as it contains important information.
Basic Excel for Basic Bookkeeping Course Content:
We will begin this course by introducing you to Excel, where you will learn the very basics. We will introduce you to a workbook and the ribbons, and you will learn how to select, enter and delete data.
In section 2 we will move into the very basics of bookkeeping, we will introduce you to the day books that you should keep and we will identify key details that you should record in these day-books. These day-books, prepared in Excel, are available for download, and we will use them in the rest of this course while we are working in Excel.
In section 3 - Excel working with data, you will learn how insert, remove and merge cells, rows and columns. We will also look at find and replace, hide and unhide and Special paste. After this we will move on to entering basic formula and some formatting.
Section 4 of this course - Excel Organizing and sorting data, will give you the opportunity to organize the day-books using tables, filters, names and data validation
Finally, in section 5 Excel Analysing data you will be introduced to Excels recommended charts and recommended pivot tables.
*please do not vote on posts older than 7 days as these do not count.
How to earn
Comments on this post will be rewarded. This is the learn and earn post for the week. The following are examples of what will be rewarded.
- Post feedback on the modules you have studied
- Ask relevant questions on the modules you have studied
- Answer relevant questions asked by other learners
Votes will be placed on appropriate comments left below. Comments that do not add value will not be rewarded.
Have any Questions?
If you have any question on the course material, or on this #learnandearn campaign please do put them in the comment below.  As the weeks go by I will put together a FAQ based on what people ask the most.
Please Support this Project
To provide a sustainable income as an instructor, all votes count.  If you like what I am doing or if you like the course content and want to support this experiment please place a vote on this post.  You can also reward the comments by upvoting them.  But remember, do not place a vote on posts older than 7 days as these votes do not count.