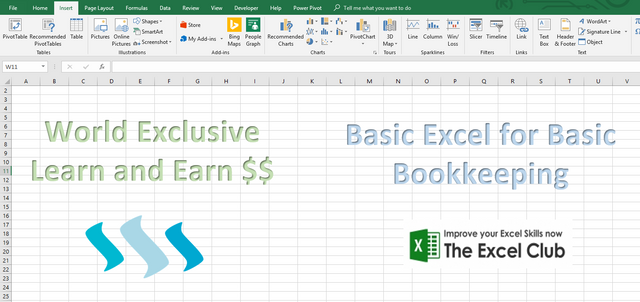 Imagine a world where cost and finance are no barrier to education. This is an exciting experimental opportunity to improve your skills and earn $ at the same time. Removing cost as a barrier to education
Paula here from the Excel Club, hope you are all keeping well. I know over the last while I have not been posting much on Excel and Power BI. This is because I have been focusing on something rather experimental.
I am sure many of you here have heard of blockchain, or cryptocurrency or even bitcoin. Well the technology behind bitcoin, blockchain, has come a long way since bitcoin was first introduced. And I have been experimenting with the use of this technology to distribute learning content.
The last year has been a bit of a roller coaster because like most people out there, my knowledge of blockchain was emmmm let's just say non-existent. Technology changes so fast and being at the forefront is important. But coming out the other side now I have found a way, Excel, Power BI, and any online learning material can be distributed via blockchain, but it gets way more exciting than just distribution.
Not only can I distribute content on the blockchain, but I can also reward learners with cryptocurrency that can be easily converted into cash. Today I announce to you the first Every, World Exclusive Learn and Earn Excel Course on the Blockchain.
WORLDS FIRST LEARN AND EARN EXCEL COURSE IS - BASIC EXCEL FOR BASIC BOOKKEEPING
Why give away courses free on the blockchain?
Imagine a world where cost and finance are no barrier to education. Imagine a world where a course creator could continue to earn a living by teaching online without the need to charge for courses. The STEEM blockchain offers a solution for this. With its rewarding mechanism, course creators can also earn STEEM by up-votes from learners. Both the course creator and the learner can earn. I am currently experimenting with one course and hope to grow this further over time.
How do I learn?
If you click on the course link it will bring you to that weeks learn and earn post. The post will have links to all relevant material and videos. You will find workbooks and exercises to complete attached to each lesson where applicable.
How do I Earn?
Watch the course and engage with it. Every week there will be a Learn and Earn post. Students must interact on this post, or on the actual course material. You are welcome to leave comments, ask questions or even share tips of your own or answer others people questions. The most helpful, most relevant, most enjoyable will be rewarded. These rewards are paid in crypto currency STEEM. To earn rewards, you must have a STEEMIT account.
How do I get a STEEMIT account?
To register for a STEEMIT account use this link.
https://signup.steemit.com
. You can get a free account with takes 1-2 weeks or you can pay for an account. The free account come with all the same rights and functions as the paid account, the only difference is you could be waiting 2 weeks for a paid account.
What is STEEM and how do I convert I to cash?
STEEM is a cryptocurrency use to reward content creators and curators. Content on the STEEM blockchain can be rewarded by upvotes from registered users. These upvotes are worth STEEM. STEEM can be traded on many cryptocurrency exchanges for US$ and transferred to your bank account.
You also do not have to convert to cash. There are many benefits of Holding STEEM, none of which are relevant here. But what I would said is that Learn and Earn with me is a fantastic way for you to get into cryptocurrency at NO cost to you.

Did you say NO cost, as in FREE?
Yes, I did say NO cost. The course is available freely on the blockchain, and you don't even need a Steemit account to view it. The only thing is without a Steemit account you cannot earn rewarded or give rewards.
I can give rewards? How much will this cost me?
Yes, you can give rewards and it does not cost you anything. Nothing. Its free. The technicalities are rather complex and I will try keep this explanation very basic. Bitcoin is ran by miners. The role of a miner is to run a server allowing the software run from it. These miners are rewarded in bitcoin for running the servers. On Steemit the miners do not get all of the rewards for running the servers, instead the rewards are put into a pool that is shared by votes on content by those with a Steemit account.
Steemit is rather complicated, and there are a number of front ends from which the content can be explored. I will be using Steemit.com for most part with videos and future live classes on Dlive.
If you want to learn more about STEEM and STEEMIT in general, you can also follow my personal Steemit account @paulag where I talk about Steemit and its operations rather frequently.
This is a massive experiment and the first learn and earn excel course on the Steemit blockchain. If I can prove with blockchain and cryptocurrency that online educators can earn a sustainable living and students can earn at the same time, I will be one step closer to breaking a massive barrier to education. Cost. If I can do this, I hope to add more courses and even encourage more online educators to do the same.

---
Posted from my blog with SteemPress : http://theexcelclub.com/worlds-first-learn-and-earn-excel-online-course/
---