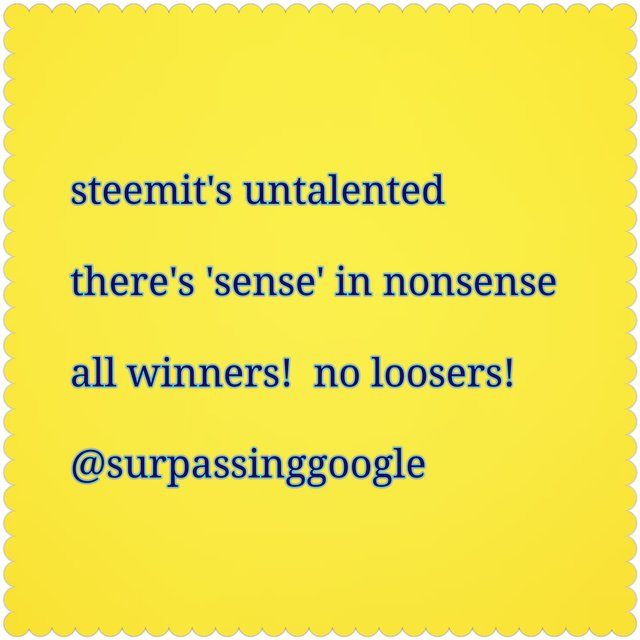 Hi Steemians,
In our giant strides towards creating confidence in all and specially treating each human as "celebrity", we visited a lot of posts round steemit and gave them our tinnie-winnie upvotes, to strengthen and encourage them. It is our 'utmostest' desire that all would see themselves as geniuses as we have been able to 'sift' sense out of nonsense.We curated posts which met the criteria of 'untalented'. They were all the awesomest versions of "untalented" humans, heartfeltly humans who had something to offer.#untalented abolishes the connected IQ tests eg smart, dull, bum and suddenly gives every human the chance to shine! Now, I am not saying standards or human standards are wrong. All I am saying is: You can do it, so do not let these standards prevent you from starting out-of-the-boxness altogether. Finding out, who you truly are or attaining the awesomemest version of yourself, is essential to greatness and is a gift to humanity, every time! Thus, #untalented is a home for all forms of levels of talent. With #untalented flaws are allowed.
There is sense in nonsense. All winners! No loosers!
And
Dirt is good, "ask the soapmaker
FEATURED POSTS :
@courageous' -when you really don't know what to do God can help you
@kahawenz's -sunset on the palm of my hand
@mauabuyot's -application for translator language moderator for utopian and davinci
@skyphotographer's -caterpillar
@msphoenix's -3 o'clock snack time
@gingfriend20ph's -remembering my childhood 90s kids
@edith4angelseu's -just shadows
@marionbowes' -this is who I met
@dotman-art's -review other portrait drawing of my dear friend day learning
@julie26's -vuzix blade, it's a smart glasses like your computer or smartphone
@jhoevhee's -sky eye ferris wheel at tagaytay philippines
@jap60's -photography magical and amazing
@ealdearnie's -colourchallenge friday skyblue
@azmi662's -chilli forest chilli jawa
@sweetnaomi's -happiness overload
@arose's -smartphonephotography a flower
@abdoon's -smartphonephotography
@bahagia-arbi's -motivasi 15 membuat impian besar
@greatwarrior79's -colour challenge saturday a purple orchid with butterfly
@yennarido's -paglalakbay patungo sa dako pa roon tayo y magsaya habang buhay pa at pagmamahal galing sa kanila
@wittyjov24's -ulog 4 food is life
@lorennys' -communion between them
@istillrise's -my emotional message to the best father in my life
@mahayahayyouth's -special cassava cake for father's day special
@queenjventurer's -preserved sampaguita made bracelet I am just a keeper
@mahayahayyouth's -my tita bought special siomai
@beachpersona's -blessed abagatanen beach
@clauxklein's -seaside photography
@jhoevhee's -ulog day 5 bathing the dog and doing house chores
@angelbless' -contest of petals flower
@neilrichmond's -a common Jay in a guava leaf
@yhel21's -thisy photo for today smartphonephotography atis
@amazingarnz's -boodle fight with friends
@chrismadcboy's -smartphonephotography under seawater seaorchin suwaki
@wanderingcess' -teardrops illustration, tears has value
@mahayahayyouth's -kamoteng kahoy or balinghoy cassava root
@preciousrube's -sweet tooth cafe for the love of sweets
@neilanthony's -colourchallenge comfort room floor mat
@siliwange's -love the butterfly batik cousins
@hagi's -swimming is a pain reliever
@raine's -paintings in the hallway
@felicitas' -cloud formation at pier 3 cebu city
@abichan's -tagalog poem 5 or or libre lang ang mangarap philippines
@dexteriousity's -week 3 the cup 2018
@keixgg's -photography ogano s cafe or dagupan city philippines
@catietan's -sunday purplecolorchallenge initiated by kalemandra photocontests
@jedralin's -color challenge blue kalemandra
@mavic2015's -ulog 5 spending father's day with family
@wilx's -june 17th daily prayer request thread have need of any kind the miraculous is the normal for those who ask
@ajasmin's -committment to God
@euronation's -sickle cell disease the african scourge
@sayemsonai's -pinnacle 10 hints for choosing the right faculty for your baby
@alfren's -top 10 mistakes in human architectural design
@antonette's -heart is a human's weapon
@myaw's -ang salup sa haring adlaw
untalented is a branch of the #steemgigscommunity. Join the steemgigs community on discordhttps://discord.gg/CGuPyyT. If you would like to offer your service in building the dreams of other steemians, you can do so under #steemgigs .However, if you want to experience full blown freedom and grow in confidence about your gifts and talents, share under #untalented .We aim to create historical moments in the genre of touching lives and you can support us if desired, by voting on steemgigs for witness. Simply click here https://steemit.com/~witnessesand type steemgigs in the first search box.
See this URL for more info :
https://steemit.com/steemit/@surpassinggoogle/steemit-s-untalented-is-in-beta-participate-freely-because-every-participant-in-this-contest-will-win-something-no-losers Just incase you find any level or form of gifts, talents, attempts at out-of-the-boxness, or any steem in confidence about their abilities, worth, etc; please do not let it slip emptily by.Kindly call on me! Simply reply to any such post and add @ steem-untalented or #untalented to your reply and i will be there to upvote, acknowledge, strengthen and encourage them.
un(dis)talented is just one of the many Steemit Projects by @surpassinggoogle in celebrating the Human. Get to know about others
Read about Steemgigs.org here
Read about Teardrops here
Read about Steemsecrets here
SUBSCRIBE TO HIS CHANNEL FOR MORE UPDATES ON THE DIFFERENT PROJECTS HE HAS FOR STEEMIANS HERE :
https://www.youtube.com/channel/UCAcaiNmH-izfjbcaC6br53w