🗞 Daily Crypto News, February, 28th💰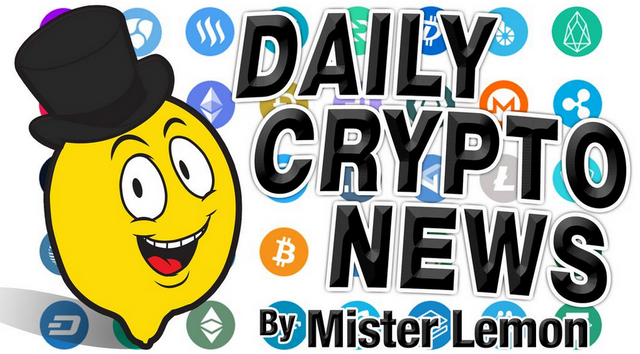 Singapore's Wealth Fund GIC Among Those to Raise $300 Mln for Coinbase in 2018 ;
Constantinople Incoming: Tomorrow's Two Ethereum Hard Forks Explained ;
Global Demand for Blockchain Engineers Up 517 Percent in a Year, Says Hired ;
Bitcoin Price May Rise in March Despite Month's Bearish Track Record ;
Putin's Order: Russia to Adopt Crypto Regulation by July ;
📑 Daily Crypto Calendar, February, 28th 💰
STEEM Trading Update
Welcome to the Daily Crypto News: A complete Press Review, Coin Calendar and Trading Analysis. Enjoy!
Singapore's Government Investment Corporation (GIC) was reportedly one of the investors to have helped raise $300 million for major United States crypto wallet provider and exchange service Coinbase in 2018. Bloomberg reported the news on Feb. 28, citing anonymous sources familiar with the matter.
According to its official website, GIC — which was founded to manage Singapore's foreign reserves — has in excess of $100 billion assets in over 40 countries worldwide.

As reported, Coinbase revealed it had raised $300 million in a Series E equity financing round in October 2018, brining its post-money valuation at the time to $8 billion.
In less than 24 hours, the world's second largest blockchain by market capitalization is expected to activate its sixth and seventh system-wide upgrades, at which point its global user base will be asked to make two near-simultaneous changes to its code.


Known as Constantinople and St. Petersburg, both upgrades will be implemented as "hard forks," or upgrades that add new rules to the ethereum software that are incompatible with past versions. Both will also take place at the exact same block number – 7,280,000.


Should users decide to upgrade, St. Petersburg will effectively disable part of the Constantinople code discovered back in January to host a critical vulnerability affecting smart contract security. Further, four out of five planned ethereum improvement proposals (EIPs) – the majority of which, according to independent ethereum developer Lane Rettig, will not be noticeable to the average user.
This month, the <abbr title="

Ethereum is a decentralized blockchain platform, enabled with EDCCs, where a software developer can build games, financial applications, gambling applications, utility and logistics software, social networks and more.">Ethereum community experienced vicious infighting on social media as people reacted to Afri Schoedon's controversial tweet about Serenity and Polkadot. The alleged verbal violence directed at Schoedon resulted in his exit from Ethereum and a subsequent letter, signed by dozens of Ethereum contributors, calling the community to develop healthier discussion practices and to "protect each other from threats and violence."


This wasn't the first Twitter thread in the Ethereum community to turn ugly, but Afrigate renews pressing questions about discourse. How can members of the community disagree or offer criticism in ways that are generative? In light of this recent display of toxic communication, I sat down with Taylor Monahan of MyCrypto to talk about healthy communication in the <abbr title="

A record or ledger of all transactions that virtually eliminates third-party tampering. While every exchange of value or data is recorded and visible to users, the identities of those exchanging, and what the money is being exchanged for, is kept private. However, the amount of money is public. New blocks can only be added in chronological order (through mining or other means of block validation), and the inherent value and information cannot be compromised. ">blockchain ecosystem.
Bitcoin could end the five-year March losing streak with solid gains if resistance at $4,190 (high of last week's inverted bullish hammer) is convincingly scaled in the next week or two.


The cryptocurrency reinforced a bullish triangle breakout witnessed last week with a quick recovery from sub-$3,700 levels yesterday. This "buy the dip" mentality indicates scope for a break above the recent high of $4,190.


The focus would shift to the primary bearish trend seen on the monthly chart if BTC fails to pick a strong bid in the next few days. In that case, the probability of BTC ending March on a negative note for the sixth consecutive year would rise.
Russia's President Vladimir Putin has instructed his country's government to adopt federal laws relating to cryptocurrency by July this year. Russia has earlier broadened the definition of "digital financial assets" to include cryptocurrencies. Putin's latest order resembles one he made regarding crypto regulation last year.


Putin has approved a list of instructions for 47 orders, according to a document posted on the Kremlin website on Wednesday. Among them is an order for the government to work with the State Duma, the lower house of parliament, to ensure adoption of "federal laws aimed at the development of the digital economy." They include "determining the procedure for conducting civil law transactions in electronic form, as well as regulating digital financial assets and attracting financial resources using digital technologies," the order details.



📑 Daily Crypto Calendar, February, 28th💰
Closed Alpha Testnet
"Incorporates over 15M American consumers' data onto the CyberMiles blockchain," during Feb 2019.
"Rather than rushing the mainnet out the door, the Matrix Team has decided to delay the launch of the mainnet until February."
Po.et platform is set to release an open source e-book metadata format, similar to, but less expensive than today's ISBN codes.
"Stage 2: Balancing and frequency regulation," in Feb 2019.
STEEM Trading Update by my friend @cryptopassion
Here is the chart of yesterday :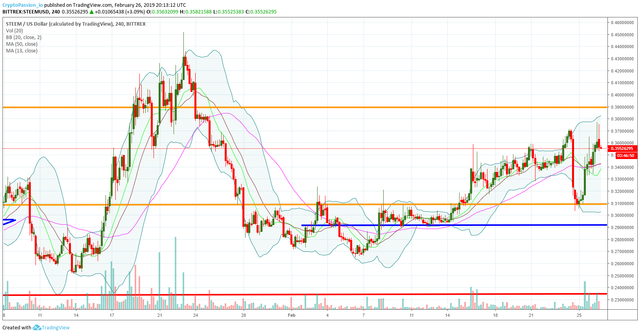 Here is the current chart :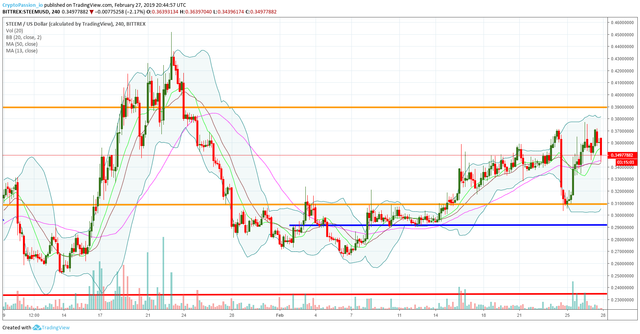 Due to the drop of the BTC, we are currently starting also a correction. No luck because I'm quiet sure that if we would have a UP on the BTC, the resistance line on the STEEM around 0.39$ would have been broken. Anyway, the market decided the other scenario so we have to adjust our hopes. We have now a high risk to go test the support line around 0.31$...
Last Updates
You don't want to miss a Crypto news?
Join SteemFollower and get Upvotes back !

"

---
---
Posted from my blog with SteemPress : https://scrips.io/blog/mr-cryptolemon/%f0%9f%97%9e-daily-crypto-news-february-28th%f0%9f%92%b0/
---