🗞 Daily Crypto News, February, 27th💰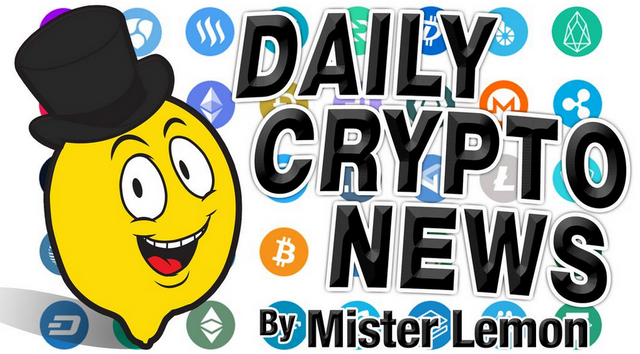 Cryptocurrency Jobs Peak in These Indian Cities ;
Sony and Fujitsu Develop Blockchain Platform to Fight Fake Educational Qualifications ;
Pitchforks And Plows: Toward A Generative Ethereum Ecosystem ;
Bolivars to Bitcoin: Activists Take Down Venezuela's Maduro in Crypto Art Exhibit ;
Samsung Teases Early Blockchain Partners For Galaxy S10 Phone ;
📑 Daily Crypto Calendar, February, 27th 💰
STEEM Trading Update
Welcome to the Daily Crypto News: A complete Press Review, Coin Calendar and Trading Analysis. Enjoy!
Demand for skilled professionals in the crypto space has been steadily rising, according to new data that ranks cities in India based on the number of jobs in the cryptocurrency field. Some cities such as Mumbai dropped several places from last year's ranking while a couple of others are new to the list.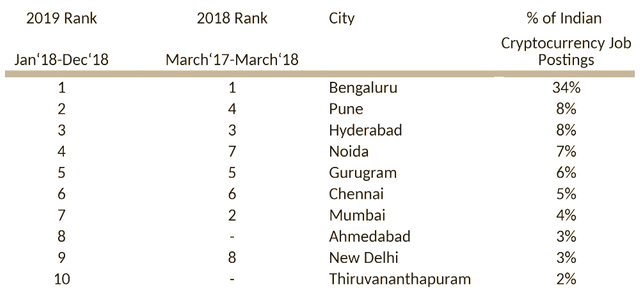 Japanese multinational conglomerate Sony and IT equipment services firm Fujitsu have created an encrypted database for educational proficiency documents, The Asahi Shimbun reports on Feb. 26.


The database, which reportedly employs blockchain technology, is used to prevent forgeries of language proficiency documents, which some foreigners purportedly use to receive resident status to study in Japan.
This month, the <abbr title="

Ethereum is a decentralized blockchain platform, enabled with EDCCs, where a software developer can build games, financial applications, gambling applications, utility and logistics software, social networks and more.

">Ethereum community experienced vicious infighting on social media as people reacted to Afri Schoedon's controversial tweet about Serenity and Polkadot. The alleged verbal violence directed at Schoedon resulted in his exit from Ethereum and a subsequent letter, signed by dozens of Ethereum contributors, calling the community to develop healthier discussion practices and to "protect each other from threats and violence."


This wasn't the first Twitter thread in the Ethereum community to turn ugly, but Afrigate renews pressing questions about discourse. How can members of the community disagree or offer criticism in ways that are generative? In light of this recent display of toxic communication, I sat down with Taylor Monahan of MyCrypto to talk about healthy communication in the <abbr title="

A record or ledger of all transactions that virtually eliminates third-party tampering. While every exchange of value or data is recorded and visible to users, the identities of those exchanging, and what the money is being exchanged for, is kept private. However, the amount of money is public. New blocks can only be added in chronological order (through mining or other means of block validation), and the inherent value and information cannot be compromised.

">blockchain ecosystem.
Venezuelan president Nicolas Maduro will be taken down today.

At least his visage, painted on 1,000 bolivars by cryptocurrency-focused artist cryptograffiti, will be. The destruction of the artist's newest piece – an 11-foot by 10-foot portrait of the Venezuelan leader – will happen in Cucuta, Colombia, about 500 yards from the Simon Bolivar Bridge, a landmark hundreds of thousands of Venezuelans have walked across to escape the poverty of their home country.

Since Maduro took office in 2003, Venezuela has suffered drastic inflation, starvation and socio-economic decline. And in recent months, the situation has worsened. This past weekend, violence broke out on the border with Brazil as the Venezuelan military moved to block food and medical supplies from entering Venezuela.
South Korean tech giant Samsung looks to have revealed some of the first blockchain partners for its upcoming flagship cellphone, the Galaxy S10.
At its Samsung Mobile Business Summit session at MWC Barcelona 2019 on Monday, the company presented the new phone's Blockchain Keystore to affiliates and customers, displaying a picture that included the logo for Cosmee, a beauty community service dapp (decentralized application) from the Cosmochain crypto project, as well as that of the Enjin crypto gaming platform.


As reported by CoinDesk Korea on Tuesday, while Samsung did not disclose precise details of the partner services, they are likely to be featured on the phone at launch or soon after.
📑 Daily Crypto Calendar, February, 27th💰
"The second version of Constantinople will not actually hit the network until February 27th."
New deadline set by SEC to further review the rule change proposals to list a Bitcoin ETF.
TestNet Release
Testnet Release
Dev team hosts weekly update on current status developments, including the Tritium mainnet and satellite launch.
STEEM Trading Update by my friend @cryptopassion
Here is the chart of yesterday :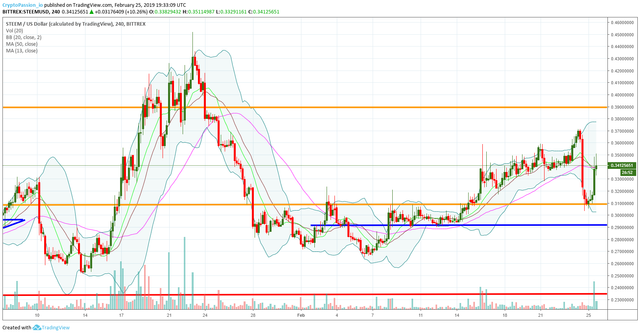 Here is the current chart :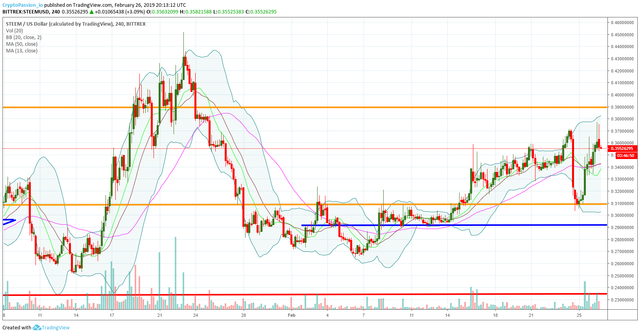 As you can see on the chart, we continued the bounce from the support line at 0.31$ but it looks like the market is blocking and is forming a double top. Let's see if that pattern will be validated but I remember you that a double top is a bearish pattern which means that most of the time, we have a drop as result of this pattern. Let's see!
Last Updates
You don't want to miss a Crypto news?
Join SteemFollower and get Upvotes back !
<a
"

---
Posted from my blog with SteemPress : https://scrips.io/blog/mr-cryptolemon/%f0%9f%97%9e-daily-crypto-news-february-26th%f0%9f%92%b0/
---
---
Posted from my blog with SteemPress : https://scrips.io/blog/mr-cryptolemon/%f0%9f%97%9e-daily-crypto-news-february-27th%f0%9f%92%b0/
---