Technical analysis, Indicators and Patterns explainend! Lesson 1 #Bartcardi


What is a Technical analysis
Technical analysis is a trading tool employed to evaluate security's and attempt to forecast their future movement by analyzing statistics  gathered from trading activity, such as price movement and volume. Technical analysts focus on charts of price movement and various analytical tools to  evaluate a security's strength or weakness and forecast future price  changes.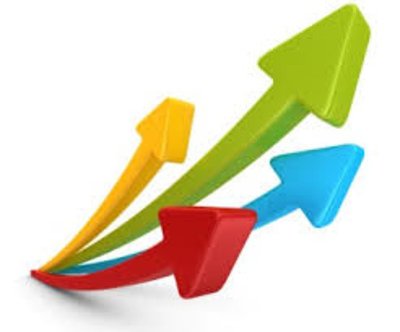 What are Indicators
Indicators are statistics used to measure current conditions as well as to forecast financial or economic trends. Economic indicators are statistical metrics used to measure the growth or contraction of the economy as a whole or sectors within the economy. Technical indicators are used extensively in technical analysis  to predict changes in stock trends or price patterns in any traded asset.

Different kind of charts
There are a couple different kind of charts. They all represent different information so its important to know which charts are usefull. Its also personal prefference which chart you youse. Personally i just love the candle sticks, but maybe its different for you.
The different charts:
Different kind of patterns
If you know where to look you can see different kind of paterns in charts. These charts happen again and again so history keeps repeating itself. This way by studying these paterns you have a huge advantage. These don't happen 100% of the time, because this way everyone would be rich. Its more of an art then a science. The basic of patterns are a reversal and continuation. A reversal is when the direction of a chart changes and a continuation is when it just keeps going the same direction.
Patterns i will cover here:
Head and shoulders
Cup and handle
Double tops and bottoms
Triangles
Gaps
Patterns Explained
Head and shoulders: In head and shoulders you are looking for three peaks with the middle peak being the highest one. The 2 other peaks being on the same level and lower then the highest peak. You connect these with a trendline this way you know the basic support level. Head and shoulders is a reversal chart pattern so you look for the breakdown.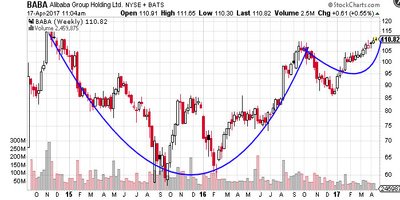 Cup and handle: This is a continuation pattern of a bullish trend. Afther a small pause of the of the bullish pattern it will go back up in a U shape. Trying to explain it as simple as possible.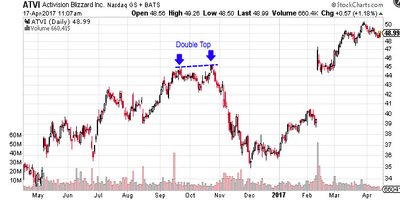 Double tops and bottoms: This pattern is know to be very easy and reliable. If you see twice a top or bottom hitting the same resistance or support level without a breakout. This now signals a reversal of the trend.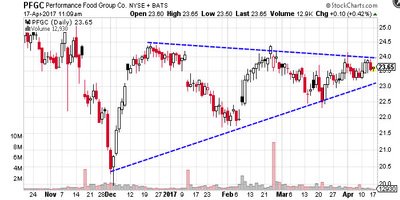 Triangles: Triangles happen very offten but there are a bunch of different triangles you can look for. I'm going to point out which triangles there are. There are symmetrical triangles, ascending triangles and descending triangles.  Symmetrical triangles occur when  two trend lines converge toward each other and signal only that a  breakout is likely to occur – not the direction. Ascending triangles are  characterized by a flat upper trend line and a rising lower trend line  and suggest a breakout higher is likely, while descending triangles have  a flat lower trend line and a descending upper trend line that suggests  a breakdown is likely to occur.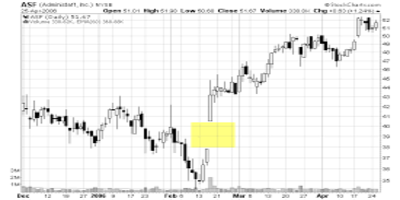 Gap: Sometimes you see a gap in a chart. This is because when the market closes at a certain price and it opens back up at another price. This way their will be a gap in the chart. As example it closes a $4.00 but opens back up at $6.00 you will have a gap. 
              - Breakaway gap: This happens when a trend is starting to form.
              - Runaway gap: This happens in the middle of a trend.
              - Exhaustion gap: This happens at the end of a trend.
Different kind of indicators
I already explained what a indicator is earlier in the article, but lets dive deeper into this. I will explain my personal favourite indicators and how to use them. If you want to understand all the indicators you will need about 1 or 2 months (Or longer), because their are alot. What is important to know is that there are leading indicators they can be helpfull to predict where the price is going. Also there are lagging indicators these will help traders understand how strong a trend is.
Indicators
MacD (Moving avergae convergence divergence)
RSI (Relative strength index)
CCI (Commodity channel index)
Moving Average
ADI ( Average Directional Index)
If you know the abbreviations you should be good.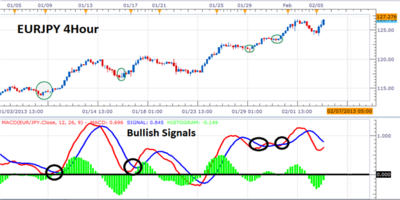 Macd: This indicator is helpfull to know if you are in bullish territory or in bearisch terrtory. If you look at the bottom of the picture above you can see a blue and a red line. If the red line is above the blue line this means its bullish territory and the other way around. So you have to be on the look out for those cross over, because then a trend might reverse.
RSI: This indicator will help you determine when to sell and when to buy. If you look at the chart above you will see lines on the 30 and 70. If the RSI is inbetween this i don't pay alot of attention to it. Only when the RSI is above 70 it shows that something is really overbought so you should sell. And when the RSI is underneath 30 something is really oversold so you should buy.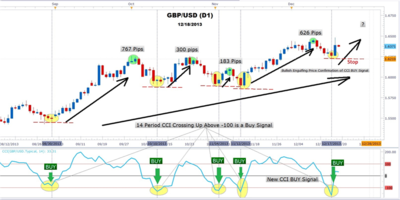 CCI: This indicator is similar to the purpose of the RSI. You can see in the picture below if the CCI drops you buy if it goes up you sell. You can use both the RSI and CCI together for comformation of the trade.If they both show the same thing there is a better change it will happen. Simple logic.
Moving average: This is really well explained in the video above. I suggest you check that out. Moving average just smooths out the price action. Simple as that but really helpfull.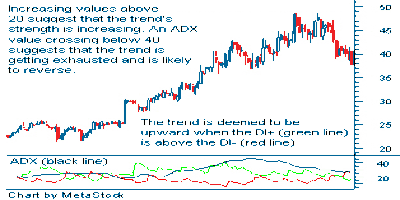 ADI: With this indicator you can see how strong a trend is. So if there is an uptrend and the ADI is at 50 you know this is a strong trend and has a big change to keep that trend going. And if there is an uptrend and the ADI is at 10 you know this is a weak trend. This will probably reverse. 
Conclusion
I hope you learned something from this article. The conclusion is the more you learn about this the greater your changes of making money. This is just to get you started and my knowelgde. But there is alot that i don't know. This is because i am still learning and i would love some help with that. If i made any mistakes you can always point that out in the comments. If i didn't u can also point that out.
Alot of information i got is from investopdia. So i highly recommend u check that site out if your interested in this.
Disclaimer: Most these pictures aren't from me
Author: #Bartcardi
if u need any help with it or if you have a good question or business proposal for me. Find me on discord under the name Bartcardi
A follow, comment, upvote and resteem rare highly appreciated!
My account is still pretty small so i can use all the support i can get!
Check out my next post: https://steemit.com/money/@bartcardi/technical-analysis-and-on-steem-for-the-long-run-pricepredcition-bartcardi                (TA on steem)