[WIN UP TO 4SBD!] What's the Best Thing a Child Has Taught You?? (Anyone can enter!) + Introducing STEEMmamas!!
Sometimes, it's the children in our lives that teach us the best lessons. Though they may be little, they can sometimes bring out important concepts that us adults need to be reminded of.
To bring more awareness to my new Discord community for moms -- STEEMmamas (more on this below) -- I am running a writing competition all about Teaching Moments from Children!!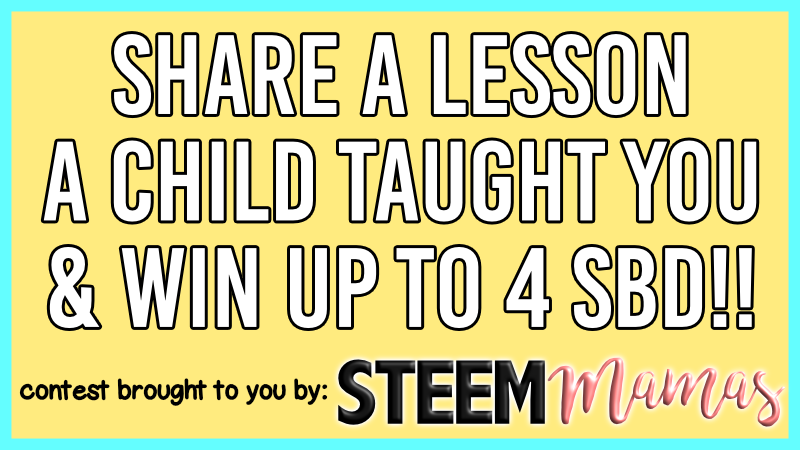 YOU DO NOT HAVE TO BE A MOM, OR EVEN A PARENT, TO ENTER THIS CONTEST!


Men and women are both encouraged to enter, and you can talk about a lesson that any child in your life has taught you. It could be a niece/nephew, student, child you babysit, or a neighbor's kid. Just tell us a story about any child -- let's say age 10 and under -- who influenced your life in some way.

Steps for Entering the Teaching Moments from Children Contest


Resteem this post. We want to bring out more stories of children teaching life lessons on Steemit!
Write an original post (published after this contest post) about a time a child taught you an important lesson.
In your post, link to the STEEMmamas Discord: https://discord.gg/MVNw8NH (Just a brief nudge to join the community is fine, but more details are appreciated!)
Use the tag #steemmamas for your entry post
Comment on this post with a link to your entry!

Introducing STEEMmamas!


The fine mamas and I have come up with this contest to bring more awareness to our small community. We have just begun, but we want to grow! We want to be THE place for all the moms on Steemit to come and chat, seek advice, get support and encouragement, and rant about all things related to motherhood!
In the future, we plan to do curated posts for parents and maybe homeschooling, more contests, and other fun things to increase engagement and make Steemit a great place for moms to be!


Fine Print for the Contest


Three winners will be selected by me and a couple of STEEMmamas (who will not be entering the contest) If all STEEMmamas enter, I will share the entries with moms I know in real life to vote on the best story!
We will be judging on story telling and the use of images to portray the lesson you learned from a child. Spelling or grammar won't be judged, but please do your best to publish this post in proper English.
First place will be awarded 4 SBD, with two honorable mentions receiving 2 SBD each!
Entries will be accepted until 11:00 PM EST on March 29, 2018, and winner will be announced by April 2!








Animated Banner Created By @zord189