Results and new 50-word short story contest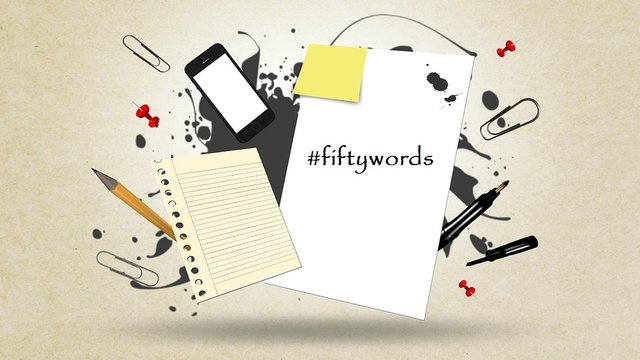 It's results time! Thank you to all who participated in last week's 50-word short story contest:
@theironfelix, @joeylim, @jasminearch, @blueeyes8960, @felixgarciap, @bimjer, @botefarm, @owasco, @bex-dk, @tristancarax, @intothewild, @marlyncabrera
Great job, everyone! I loved the variety of storylines that came out of the "bells" prompt.
Contest updates
In case you're not caught up, the 50-word short story challenge is now a contest. (See the announcement in last week's post.) There is one winner each week, and for the moment, the reward is 1 SBD. If you would like to support this contest and sweeten the pot, contributions are welcome!
The idea is to trim down the length of this post (which traditionally ran really long), move the weekly mini writing workshop to its own post, and get some more skin in the game with rewards. (I also wanted to regain some time for my own fiction writing by making this weekly post more succinct.)
How to find the Mini Writing Workshop
Here's the link: Mini Writing Workshop. The topic for this week is "Who said that?" I hope you will enjoy the tips on writing dialog.
Last week's contest winner
After careful determination, I've chosen @bex-dk's remarkable story, Paternal Peace, as the winning entry of the week. I will share it here:
Paternal Peace
Frozen grass crunched beneath Matt's soles. His coat pulled tight, he waited opposite the open grave.

The bells tolled. His brother, head bowed, supported Mother.

Father in his gilded box sank into the ground.

No trick then. His reign was over.

Matt joined his family. Mother's frail arms encircled him.
This story succeeds on so many levels. We are immediately placed into the story setting - a graveside. There is sorrow, but also the complexity of the family relationships becomes clear as it unfolds. The father's "reign" which clearly divided the family, is now over, and the distanced son feels he can rejoin the others.
It is beautifully told, and very poignant. Well done, @bex-dk! Your SBD is coming your way!
Thank you again to all participants. I look forward to your continued participation.
New 50-word short story prompt
The new prompt for this coming week is "child." The deadline is Saturday, December 15th, with a grace period until the new prompt post is up.
Contest rules
Write a story in exactly 50 words.
Use the #fiftywords tag, and post the link in the comments of this post.
Use only artwork that you have the right to use, and attribute it properly. See "Use of images" below.
Preferably, post your 50-word story in its own post. You can use any posting tool, e.g. Busy, Partiko, or Steampeak. Just please publish it on its own, not combined with any other contest. And be sure to provide the link as a comment to this post.
Note that you are not required to upvote or resteem this post, nor are you required to support other participants. Entries will be judged on merit only. But active community participation and support of your fellow writers is, of course, strongly encouraged.
Use of images
You are welcome to illustrate your story with an image, as long as you have the right to use it. One of the following must be true:
The image is public domain, or under creative commons licensing. See the resource links below.
It is your own image.
If it is not one of the above, you must have actual permission.
Be sure to properly attribute the image's source or mention that the image is yours. And if it's not public domain, under creative commons license, or your own image, be sure to state that you have permission.
Here are some creative commons and public domain image resources:
Increase your chances of winning
Here are some tips for you:
Include a conflict and a resolution in your story.
(It's like this: A beautiful day is just a beautiful day. A beautiful day becomes interesting if the mail carrier brings a letter saying the main character's husband has been released from prison. Maybe she hates him, or fears he won't get work. That's conflict. Resolution is when we learn what she decides to do about it.)
Check your story for grammar and punctuation.
Have someone else read it and provide suggestions. You have multiple writing communities available to help you:
Good luck Fifty Worders!