YAY 300 Followers!
So I was going to write a post about how I didn't want to adult today but then I hit 300 followers and decided a contest was way more appropriate! And given I have a migraine it's going to be very simple for you and me.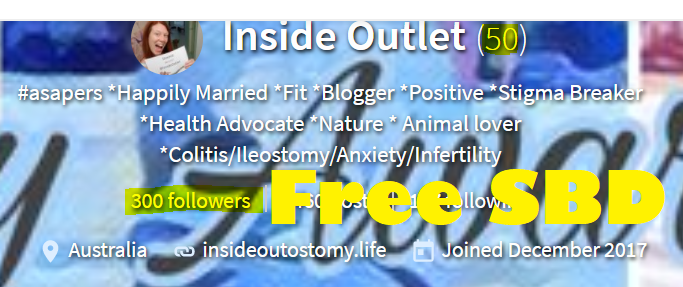 So my account is 77 days old today and I am quite excited about my journey to date and how far I have come in what I consider a short period of time. Also, something really exciting that someone pointed out to me was that I was in the first 500,000 to join, number 478,780 to be exact.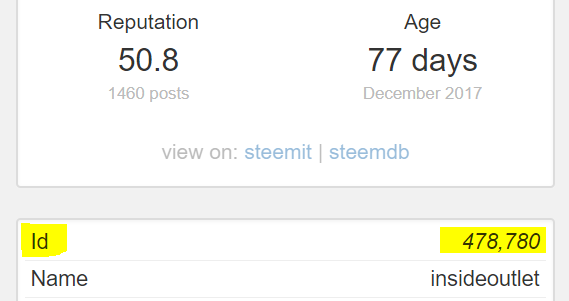 Information found on steemd.com
CONTEST
What number are you?
Find out on steemd.com, just type steemd.com/@"yourusername" into your browser to find your info.
Told you it was easy! Ok, so it's not that simple. There is more to it to win.
I have chosen a number between my ID no. above 478,780, (so you have to have joined after me to be in a chance to win this) and 800,000, which I believe should include up the most recent of Steemians.
To win you must:
Follow me if you don't already @insideoutlet
Resteem this post More people, more fun!
Upvote this post If the payout is higher than the reward pool I will look at additional contests
Comment with your ID number below It must be your ID number. I will check the winners prior to payout
The steemian with the closest number that has followed all the rules will win the $2 SBD.
If your user id matches the exact number I have chosen then I will double the payout to that steemian to $4 SBD
See still super simple. I look forward to seeing where you are on the blockchain, I still would love to hear your number if you joined before me but unfortunately, this round's SBD's is for the newbie's.
Please Note: I have posted my chosen number to a private discord channel in order to time stamp the number so that you know it was not altered and will post this when I announce the winner in 7 days time.
Want some inspiration or a maybe a laugh, I'm pretty funny I have been told. CHECK out these posts, all brought to you by @insideoutlet!
Mini Motivation #1 TWO steps forward ONE backwards
Come hike with me! Photo journey - Ellis Brook Reserve Featured in @mrsquiggle & @thesteemengine Podcast
Butt naked with 2500 other cruise line passengers! Featured in @qurator & @asapers
If you like any below here please consider upvoting a more recent post as these have now paid out.
Love isn't always shit free. Featured in @thesteemengine and #themagnificentseven from @catweasel & @enchantedspirit
How I got flipped Inside Out... For REAL! Featured in @thesteemengine
My hubby is also a great steemian worth a follow, check him out @shai-hulud. Below are some of his:
Welcome to Steemit. Day one: Get ready for the learning curve
Myths of Man... Medusa
Alphabet Adventures Episode 7 .. "Absolve" (fck cancer)
Don't forget to follow us so you don't miss a thing!
Did YOU know that your upvote needs time to recharge? If not check out this post below, if you like it please consider upvoting a more recent post as this one has now paid out.
Steem & Voting Power, how not to waste it!

One last thing! @asapers a new curation team has started a profit-sharing curation post promotion, follow @asapers to check it and more out!



Team Australia Banner @bearone, @asapers by @shai-hulud, Images are all my own