This is the French translation of page 57 of "Phill from GCHQ" by @katharsisdrill - You can find the English version here.
Finde die deutsche Version hier.

---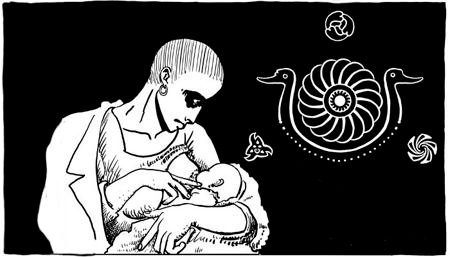 @katharsisdrill a commencé à publier sa bande dessinée Phill From GCHQ sur Steemit en octobre 2016.
À ce jour, il a déjà publié 58 pages.
Ceci est la page 57, traduite en français.
Les STEEM DOLLARS seront reversés à @katharsisdrill.
Phill du GCHQ - Page 57 - Le nourrisson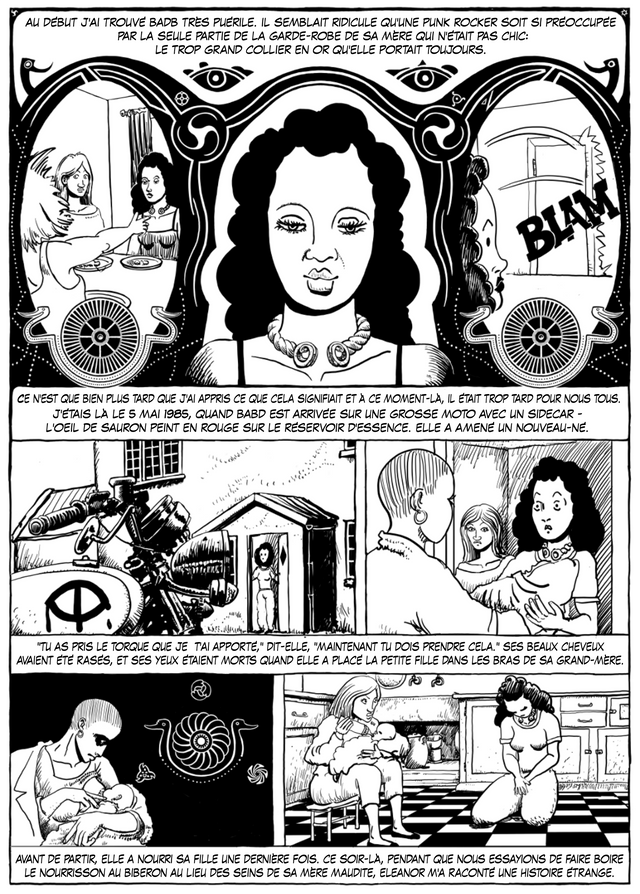 Licence CC-BY - Illustrations originales et scénario de @katharsisdrill.

Les ornements dans la partie supérieure de la page sont inspirés par de vrais ornements de l'âge de bronze que nous avons vus, @katharsisdrill et moi-même, au Musée National du Danemark lorsque je lui ai rendu visite à Copenhague en avril 2018.






Le collier en or qu'Eleanor porte est un torque, un bijou porté par la noblesse celtique.




Torque
source


La phrase étrange: "... l'œil de Sauron peint en rouge sur le réservoir d'essence ..." (en anglais: the eye of sauron painted red on the petrol-tank) est tirée directement du premier roman de l'auteur écossais Iain Banks, The Wasp Factory (en français: Le Seigneur des Guêpes). Dans cette histoire, une autre mère, une hippie (d'où la référence à Tolkien), laisse son enfant comme le fait Badb. Pourquoi une punk rocker en 1985 l'a sur sa moto est laissée comme exercice pour les lecteurs.

Premier album: Phill du GCHQ
Deuxième album: Le Temple de la Machine-Vide
Couverture
Page 48 - Page 49 - Page 50 - Page 51 - Page 52 - Page 53 - Page 54
Page 55 - Page 56
---
Si ça vous plaît, votez et suivez @katharsisdrill et moi-même @vcelier pour ne manquer aucune page.