Lesbian Zombies from Outer Space - Chapter 2 - Horror Comedy Motion Comic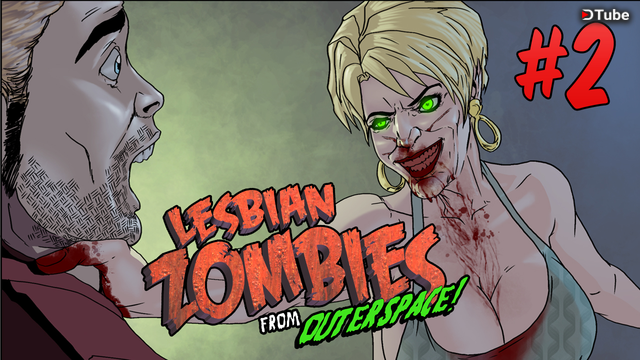 ---
Watch the motion comic version of Chapter 2!
Teen sex comedy meets adult horror comic, Lesbian Zombies from Outer Space is a zombie farce where a flawed male sexual fantasy becomes a nightmare. The horror comedy motion comic will be released in seven chapters, so give me a follow to find out when the next chapter gets published!
Chapter 2: Picks up with Ace and Gwen running off together to escape the lesbian zombie attack at the police station. When Ace tries to warn his parents of the impending disaster, the story takes an Oedipal turn. Will Ace figure out a way to defeat the sexy zombies before they rob him of his johnson? Will Gwen be able to restrain herself from smacking Ace in the face? Watch and find out!
IF YOU'RE VIEWING THIS ON STEEMIT, CLICK THE TOP GRAPHIC TO VIEW THE UNCENSORED VERSION ON DTUBE!
But if you're too lazy to switch to DTube, and you don't want to see any naked zombies, you can view on YouTube here:
All the pages of this chapter have previously been posted on steemit, and I'll list the links below. But, hey, we never got a look at the cover!
Here's the cover of Issue 2: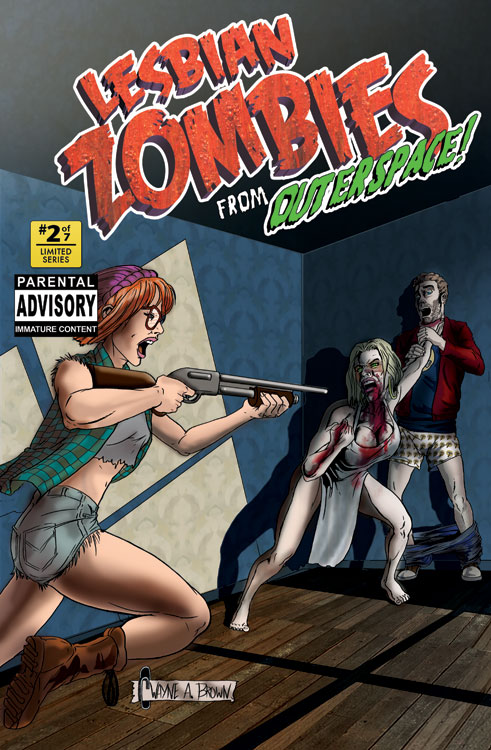 Here's the R-rated Variant cover: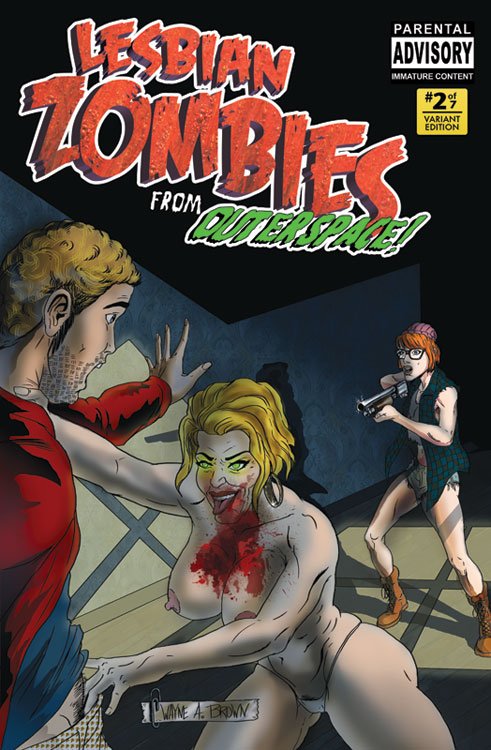 And if motion isn't your thing, here are the links to the static art posts:
PAGES 31-34 | PAGES 35-36 | PAGES 37-39
PAGES 40-41 | PAGES 42-44 | PAGES 45-47
PAGES 48-50 | PAGES 51-52 | PAGES 53-54 | PAGES 55-56
Thanks for taking a look!
---
CREDITS
Voice Actors
Ace Johnson - Jave Galt-Miller
Gwen Moffett - Katabelle
Mr. Bennell/Narrator - Liquid Lettuce
Bi-Curious Chick - Melissa Rochelle
Mrs. Johnson - R.M. Quinn
Lesbian Zombie - Kristen Forbes
Martian Cowboy by Kevin MacLeod is licensed under a Creative Commons Attribution license (https://creativecommons.org/licenses/by/4.0/)
Source: http://incompetech.com/music/royalty-free/index.html?isrc=USUAN1100349
Artist: http://incompetech.com/
Can't Change His Mind by Silent Partner is licensed under a Creative Commons Attribution license (https://creativecommons.org/licenses/by/4.0/)
Afrola by Bird Creek is licensed under a Creative Commons Attribution license (https://creativecommons.org/licenses/by/4.0/)
Tomorrowville by Josh Kirsch is licensed under a Creative Commons Attribution license (https://creativecommons.org/licenses/by/4.0/)
---
Like what you see? Follow for more sexy undead content! @jpgaltmiller
UP-VOTE -- RESTEEM -- FOLLOW
---
Recent posts:
---
▶️ DTube
▶️ IPFS