Sparrow is a common bird we often see. Lying in my bed, I could hear them singing beside the window every day.
Their feather are brown, short and thick. Their eyes are dark and round, look at their surroundings carefully , once they find suspicious circumstance, they suddenly fly from the climatic conditioning cabinet. It's difficult for you to get close to them.
Last weekend was sunny, I want to shoot a few photos they drunk in the square, but every time I want to approach them, they jump vigilantly, it wasn't allowed to close to them, they were so cute!
Today I'd like to share with you watercolor---a little sparrow. Small as it is, it's really not easy to paint. Especially its feathers. I think it is difficult to draw the animals and humans no matter what kind of technique of painting you use. You need to have a little patience, you can listen to some good music when you are painting, so you will find time seems to slip away much faster.
麻雀是我们经常见的一种小鸟啦。在我的卧室床上,躺着就能听到它们每天叽叽喳喳的在玻璃窗外歌唱着。
头上的棕色羽毛又短又密,毛茸茸的。眼睛黑黑的,圆溜溜的,机灵地探视四方,一旦发现异常情况,使会忽地从空调箱上飞起来。你想靠近它都很难。
上个周末非常晴朗,我想在广场上想拍几张它们喝水的照片,可每次靠的太近,它们就非常警觉的跳来跳去,即不离开也不让你接近,还不时地在草地上寻觅食物,真是可爱级了!
今天就给大家分享一下小麻雀。 别看它小,画起来还真挺麻烦的,尤其是羽毛一片片的,毛茸茸的。我觉得动物和人物不管你用什么画种,都是比较难画的。
你需要有一点点耐心的,所以一般我画画的时候也会选择一些好听的音乐来听,闲暇时光就这么悄悄地被我挥霍掉了。
---
工具 Material:
画笔 2只(一大一小),水彩颜料,水彩纸,水杯,纸巾。
过程 The Process :
1、Make a sketch.
用铅笔画出线稿。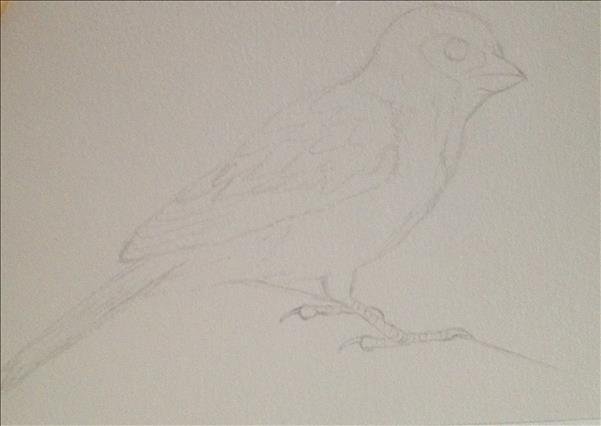 2、Color its head and its back, I used burnt umber, cadmium yellow, permanent rose.
给麻雀的头部和背部上色,我用了褐色+土黄+玫瑰红。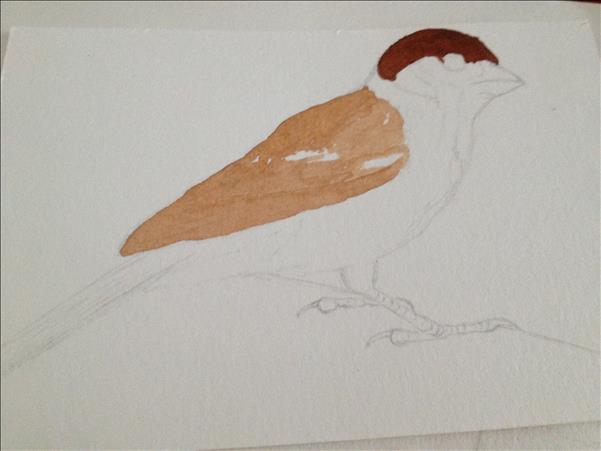 3、THe head is painted with darker color. Its back is painted with lighter color for the base and then paint darker slowly. So dose its tail.
头部的颜色深一些,背部的颜色先用浅色涂一次,然后再叠加深一点的颜色,羽毛看起来有层次感。尾巴也是一样。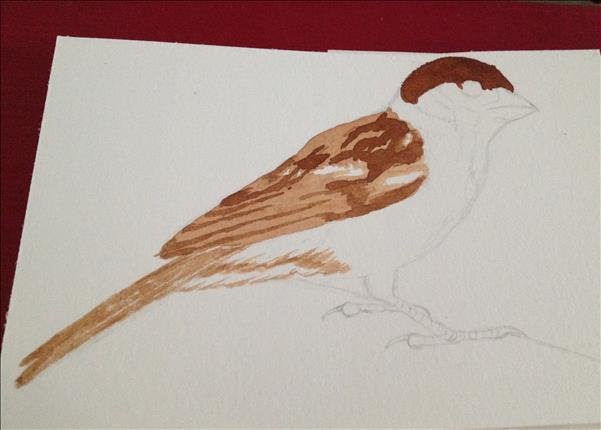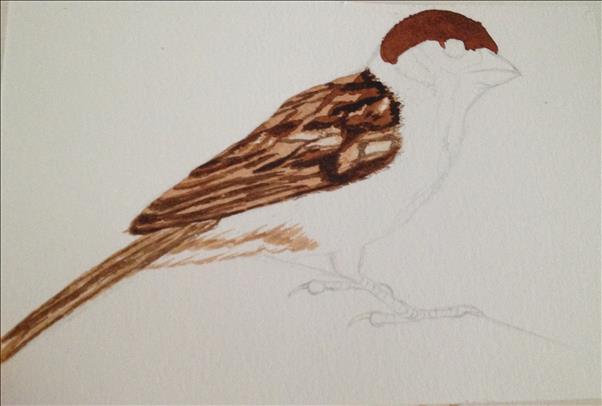 4、Color its stomach, I used cadmium yellow, burnt sienna, cerulean blue and a lot of water. firs you paint with cadmium yellow, next cerulean blue, and at last burnt sienna. you don't use the mix of them, because they looks green when you mix.
给麻雀的肚子上色。用土黄+赭石+湖蓝色,加大量的水调和。先用土黄色浅浅的涂一遍,再涂湖蓝色一层,再涂赭石一层。然后再给麻雀的头部上色。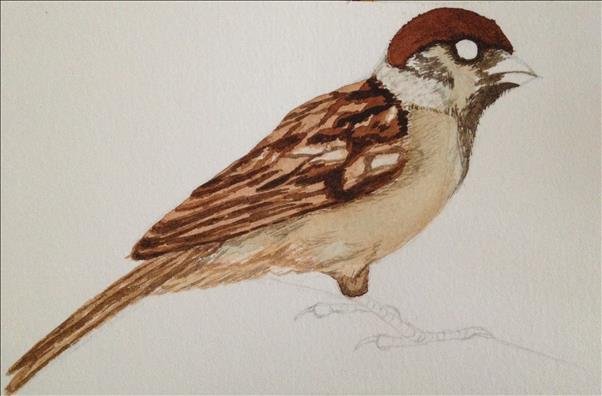 5、Color its mouth. I used payne's gray, purple lake, cadmium yellow. first is cadmium yellow and next is the combination of payne's gray and purple lake.
然后给麻雀的嘴巴上色。用佩恩灰+紫色+黄色。先用黄色加大量的水调和浅浅的涂一次,然后再用佩恩灰和紫色调和趁湿直接涂抹上。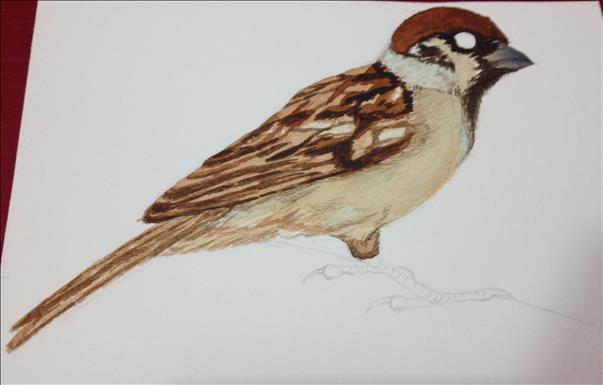 6、Color its legs with pink, and then paint its eyes. I used the combination of payne's gray and purple lake to paint them.
and you need to set aside its high light.
接下来给麻雀的腿上色,浅粉色涂完再加深一层。然后给眼睛上色,用佩恩灰+紫色混合涂抹在眼部周围。留出高光部分,先画出浅的眼白然后再上深色的部分。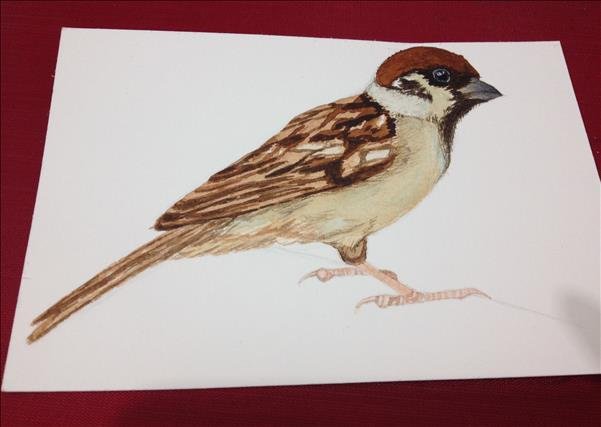 7、Paint shadow using the combination of payne's gray and purple lake.
画出阴影,佩恩灰+紫色。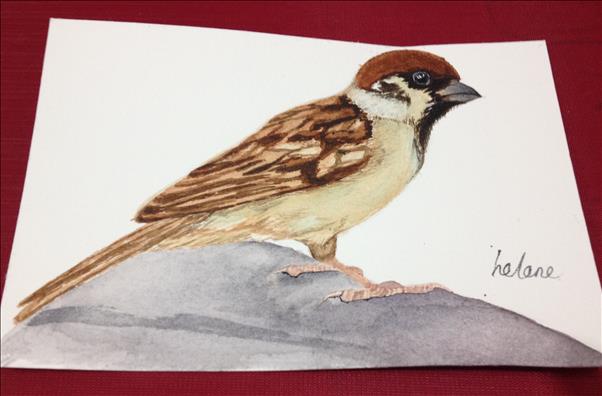 8、Lastly, wash the edge of its back and head with a small brush,
最后再修饰一下边缘虚的部位,用笔蘸清水洗一下,让它和白纸过渡的更加自然,一只小麻雀就完成了!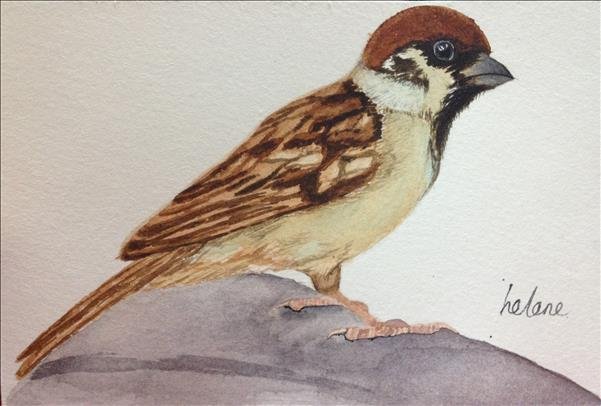 I leave no trace of wings in the air, but I am glad I have had my flight.
Thank you for watching.
If you like it, don't forget to upvote,comment and follow me