Fifty-Word Short Story Challenge + writing workshop
The Fifty-Word Short Story challenge is a weekly opportunity to test your writing skills by crafting an entire story in just 50 words. We have a small community of writers who regularly share their micro-fiction short stories. Be sure to check them out. And if you're so inclined, give it a try.
It has been a lot of fun seeing all the spooky-themed 50-word stories these last few weeks. Thank you to all participants. You're all amazing! We'll be leaving that theme for new pastures starting this week.

What's in this post?
In this post you will find:
A short micro-fiction writing workshop.
Links to all 50-word stories from the previous week's challenge.
A few story highlights of the week.
A new challenge prompt, along with the rules and some very important guidelines for proper use of images. Please be sure to read and follow these guidelines.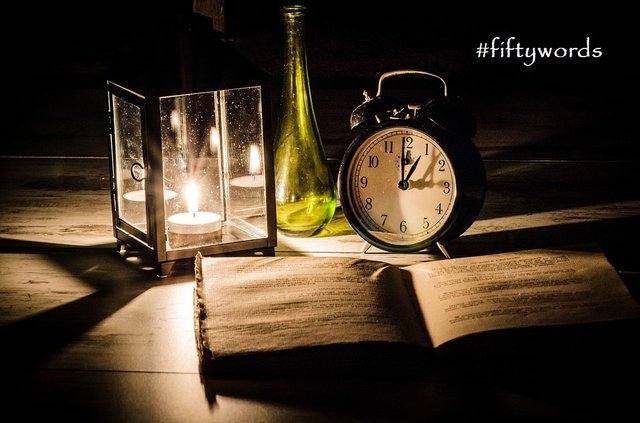 Source: Original Pixabay
image by Free-Photos
Mini writing workshop
This week's workshop is about critique.
If you have an interest in serious writing — as I know some of you do — then you need to deal with critique; you must accept feedback on your work.
For new writers it can be terribly hard. You may feel really good and hopeful about your work, and it might be terribly disappointing to hear someone tell you that it needs an edit.
But the fact is, we (writers) simply cannot go from good to great without taking the step of getting critiqued by others. Why? Well, there are several reasons. For example:
You can't have an unbiased view of your own writing, any more than a mother can have an unbiased view of her children.
Unless you have gone through years of schooling specifically for English, grammar, and creative writing, you will make mistakes. In fact, even if you have gone through years of schooling for those things you will make mistakes. You need someone else to help you see them.
Not only can an editor see things the writer missed, but the editorial standards around acceptable styles and methods change over time. Therefore, seasoned editors know this and can help you avoid those writing mishaps.
And finally, things you write that are perfectly clear in your mind may be very confusing for a reader. So another person's view is a little bit like a usability test of your writing. You need to know if it "works" for others.
In other words, when you have an opportunity to receive a critique, do your best to welcome it with an open mind. I'll share more specific tips with you in future posts, so stay tuned!
I'm experimenting with offering some limited editorial support to writers who would like an editor's eyes on their 50-word stories before posting. Please mention in a reply to this post if that is of interest to you.
Okay, let's survey the 50-word stories from last week!

Last week's story collection
I'd like to welcome our newest contributor,
@frizzy
. Thanks for joining the Fifty Worders!
Here is the complete list of stories inspired by last week's "ghost" prompt. I hope you will read them all:
If I missed yours, please let me know and I will add it! I always try my best to list them all, but I do occasionally miss one.
Highlights of the week
Each week I choose a few well-told stories from the previous week's entries to share as inspiration. There are always too many wonderful stories to choose from, but I enforce a limit of 5-7 highlights per posts.
This collection of stories shows such delightful creativity. It's incredible, for example, to see all the different uses of the word "ghost." Enjoy.

In this story, we are reminded of how treacherous it is at times to be perceived as "different" from others. (And we all want to take that puppy home!)
Rudy knew he hadn't the ghost of a chance of actually being chosen, though each Sunday he was paraded with all of the others into the front yard of the shelter, to be viewed, appraised and ultimately rejected. After all, nobody wants to adopt a puppy with a gimpy leg.
This story by our newest Fifty Worder is quite gripping. I nearly jumped at the end!
I awoke at midnight, alone.

I stretched, stopped. Weeping caught my attention.

The floor chilled my feet as I went to the door. The sobbing was louder, closer. My breath hitched as I gripped the knob. I twisted and pulled, then peered into the unknown. She knelt upon the ceiling.
I love the creative use of the prompt in this story.
Megan's phone vibrated. Lola's name showed up on the screen. Again. Could she not take a hint?

Sighing, Megan tucked the phone away.

It vibrated again. A voicemail.

"I'm so sorry. I love you." Lola's voice cracked. She never cried.

Megan dialed the number. She couldn't ghost her girl forever.
This author shows yet another clever and creative use of the prompt in the telling of this bittersweet story.
"Not today, honey." Brian turned to Abby. "Daddy has to work."

A tear slid down her cheek. "Okay, Daddy." She walked away.

Brian sighed. Work could wait. "Abby."

She looked back.

"How about a tea party?"

She gave the ghost of a smile. "Really?"

He nodded. "Go get your dolls."
This is not only a wonderful story, but there is some fascinating and frightening history behind it as well. I recommend reading the full post on his blog.
First time I saw her she was nervously sitting on my bed. I calmly asked who she was and what she wanted. She had seen me pray; wanted a rosary. I asked Martina to accompany me. We prayed fervently at the cemetery. Levitating in the distance, Emily waved and smiled.
Imagine a loved one returning to visit from beyond!
He never forgot the day she died. It was during the Fall, the season she loved so much.

"Oh, Greta... I wish you were here!"

Looking at the old window, Mark closed his eyes while the air stood still and an eerie mist invaded the room.

"I knew you'd come!"
This story has a haunting feel to it, as if the lovers are under a spell, or on the edge of danger.
It was still night on the desolate street.

The trees in the nearby park distilled tears like pale leaves flying in the light breeze.

In the distance, lovers who with their fragile love promised themselves the impossible.

And the fog appeared enveloping them like a ghost, disappearing the sweet scene.
Awesome work, everyone!
This week's 50-word story prompt
The prompt for this week is "
book
." Deadline for this week: Saturday, November 3rd, with a grace period until the new prompt is published.
I look forward to reading your stories, Fifty Worders!

Guidelines
Please review and follow the guidelines for proper use of images.
Write a story in 50 words. (Try to hit 50 words exactly.)
Use the #fiftywords tag, and post the link in the comments of this post.
Be sure to read and upvote the work of the other participants. It's all about community!
Use only artwork that you have the right to use, and attribute it properly. See the following guidelines.
Proper use of images
Proper use of images means one of the following:
The image is public domain, or under creative commons licensing rules.
It is your own image.
If it is not one of the above, you must have actual permission.
Be sure to properly attribute the image's source or mention that the image is yours. And if it's not public domain, under creative commons license, or your own image, be sure to state that you have permission.
Here are some creative commons and public domain image resources:
The 50-word story clan
I'm mentioning you here if have participated in the
#fiftywords
short story challenge in the past. Please let me know if you would like your tag removed in this or future posts. (Note that I do trim the list. Those who have not participated for a long time or are not active on Steemit will eventually drop from the mentions.)
@ablaze, @agmoore, @ahmadmanga, @akdx, @aksounder, @aleli, @alheath, @amelin, @andersonrivas, @anikekirsten, @anixio, @anutu, @aresbon
@bex-dk, @blueteddy, @botefarm
@caleblailmusik, @carn, @cheekah, @cizzo, @clacrax, @creatr
@damianjayclay, @dbzfan4awhile, @deigoam, @deirdyweirdy, @diebitch, @dirge
@eaglespirit, @elbrujo, @elementm, @emergehealthier, @erh.germany, @esttyb
@felixgarciap, @felt.buzz, @four20, @foxfiction, @foxyspirit, @fromage, @frizzy
@gaby-crb, @girlbeforemirror, @gmatthe2, @goastrighter
@hebrewhousewife, @henry-gant, @hlezama
@iamthegray, @intothewild, @isa93
@jadams2k18, @jasminearch, @jayna, @jonknight,
@kaelci, @khadija14, @kimberlylane
@lightoj, @lucylin, @luiskrupaz
@manoldonchev, @marciabon, @marie-jay, @mineopoly, @mizdais, @momzillanc, @mydivathings
@paintingangels, @papacrusher, @pizzachain, @poetrybyjeremy, @preparedwombat, @prydefoltz, @purpledaisy57, @pyrowngs
@ravencorinn, @rensoul17, @riottales, @roxy-cat, @rvag5
@spalatino, @stbrians, @steemgiant, @steemitdiversify, @sue-stevenson
@tanglebranch, @thatlovechild, @theironfelix, @therosepatch, @thinknzombie, @tristancarax, @tuwore, @tygertyger
@yeceniacarolina, @yimiipsa, @zen-art
Thanks so much for reading! I hope you try the Fifty-Word Challenge. It's so fun to see what can unfold in a mere 50 words!

---
Posted from my blog with SteemPress : https://jaynalocke.com/2018/10/28/fifty-word-short-story-challenge-writing-workshop/
---