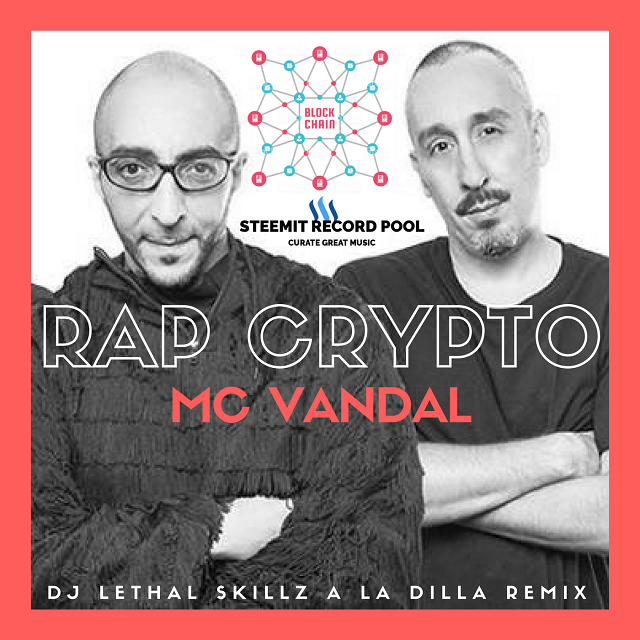 Song : Rap Crypto | DJ Lethal Skillz Remix
Artist : MC Vandal
Released : 2017
Producer: DJ Lethal Skillz
Genre : Hip Hop, Rap Crypto, Remix
---
Rap Crypto is not your average Hip Hop song, this song marks the first generation of real Hip Hoppers who truly believe in the blockchain technology and the change that it's bringing and shaping the future of humanity moving forward. This track is about bridging the cultures of Hip Hop, The Blockchain and Crypto worlds and an invitation to our fellow humans to join this Epic Revolution.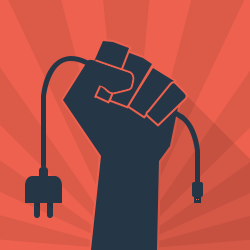 Today my submission to the Record Pool "Song of the Day" is with a twist i'm supplying you with your Musical Crypto Dose!
---
There has been so many remixes made for "Rap Crypto" the original song that was made by MC Vandal @vandigital few months back and then later it entered a producers competition #beatbattle (Salute to @chiefmappster on the producers battle platform) were each producer can remix the track to his own style.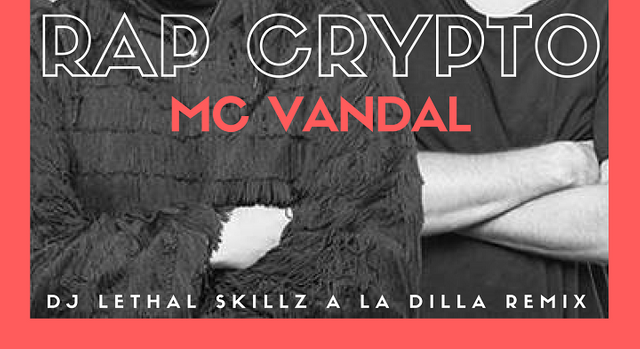 I loved this 'Rap Crypto' track so much that i personally did 2 different remixes for it which i will be sharing below with you along side the original and all the other remixes done by our fellow producers from the Steemit community for a twist selection for the Record Pool 'Song of the day' today.
---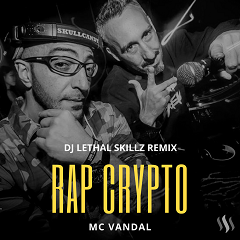 My first remix for **Rap Crypto** and also to mention that was my first post entry on **Steemit community** and to the #beatbattle contests.

https://musicoin.org/track/0xc59ab28979bf73e29c9892b8133df14355c075bc
---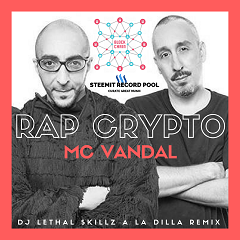 My second remix, in this one i approached the music in a different vibe and more Jazzy uplifting feel and make a relevant to the ears of people who are outside of the Hip hop world but at the same time keeping it within the Hip Hop.

https://musicoin.org/track/0xe62c4710494f4dc41ede228e270ee889d29b2e37
---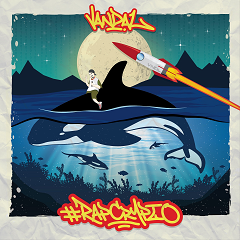 Here's the original track that got me into the blockchain and Steemit community by non other then MC Vandal. I wanna salute mah brotha from anotha @vandigital Thank and congratulate him for this amazing Anthem that he did for the world and introducing me to Steemit and the blockchain.
https://musicoin.org/track/0xceeb90ebb61d1fe6cf899b5f08dc1c672c76d679
---
Other Fellow Steemit Producer Remixes that i Dig!
(sorry if i missed any remixes so much to put together i might have missed something if so let me know, Kudos!
---
---
Support your local Steemit community musicians if you love their work, spread the word and let them know by commenting or any other way u can do. Big Thank you and kudos to all who supported our journey so far, Stay Tuned for More to Come !
---
---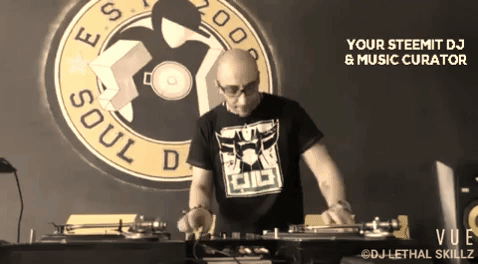 ---
MY PREVIOUS RECORD POOL ENTRIES
Song of The Day : 'Jump Around' by House Of Pain
Mobb Deep - Survival of The Fittest
Biggie Smalls a.k.a Christopher Wallace - Juicy
Moonchild - Run Away (Tall Black Guy - I Want Your Love Remix)
Jammin' by the greatest Bob Marley
Flash Back from 1979 | We Are Family "Sister Sledge"
Gorillaz - 'I'm Happy' (Clint East Wood)
Steemit Record Pool | DJ Lethal Skillz Weekly Round Up #1
Earth, Wind & fire (Brazilian Rhyme) & The J.Dilla Remix
Lupe Fiasco - (Paris, Tokyo)
J. Dilla - Fall In Love (Live Orchestal Tribute)
Black Milk & Nat Turner - The Knock
Eamon - You and Only You
Labi Siffre - I Got The…
The Legendary Curtis Mayfield with The Classic "Move On Up"
Brown Sugar - D'Angelo (Incognito Molasses Live Rework)
A Tribe Called Quest - Stressed Out (Future House Remix)
WU-TANG Vs. The BEATLES
Moves Like Ms. Jackson (Outkast Cover Remix)
Bill Withers - Just the Two of Us (Remix)
DJ Jazzy Jeff & MICK "Summertime Vol. 8 Mix"
Madlib x Nas - Nasimoto [Mash-Up]
Jazz Is Everything - Mix BY DJ Manipulator
Stro Elliot - Kamaal Coltrane
The Lost Samples - Mix BY Quest Love
Queen Latifah - Remix BY Benito Loco
Common - Blue Skies
---
Want to share your good music with us?
For more info check the link below:
https://steemit.com/recordpool/@djlethalskillz/introducing-steemit-record-pool-or-it-s-time-to-curate-great-music
---