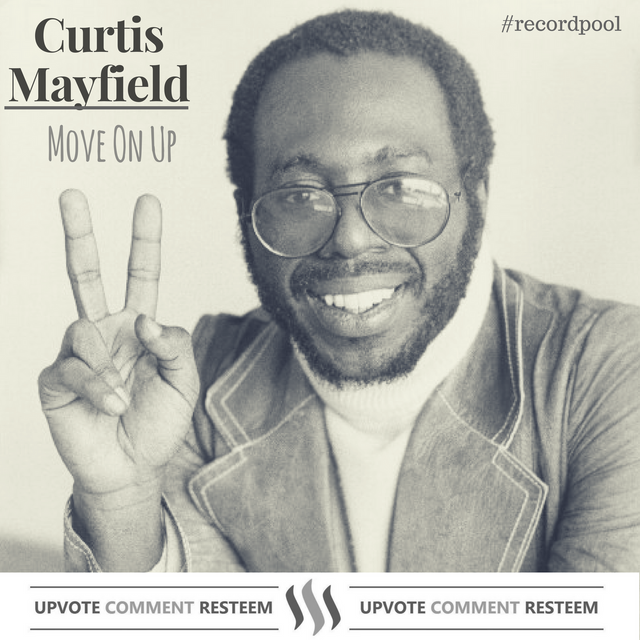 Curtis Mayfield - Move On Up
Song: Move On Up
Artist: Curtis Mayfield
Genre: Soul, Funk, Jazz, Rythm & Blues
Released: 1970
---
It's the Weekend in here! And what better then the Legend Curtis Mayfield with the classic gem "Move On Up" can lift your soul up and get you in that weekend mode.
Also to add this track has been sampled by several Hip-Hop artists and one of my other favorite songs the hit by Kanye West - "Touch The Sky" featuring the Legendary HipHop artist and one of my favorite rappers Lupe Fiasco.
Let's all keep that good vibes and positive energy flowing in this community, Build further and Keep on Move On Up.
Happy Listening!
---
Curtis Mayfield - Move On Up
---
Kanye West - Touch The Sky (MTV Version) ft. Lupe Fiasco
---
MY PREVIOUS RECORD POOL ENTRIES
Brown Sugar - D'Angelo (Incognito Molasses Live Rework)
A Tribe Called Quest - Stressed Out (Future House Remix)
WU-TANG Vs. The BEATLES
Moves Like Ms. Jackson (Outkast Cover Remix)
Bill Withers - Just the Two of Us (Remix)
DJ Jazzy Jeff & MICK "Summertime Vol. 8 Mix"
Madlib x Nas - Nasimoto [Mash-Up]
Jazz Is Everything - Mix BY DJ Manipulator
Stro Elliot - Kamaal Coltrane
The Lost Samples - Mix BY Quest Love
Queen Latifah - Remix BY Benito Loco
Common - Blue Skies
---
Think You Got What it Takes to Join the Steemit Record Pool?
For more info check the link below:
https://steemit.com/recordpool/@djlethalskillz/introducing-steemit-record-pool-or-it-s-time-to-curate-great-music
---