List of Eos Block Producers Candidates by Continents - May 2018
Eos is decentralised, autonomous, open source blockchain platform that is designed to allow people to build, host and govern decentralised applications, and deploy them without having to have any servers. Eos Blockchain is going to be operated and governed by
#decentralised
entities, called Block Producers, on behalf of and elected by Eos
#stakeholders
.
There will be many BP, however only to 21 form consensus and take turns to produce the blocks in the Eos Blockchain.
173 EOS Block Producers Candidates Detected - 20/05/2018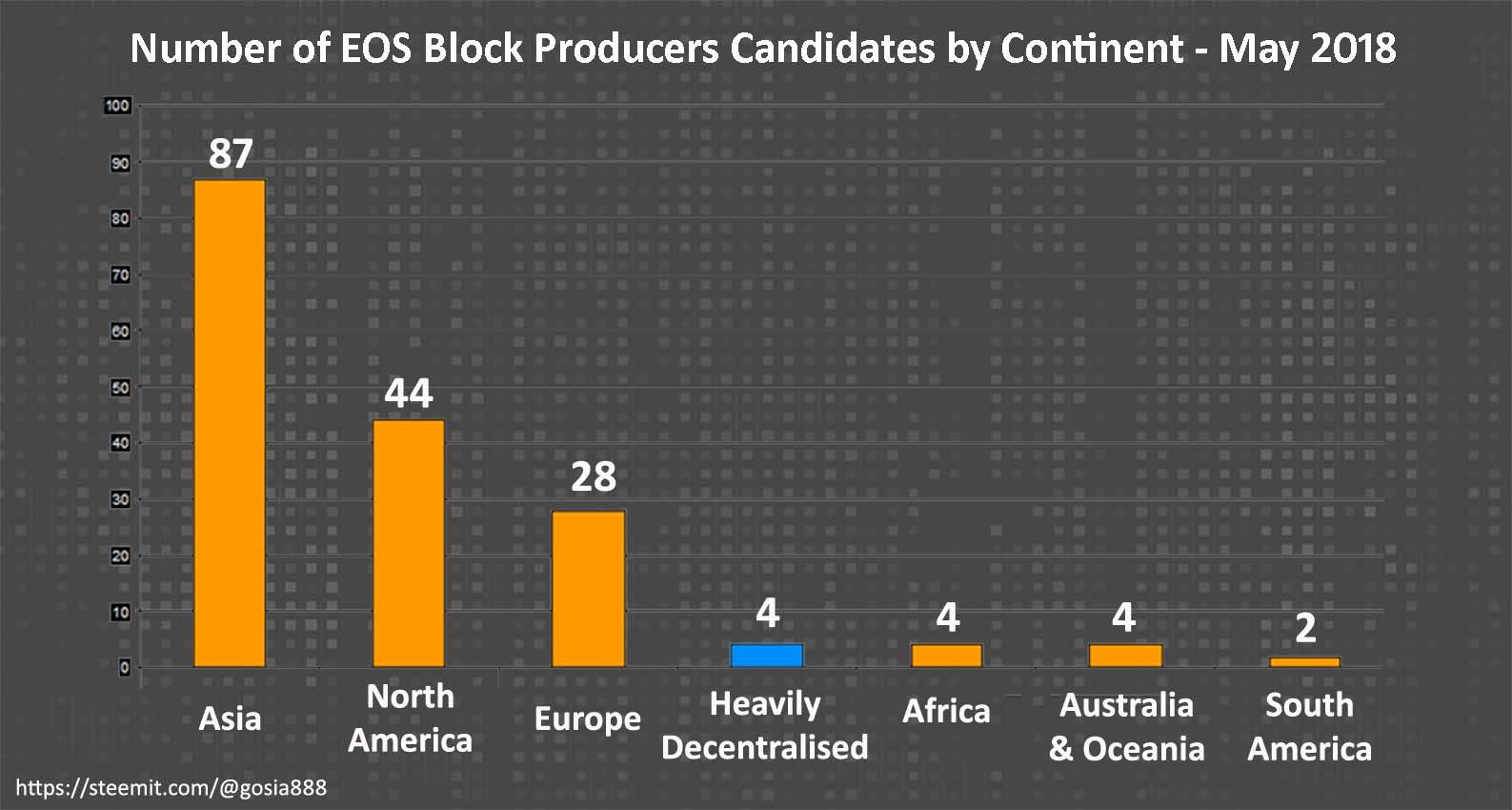 To see Density of Eos Block Producer Candidates on the World click
Here
- Cartogram
To see Eos Block Producer Candidates (%) By Continent
Here
- Pie Chart
List of Eos BP Candidates by #Continents - 20/05/2018
The order of Eos BP Candidates in the table is random and
does not
represent their capabilities.
| | #Decentralised BP | | |
| --- | --- | --- | --- |
| | | | |
| 1 | Eos Vibes | Netherland, Ireland, Germany | Web Steemit |
| 2 | eosDAC | British Virgin Islands, UK, Romania, Gibraltar, South Korea | Web Steemit |
| 3 | MEET ONE | Singapore, China, Japan | Web Steemit |
| 4 | EosHuobi.pool | China, USA, Singapore, Japan, South Korea, | Web Steemit |
| | | | |
| | | | |
| | #North #America | | |
| | | | |
| 1 | EOS Nation | Canada | WebSteemit |
| 2 | Eos Canada | Canada | WebSteemit |
| 3 | EOS Café | Canada | WebSteemit |
| 4 | BP Node | Canada | WebSteemit |
| 5 | Eos Land | Canada | WebSteemit |
| 6 | EOS Van | Canada | Web |
| 7 | EOS Titan | Canada | Web Steemit |
| 8 | EOS New York | USA | Web Steemit |
| 9 | EoSoCal | USA | Web Steemit |
| 10 | SaltBlock | USA | Web Steemit |
| 11 | EOS Tribe | USA | Web Steemit |
| 12 | BlockGenic | USA | Web Steemit |
| 13 | EOS Block Smith | USA | Web Steemit |
| 14 | EOS Detroit | USA | Web Steemit |
| 15 | TChain EOS | USA | Web Steemit |
| 16 | BlockPro.One | USA | Web Steemit |
| 17 | Bitcoin God | USA | Steemit |
| 18 | Cypherglass | USA | Web Steemit |
| 19 | EOS SLC | USA | Web Steemit |
| 20 | Free Space | USA | Web Steemit |
| 21 | EOS Silicon Valley | USA | Web Steemit |
| 22 | Infinity Stones | USA | Web Steemit |
| 23 | The Swarm | USA | Web Steemit |
| 24 | eosflare.io | USA | Web Steemit |
| 25 | Greymass | USA | Web |
| 26 | Active EOS | USA | Web Steemit |
| 27 | WORBLI | USA | Web |
| 28 | EOS Love | USA | Web Steemit |
| 29 | Aloha EOS | USA | Web Steemit |
| 30 | EOS Tax Relief | USA | Web Steemit |
| 31 | EOS Oklahoma | USA | Web |
| 32 | Colorado Blockchain Capital | USA | Web |
| 33 | EOS Pool | USA | |
| 34 | EOS.pacific | USA | |
| 35 | EOS CSX - USA | USA | |
| 36 | EOSMX | Mexico | Web Steemit |
| 37 | EOS MESO | Guatemala | Web Steemit |
| 38 | EOS Costa Rica | Costa Rica | Web |
| 39 | Starteos | Cayman Islands | Web Steemit |
| 40 | EOSDR.io | Dominican Republic | Web Steemit |
| 41 | EOS The World LLC | Puerto Rico | Web |
| 42 | TOP.ONE | British Virgin Islands | Web Steemit |
| 43 | BitFinex | British Virgin Islands | Web Medium |
| 44 | BP Squared | Dominican Republic | Web |
| | | | |
| | | | |
| | #South #America | | |
| | | | |
| 1 | Eos Rio | Brasil | Web Steemit |
| 2 | EOS Argentina | Argentina | Web Steemit |
| | | | |
| | | | |
| | #Europe | | |
| | | | |
| 1 | EOS Metal | Iceland | Web Steemit |
| 2 | EosGen | Iceland | Web |
| 3 | EOS Dublin | Ireland | Web Steemit |
| 4 | EOS UK | UK | Web Steemit |
| 5 | EOS 42 | UK | Web Steemit |
| 6 | EOS Authority | UK | Web Steemit |
| 7 | Block Matrix | UK | Web Steemit |
| 8 | shEOS | Spain | Web Steemit |
| 9 | EOSBROS | Switzerland | Web |
| 10 | blockmeister | Germany | Web Steemit |
| 11 | Tokenika | Poland | Web Steemit |
| 12 | EOS Emarge | Poland | Web Steemit |
| 13 | Eos Green | Poland | Web Steemit |
| 14 | Roelandp | Netherlands | Web Steemit |
| 15 | EOS Amsterdam | Netherlands | Web Steemit |
| 16 | EOS-NL | Netherlands | Web Steemit |
| 17 | EOSio SE | Sweden | Web Busy |
| 18 | BitSpace | Norway | Web Steemit |
| 19 | EOS Vikings | Norway | Web |
| 20 | ChainRift LLC | Slovenia | |
| 21 | Crypto Lions | Ukraine | Web Steemit |
| 22 | Attic Lab | Ukraine | Web Steemit |
| 23 | BlockchainLab EOS | Ukraine | Web Steemit |
| 24 | EOS Romania | Romania | Facebook |
| 25 | Distributed Found EOS BP | Russia | Web Steemit |
| 26 | Advanced Inginering Solutions LLC | Russia | Web Steemit |
| 27 | MixBytes | Russia | Web |
| 28 | EOSZON | Russia | Steemit |
| | | | |
| | | | |
| | #Africa | | |
| | | | |
| 1 | EOS NAIROBI | Kenya | Web Steemit |
| 2 | BuildTeam | South Africa | Web Steemit |
| 3 | eosafrica | South Africa | Web |
| 4 | Batpool Limited | Seychelles | |
| | | | |
| | | | |
| | #Asia | | |
| | | | |
| 1 | LiquidEOS | Israel | Web Steemit |
| 2 | EOS_Arabia | Saudi Arabia | Steemit |
| 3 | Eos Block Producer Dubai | Dubai | Facebook |
| 4 | Eos India | India | Web Steemit |
| 5 | EOS BPAC | India | Web Steemit |
| 6 | LibertyBlock | Bhutan | Web Steemit |
| 7 | EOS Asia | China HK | Web Steemit |
| 8 | EOS Union | China HK | Web Steemit |
| 9 | EOS.Hedging | China HK | Web Steemit |
| 10 | EOS Raychain | China HK | Web Steemit |
| 11 | HKEOS | China HK | Web Steemit |
| 12 | eoswancloud | China HK | Web Steemit |
| 13 | BlockCC | China HK | Web Steemit |
| 14 | DAO.EOS | China HK | Web |
| 15 | Oracle Chain | China | Web Steemit |
| 16 | Eos Ono | China | Web Steemit |
| 17 | EOS Cannon | China | Web Steemit |
| 18 | ChainPool | China | Web Steemit |
| 19 | EOS Shenzhen | China | Web Steemit |
| 20 | EOS Gravity | China | Steemit Web |
| 21 | Eos Geek | China | Steemit |
| 22 | 91Eos | China | Web Weibo |
| 23 | Eos.Cybex | China | Web Steemit |
| 24 | Whateos | China | Web Steemit |
| 25 | HelloEOS | China | Web Steemit |
| 26 | EosAntpool | China | Web Steemit |
| 27 | EOSeco | China | Web Steemit |
| 28 | EOSROOT | China | Web Steemit |
| 29 | EOS WTZ | China | Web Steemit |
| 30 | Eos Beijing | China | Web Steemit |
| 31 | Eos.Store | China | Web Steemit |
| 32 | EOSCUBE | China | Web Steemit |
| 33 | eosbidu | China | Web Steemit |
| 34 | ViaBTC | China | Web Steemit |
| 35 | Eos Bepal | China | Web Steemit |
| 36 | Eos Wenzhou | China | Web Steemit |
| 37 | EOS JRR | China | Web Steemit |
| 38 | SuperONE | China | Web Steemit |
| 39 | EOSpace | China | Web Steemit |
| 40 | Eos Tea | China | Web Steemit |
| 41 | EOS College | China | Web Steemit |
| 42 | EOS.LAWYER | China | Web Steemit |
| 43 | Fire Cloud Blockchain | China | Web |
| 44 | INBlockchain | China | Web |
| 45 | EOSPalliums | China | Web Steemit |
| 46 | EOSvillage | China | Web Steemit |
| 47 | EOSchain | China | Web Steemit |
| 48 | EOS Galaxy | China | Web Steemit |
| 49 | EOSHangZhou | China | Web Steemit |
| 50 | EOS Shanghai | China | Web |
| 51 | EOSMatrix | China | Web Steemit |
| 52 | EOSEnjoy | China | Web |
| 53 | OSTOP | China | Web |
| 54 | EOS Games | China | Web |
| 55 | EosGuangzhou | China | Web |
| 56 | Hwallet Technology Company Limited | China | |
| 57 | EOS Panda | China | |
| 58 | EOS 90s | China | |
| 59 | POW8 | China | |
| 60 | EOS Anchor Chain | China | |
| 61 | Eos BIXIN | Thailand | Web Steemit |
| 62 | EOSPHOROS | Thailand | Web Steemit |
| 63 | EOSKh | Cambodia | Web Steemit |
| 64 | EOSYS | South Korea | Web Steemit |
| 65 | EoSeoul | South Korea | Web Steemit |
| 66 | Coinone | South Korea | Web |
| 67 | AcroEOS | South Korea | Web Steemit |
| 68 | EOS.fish | South Korea | Web Steemit |
| 69 | TEAM KEOS | South Korea | Web Medium |
| 70 | PAYGATE | South Korea | |
| 71 | Vora VR | South Korea | |
| 72 | Eos Node One | South Korea | Web Steemit |
| 73 | EosLaoMao | Japan | Web Steemit |
| 74 | JEDA | Japan | Web Steemit |
| 75 | Unlimited EOS | Japan | Web Steemit |
| 76 | EOS Japan | Japan | Web |
| 77 | CIGEos | Taiwan | Web Steemit |
| 78 | EOS PH | Philippines | Web Steemit |
| 79 | Eosio.SG | Singapore | Web Steemit |
| 80 | Eos Singapore | Singapore | Web Steemit |
| 81 | EOSHCC | Singapore | Web Steemit |
| 82 | EODREAL | Singapore | Web Steemit |
| 83 | webvr | Singapore | Web Steemit |
| 84 | EOS MediShares | Singapore | Web Steemit |
| 85 | GEOS | Singapore | Web Steemit |
| 86 | EOS.Ai | Singapore | Web |
| 87 | Eos Stars | Indonesia | |
| | | | |
| | | | |
| | #Australia & #Oceania | | |
| | | | |
| 1 | EOSphere | Australia | Web Steemit |
| 2 | GenerEOS Sydney | Australia | Web Steemit |
| 3 | Motion | Australia | Web |
| 4 | EoZnz | New Zealand | Web Steemit |
| | | | |
Contact Information
If you have questions, comments or updates about EOS Block Producer Candidates please reach out to me at: Telegram or Twitter
Primary source of research:
https://steemit.com/@eosgo
,
EosGo
YouTubeChannel
Secondary source of research:
https://web.telegram.org/#/im?p=
@EOSGov
,
https://eos.io
,
https://medium.com
,
https://www.reddit.com