Announcing Bancor as an EOS Block Producer Candidate
We are excited to announce LiquidEOS as an EOS Block Producer Candidate based in Israel and led by Bancor. Bancor builds open-source technologies that facilitate fair and automated conversions between blockchain-based tokens. As the largest decentralized solution for token conversions on the Ethereum blockchain, Bancor has gained invaluable experience scaling a high-volume decentralized network. We are eager to contribute our expertise and resources as an EOS Block Producer to promote the increasing adoption of blockchain technologies.
Learn more: LiquidEOS.com
Telegram: @BPLiquidEOS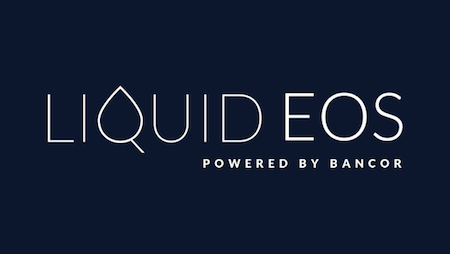 We take the privilege conferred to Block Producers (BPs) very seriously and recognize that a BP's power originates from the token holders who delegate that power. We pledge to use the influence and rewards from block production to strengthen both the EOS infrastructure and community, including efforts to:
Increase network performance and blockchain security through continuous reinvestments in EOS infrastructure, hardware innovation and the development of open-source software to optimize the underlying protocol.
Accelerate the adoption and usability of dApps on the EOS Network.
Promote a more even distribution of global wealth through fair market conditions and economic innovation on the blockchain.
"We see the Bancor Protocol as an elegant solution for liquidity that benefits all token holders by offering a completely new paradigm for value exchange based on efficient automated market makers, powered by auditable smart contracts. This is the future of fair, low cost and predictable value exchange, and we're excited to bring these benefits to the EOS.IO community."
--Dan Larimer, CTO of block.one (creators of EOS)
Why choose Bancor as a BP?
Protocol Chemistry
The block.one team integrated the Bancor Protocol as one of the first dApp prototypes on EOS. Today, the EOS System Contract uses the Bancor algorithm in its RAM Allocation Model.

Cross-chain Liquidity
Bancor is creating a bridge for its network of 80+ ERC20 tokens to EOS, forming the world's largest cross-chain liquidity network.

Deep Blockchain Experience
Bancor is the largest decentralized solution for token conversions on the Ethereum Network by transaction volume. The Bancor team collectively advises more than 30 blockchain projects globally and ran one of the industry's most significant Token Generation Events in June 2017.

Market Transparency
A core feature of the Bancor Protocol is its ability to combat trader manipulation, reduce instability and instill user confidence in token markets. Bancor will bring these same benefits to the EOS blockchain.

dApp Development
Bancor lowers the technical barrier to currency creation and gives dApps a mechanism to endow their tokens with automated convertibility to any currency. This will increase the adoption and usability of EOS-based projects.

Social Impact
From community currency pilots in Kenya to basic income tokens, Bancor is committed to empowering socially-driven projects through economic innovation on the blockchain, with multiple initiatives currently underway.

Secure & Strategic Location
Israel an ideal location for a Block Producer given its regional technical excellence and to ensure the geographic dispersion of the EOS network. Our servers are located in the most secure military-grade facilities in Israel — which is itself a global leader in security technology and critical contingency planning.
Technical Specifications
After carefully considering all hardware solutions, evaluating industry benchmarks, and participating in community discussion, we have selected what we believe to be the best topology for our BP network architecture.
Utilizes two locations with matching hardware to achieve geographical dispersion.
Dual data centers are fortified within the most secure subterranean facilities in Israel, 15 meters underground and with distinct physical separation between the hosting rooms and support system rooms.
In each location, Block Producers aren't directly connected to the Internet, and participate in block production through two full nodes.
Full nodes are connected to the Internet behind a firewall with two different Internet providers.
The public endpoint for the system is behind a Google Cloud Load Balancer and will also utilize BGP routing. This provides the highest level of DDoS mitigation and protection against DDoS attacks.
Hardware Launch Plan (by June 3, 2018)
Find the most up to date specs on liquideos.com.
Two separate geographical locations. Each location will include:
LAN Network Storage
Intel Xeon 16 cores 2.4 GHz 128GB RAM X2 - Full Nodes
Intel Xeon 16 cores 2.4 GHz 128GB RAM X1 - Block Producers
Backup UPS for 72 hours
Router - 1gbe
Firewall - 1gbe
Switch 10gbe - Internal
Switch 1gbe - For Internet Facing Subnet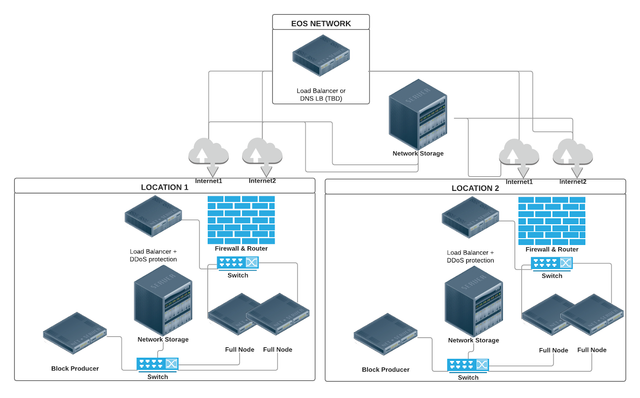 Hardware Scaling Plan (after June 3, 2018)
Our BP network will scale servers and RAM as needed to maintain optimal throughput as the EOS network grows.
Utilize world-class VHDL developers to build and support the creation of open-source hardware acceleration for EOS. This includes public code for accelerating low-level virtual machine (LLVM), hashing math and eventually an EOS processor, to increase bandwidth and transactions per second on EOS.
Advance open-source development efforts in custom Kernel and LLVM optimizations in order to achieve higher TPS on the same hardware.
Maintain maximum network flexibility and constant communication with the EOS community (via the official EOS BP & Testnet Telegram channels) to integrate ever-evolving industry best practices.
Team
Bancor's team brings with it the experience of scaling one of the most popular dApps on the Ethereum Network. Bancor's smart contracts (which are owned and managed by the network's liquidity providers) process nearly $20 million worth of transactions per day through the Bancor Network, the largest decentralized liquidity network on the Ethereum blockchain. The team has in the past also scaled other successful Internet products in gaming (Mytopia, acquired by 888), video (MetaCafe, acquired by Collective Digital Services, and serving over 50m unique users at its peak), cross-platform development (Particle Code, acquired by Appcelerator) community currencies and more.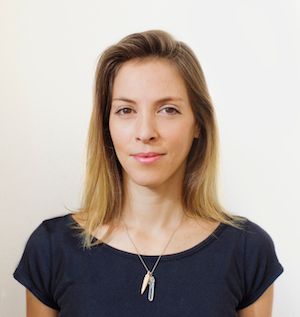 Galia Benartzi - Head of Business Development
Galia is a serial tech entrepreneur & Head of Business Development at Bancor. She previously co-founded Mytopia, the first social gaming company for smartphones (acquired by 888) and Particle Code, a cross-platform mobile development technology (acquired by Appcelerator). In 2013, Galia moved from Silicon Valley to Tel Aviv to support and invest in Israeli technology as a Venture Partner at Founders Fund, where she also launched numerous local currency pilots to model, build and test software for community currencies.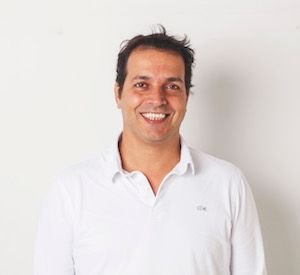 Eyal Hertzog - Product Architect
Eyal is the Co-founder and Product Architect of Bancor. Previously Eyal founded MetaCafe, which was at one time the third largest video site in the world. Before that, Eyal founded Contact Networks, one of the first social networks in 1999. Eyal has been an outspoken thought leader on cryptocurrency since 2011.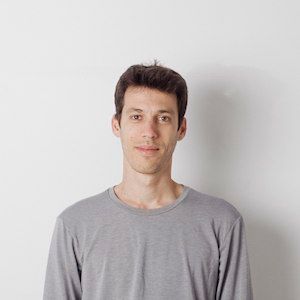 Guy Benartzi - CEO
Guy is the Co-founder of Bancor and oversees its business strategy and operations. Before Bancor, Guy co-founded Mytopia in 2006 and served as its CEO until 2010. He then co-founded Particle Code, and then AppCoin, which developed the largest custom currency platform before the advent of smart contracts.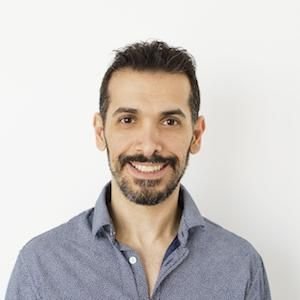 Yudi Levi - CTO
Yudi has been a venture-backed technology entrepreneur for over 15 years. He was the co-founder and CTO of Mytopia, Particle Code and AppCoin. Yudi spearheads the technology creation team at Bancor, including development of smart contracts and overall architecture of Bancor's technology and products.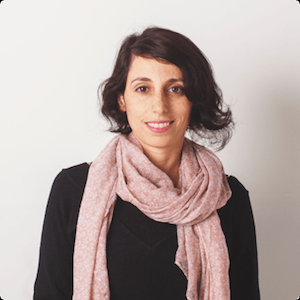 Ilana Pinhas - VP Engineering
Ilana has over 15 years of experience in software engineering, and 6 years in algo-trading. As Bancor's VP of engineering, Ilana specializes in designing and building server-side infrastructure and internal frameworks as well as technical training and team performance.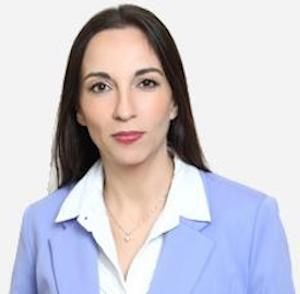 Miri Bickel - Head of Legal Operations
A dual-qualified accountant and lawyer, Miri was recognized as a "leading individual" in international tax law by Chambers Global. Miri oversees the tax department at Shibolet & Co., the fourth largest corporate law firm in Israel. She specializes in counseling clients involved with blockchain technology, smart contracts and crypto token models.
Advisors:
Tim Draper, Founder & Managing Partner, Draper Associates
Bernard Lietaer, Co-Architect of the EURO, author of "The Future of Money"
John Clippinger, Creator of ID3, Research Scientist at MIT Media Lab, author of "From Bitcoin to Burning Man and Beyond"
Location
The Bancor team is based in Israel, one of the world's leading hubs for blockchain innovation. Israel is a hotbed for blockchain developer talent and crypto startup creation, with graduates of top technical universities and intelligence units of the Israel Defense Forces (IDF) flocking to the space. Members of Bancor's technical team hail from Unit 8200, the elite intelligence unit of the IDF, and formally advise numerous blockchain projects based in Israel.
In addition to our global presence, Bancor has played a major role in building Israel's thriving blockchain ecosystem. We continue to expand our regional community efforts, with direct financial support and advisory roles in local crypto projects, along with hosting and speaking at developer meetups and local EOS community events.
LiquidEOS servers are located in the most secure military-grade facilities in Israel. Both of our data centers are 15 meters underground, and there is distinct physical separation between the hosting rooms and the support system rooms. Their design and engineering characteristics make them exceptional in their scale and survivability.
As a worldwide leader in solar power and sustainability, Israel is an ideal place to create an environmentally-friendly data center for the LiquidEOS project. We pledge to commit significant resources to ensure the LiquidEOS data center is not only heavily fortified but also a shining example of sustainable crypto infrastructure.
BP Candidate Roadmap
Bancor will pursue an aggressive BP timeline leading up to and following the launch of the EOS Mainnet. Our top objectives as a BP candidate are as follows:
Increase EOS network performance and blockchain security, while improving access to developer and end-user technologies built on EOS
Utilize world-class VHDL developers to build and support the creation of open-source hardware acceleration for EOS. This includes public code for accelerating low-level virtual machine (LLVM), hashing math and eventually an EOS processor, to increase bandwidth and transactions per second on EOS.
Advance open-source development efforts in custom Kernel and LLVM optimizations.
Facilitate the efficient cross-chain flow of tokens between EOS, Ethereum and any blockchain where dApp creators are building.
Accelerate the adoption and usability of EOS dApps
Make token creation and conversion an efficient, automated, low cost service on EOS, so value can flow more freely through decentralized networks.
Reduce vulnerabilities to trader manipulation & market instability.
Distribute EOS inflation rewards to help communities everywhere create and share value
Incubate teams and provide grants to projects that advance the EOS blockchain as well as developers building open-source software on the network.
Sponsor and advise social impact-driven innovations such as local currency creation projects, basic income tokens, tokenized public services, etc. Current pilot projects include:

Grassroots Economics, a non-profit foundation that aims to empower marginalized communities through community currency programs, is partnering with Bancor to enable African communities to create and manage their own token as a means of stimulating economic growth and job creation.
Tokenization of Public Services based on Bancor Smart Token model.
Introducing LiquidEOS: Bancor's Community Benefit Project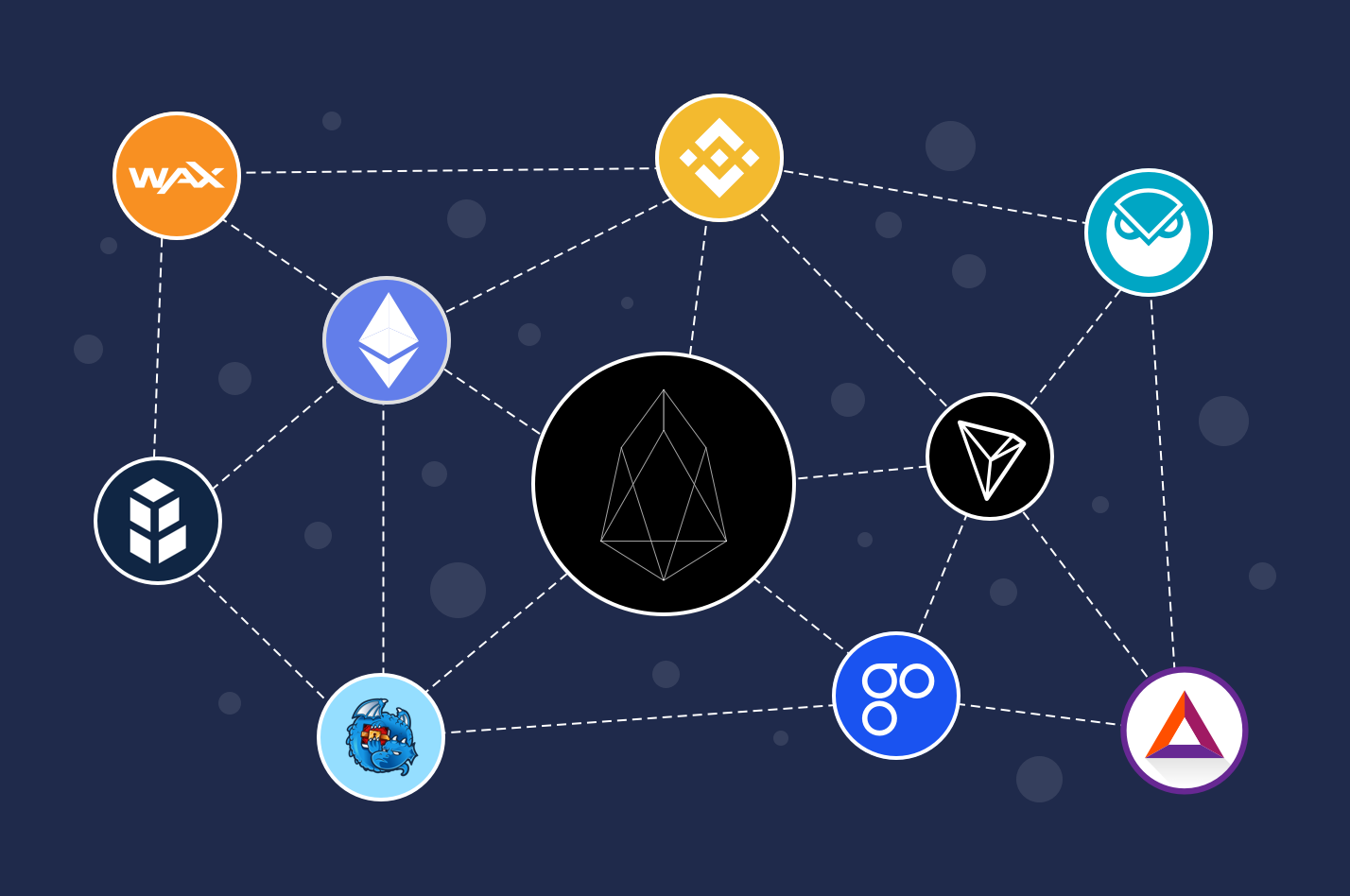 Combining Bancor's deep blockchain expertise with the high-performance of EOS, LiquidEOS is a community benefit project which aims to spread liquidity across EOS token communities through value exchange that is frictionless, automated and user-friendly.
With LiquidEOS, users can buy and sell EOS tokens seamlessly and directly on the blockchain -- no deposits, no central servers storing their money, and no need to match buyers and sellers.
Instead, liquidity providers stake tokens to enable automated conversions directly through a token's smart contract. Even lightly traded tokens will be autonomously convertible on EOS, so token creators can focus on their product, rather than exchange listings and trade volume. LiquidEOS is fully open-source and available to the EOS developer community, embeddable within any website, wallet, or browser.
In addition, LiquidEOS's automated pricing mechanism will reduce manipulation in token markets, allowing the EOS ecosystem to leapfrog vulnerabilities of buyer/seller matching, including fake volume on exchanges and pump and dumps.
As Dan Larimer said in April, amid an up-tick in pump and dumps, "Traders can never cheat the market marker. I have simulated Bancor every which way. The trader always loses against the maker when manipulating prices up and then back to starting price. Huge liquidity makes moving price more difficult."
More information on LiquidEOS will be made available on our Steemit & on the LiquidEOS website as progress on development continues.
Rewards Distribution & A Note on "Vote Buying"
Proceeds from Block Producer inflation rewards will be reinvested into EOS community development, blockchain security and performance, and community currency creation globally to promote the long tail of user-generated currencies which will ultimately expand usage of EOS blockchain.
LiquidEOS & Bancor adhere to a no payment to voters policy which can be found here.
Community
LiquidEOS Telegram: @BPLiquidEOS
Bancor Telegram: @Bancor
Medium: https://blog.bancor.network/
Twitter: https://twitter.com/Bancor
BitcoinTalk: https://bitcointalk.org/index.php?topic=1789222.0
Reddit: https://www.reddit.com/r/Bancor/
Steemit: https://steemit.com/@bancor-network
GitHub: https://github.com/bancorprotocol/contracts
Facebook: https://www.facebook.com/bancor/
YouTube: https://www.youtube.com/c/BancorProtocol
Instagram: https://www.instagram.com/bancornetwork/
LinkedIn: https://www.linkedin.com/company/17986744/