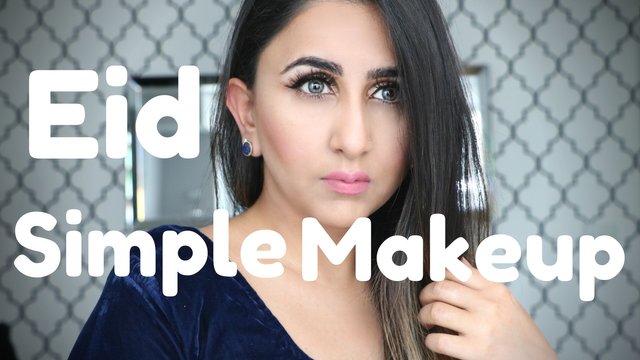 My first real post here on Steemit! To recap: I am a YouTuber that makes beauty videos in English, Punjabi and now Hindi. If you are new here, please see my #IntroduceYourself post here: https://steemit.com/introduceyourself/@parveen/i-don-t-know-why-but-i-am-so-nervous-writing-this-here-goes-hiiiiii-i-m-new-here
Many of my viewers had requested I create a makeup look for Eid, a religious holiday celebrated by Muslims which marks then end of the holy month of Ramadan, which is tomorrow. While I personally do not observe this holiday, Eid Mubarak to those celebrating!
This makeup look is quite simple. It's all about achieving flawless base makeup with a bit of a cat eye like wing. I threw on some false lashes to make my eyes look dramatic. I paired with tradition Indian clothing, but kept the accessories simple. For this look, less is more. Since I wanted all the attention on my eyes, I also went with a muted nude lip shade.
This is also my first video in Hindi! I am born and raised in Canada so English is my first language. My ethnicity is Punjabi, and that was the language I spoke and home with my parents and elders. Hindi would be my third language, I understand it better than I speak it, but after the wonderful response I got on this video, I am motivated to start doing more videos in Hindi! I know that in time, it will get better, just need some more practice. This is a good way of getting it!
I hope you enjoy this makeup look, and please share this video with someone you think would enjoy it!
See you soon!
Parveen