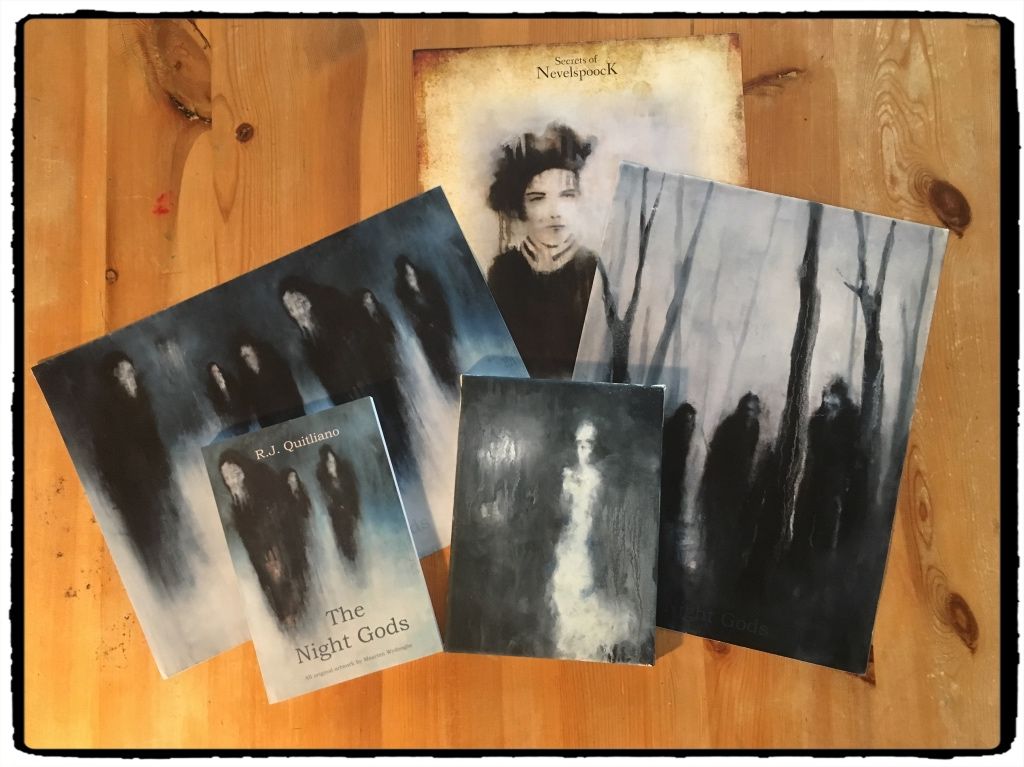 Dear friends and followers,
it was way time to show you some of the latest additions of my growing #steemart collection. As I love to use Steem as a real currency and thanks to tools like @steembay, it's easier than ever before to create a real Steem-economy. This does not only raise the value of Steem, but also - and most importantly - strenghtens the community bonds.
The Art of Marten Wydooghe
One of my favorite artists at Steemit is a nice guy from Belgium, who goes with the nick @marty-art at Steemit.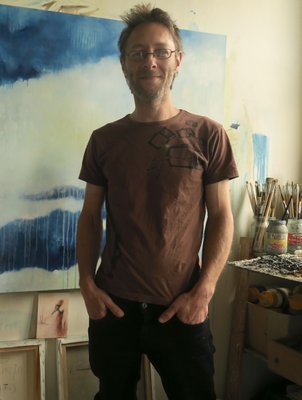 Taken from his introduction post.
Maarten Wydooghe (° 1977) studied painting at St.-Lucas Brussels (with Fik Van Gestel) and St.-Lucas Ghent (Piet Moerman). Recurring themes are grand thunderclouds, an idiosyncratic world of self-invented creatures, and recently also historical portraits. Despite the different subjects, the starting point remains the same: letting the oil paint on canvas become imaginative, allowing the viewer to come up with his / her own story. Inviting the world of possibilities that every spectator can fill in himself. With verve.
Translated from his homepage
---
Glow in the Dark Spook
Shortly after the #steembay auction-tool went live, Maarten offered an amazing painting, that even glows in the dark. The name of the painting is "Little Spook" and I just couldn't help to bid on it - and won the auction.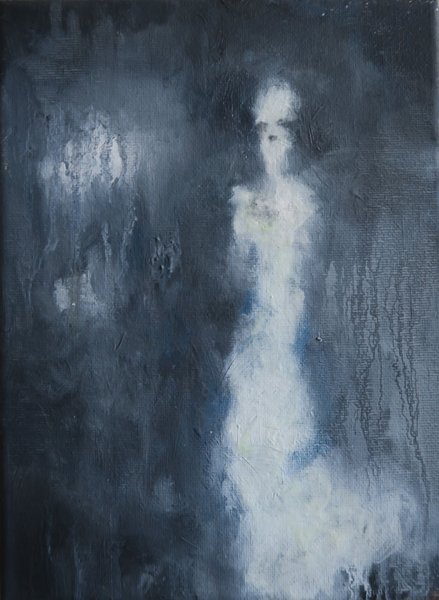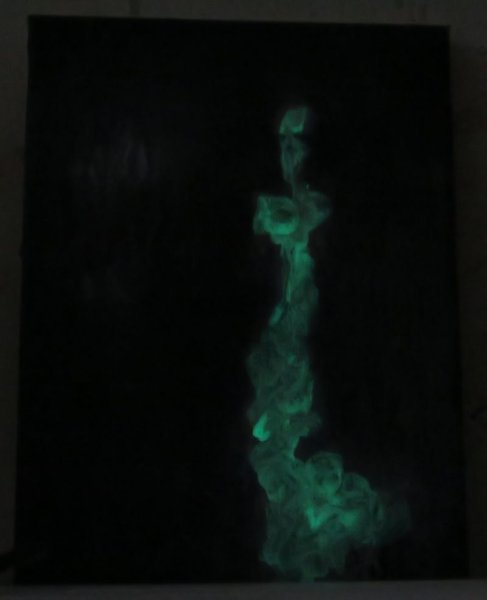 Little Spook, 18x24cm, oils and glow-in-the-dark-acrylics on canvas, 2017
---
Spook was a painting of a phantom, which glowed in the dark, but I was never really able (or neither did I really try) to take a picture of it glowing in the dark. This week, I painted a smaller Spook (15x20cm - whereas the original one was 40x60cm). It is not as subtle, but that has a lot to do with the size of the canvas; smaller is usually painted more crude in my workflow.
Ida Livingstone
Maarten also does an ongoing weird series of a fictional family called "Nevelspoock", where the buyer of any particular Nevelspoock-painting may choose the first name of the character depicted.
The girl to the right isn't a true Nevelspoock, but an assistant to one of them. While the surname "Ida" was suggested by fans on another social media platform, Maarten asked his Steemit fans to think of a family-name.
What should I say, I was very proud, as it turned out, that my proposal of "Livingstone" was choosen as the winning entry.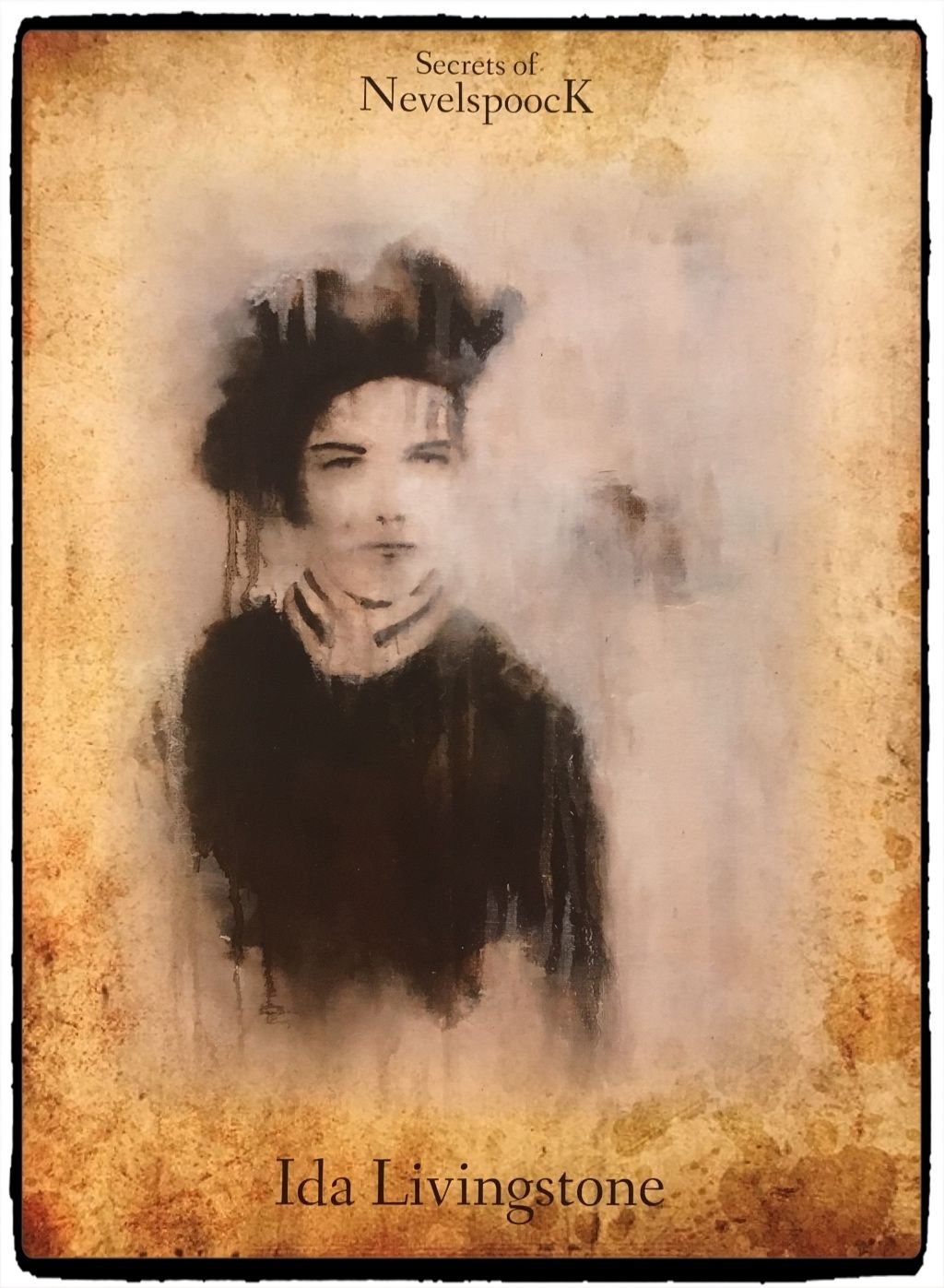 ---
The Night Gods
Last, but not least, Maarten started a collaboration with @richq11 to turn his Steemit serial-story: "The Night Gods" into a self-published book. He provided 4 artworks, did the layout and made the proofreading of the 244-page novel.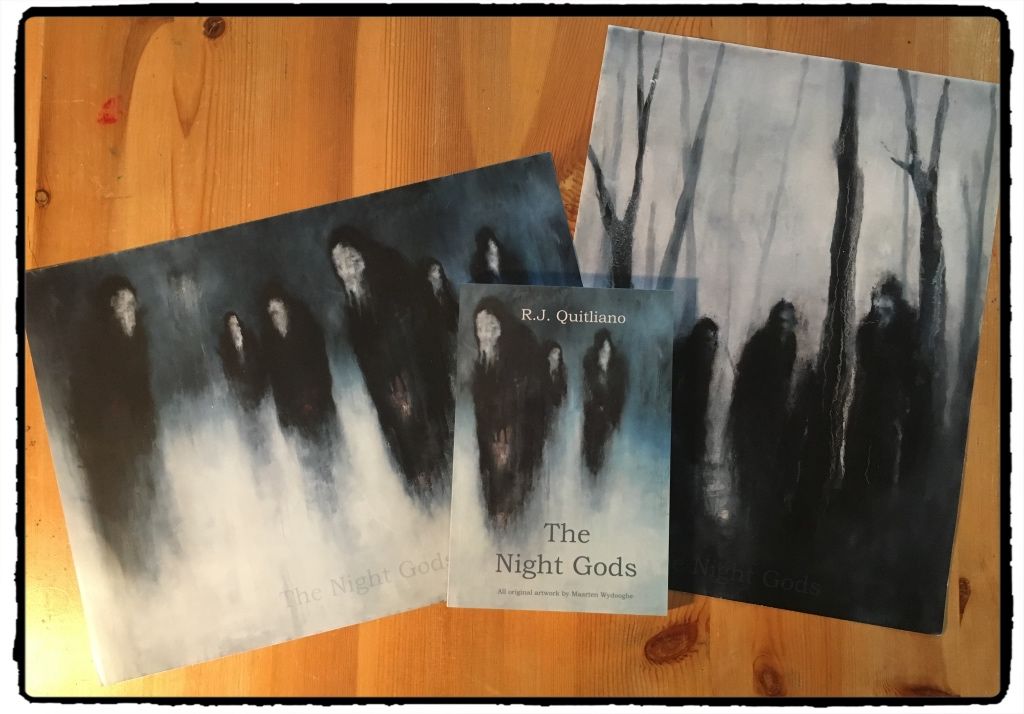 If you are into books, horror, conspiracy, political and contemporary events, mystery, striking dialogue and plot twists, or really a study in evil - check out our (but very much Rich's) book "The Night Gods".
When I saw, that Maarten even offered some free posters for the first 5 people, that would order the book, I just had no choice, but ordering my copy right away.
If you're interested in ordering you own copy of The Night Gods, you should check out this announcement post by @richq11. Although the book is printed on demand, Rich is also offering to pay for it using Steem/SBD.
It is inspiring to read, what he says about fulfilling his dream:
If you're new to Steemit and you have a dream and are willing to work hard for it- you can do it too. Thank you Steemit- thank you, thank you, thank you!
All's well that ends well
When Maarten told me, he had shipped my package of the "Little Spook" painting and the free poster, I was very excited, but somehow it took several weeks for the package to arrive.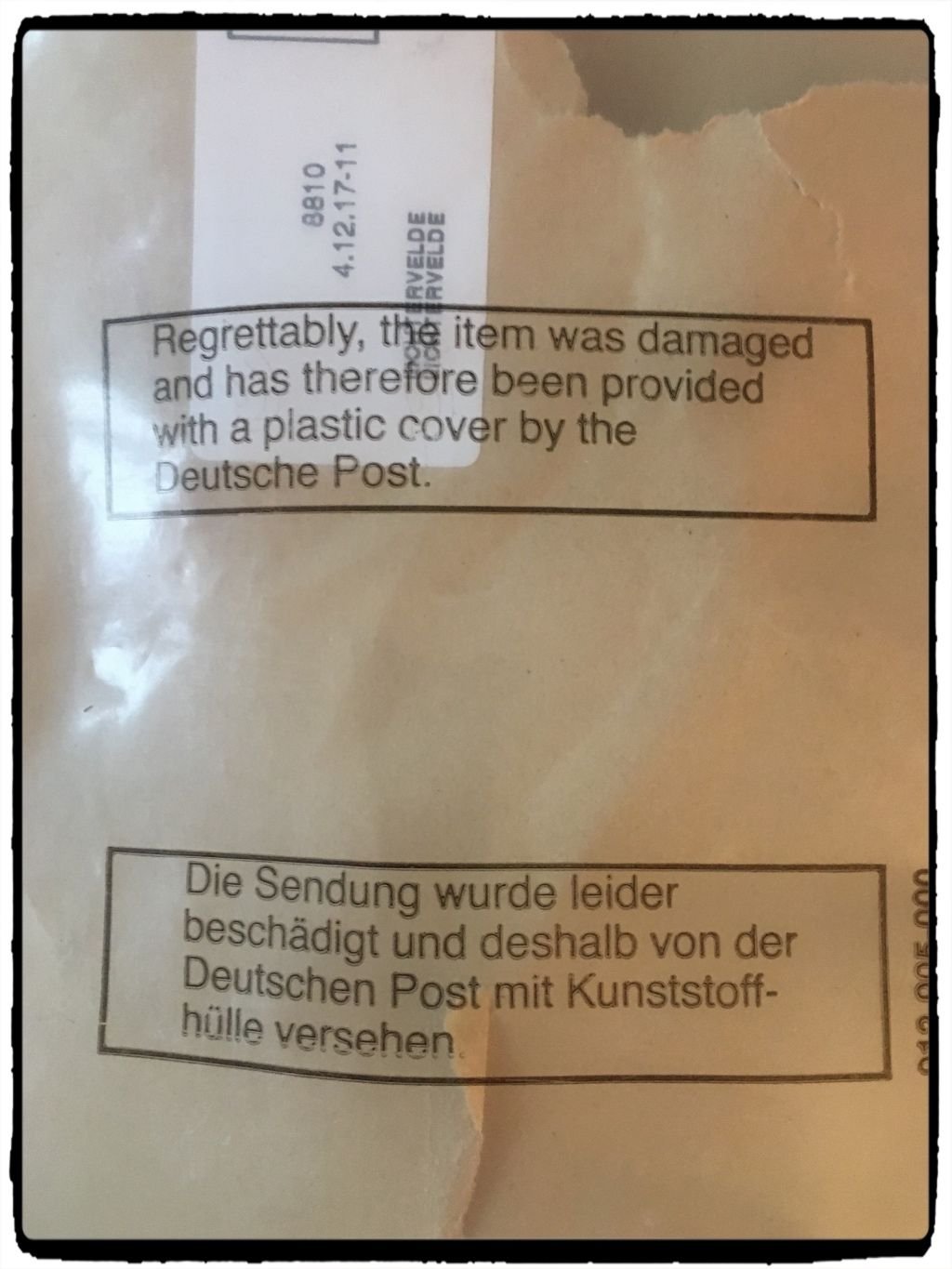 We were both a little clueless about the long journey of the package and I was especially sad, because Maarten had told me, that he had added some nice surprises to the package. But somehow an inner voice told me that it will rise from the void some day and that was exactly what happened.
The package was a bit damaged and had been rewrapped in plastic by the Deutsche Post, but the contents where generally in quite good condition. You can guess, how huge my relief and my excitement had been, when I saw, that Maarten had added two bonus posters for me.
---
Conclusion
There are so many great artists at Steemit, that are open for collaborations and I'm really happy to have met @marty-art. Without him, I neither would not have known about glow-in-the-dark paintings, nor about the "The Night Gods".
You should definitely check out his profile and give him a follow!
I'm also very happy to use Steem as a real currency, which you can use to buy the most fantastic things. And I'm really looking forward to expanding my Steem-art collection and support even more great creatives here. It's just one more thing to proove the real-world impact of Steemit.
Thanks for reading and have a great day!
@shortcut - earning by doing